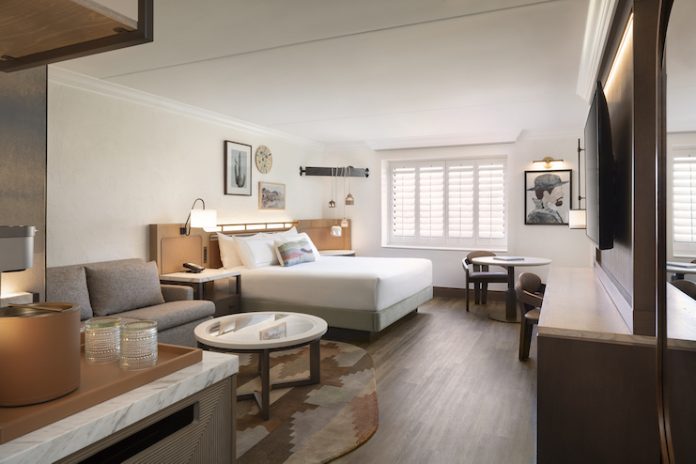 SCOTTSDALE, Arizona—The Scottsdale Resort & Spa has reached 50 percent completion on its $40 million property-wide renovation as it shows its new guestrooms and three culinary outlets that will begin to open later this month ahead of the completion in January.
Driftwood acquired the conference resort in 2022 and embarked on the largest renovation in the property's 50-year history. As work progressed, Driftwood decided to expand the original scope and budget, plus scale down the room count, to elevate, restore, and refresh the property. Upon completion, the now 278-room resort that spans almost 17 acres will join the Curio Collection by Hilton.
The Scottsdale Resort's residential-style guestrooms will have multiple textures with leather accents, embroidered headboards, and hand-carved wood with pops of modern Southwestern patterns. The bathrooms also have a modern, desert aesthetic. The conversion of The Stillman Building is growing into 12 two-story villas with private pools.
"With the property's storied history as our guide, we're preserving its legacy while authoring a new chapter that brings a revived lifestyle destination to Scottsdale," said Alan Klein, regional director of operations for Driftwood Hospitality Management. "As we reach this significant milestone in our renovation, we're excited to welcome travelers and the community to experience the property like never before."
Chef Ken Arneson, who serves as the area executive chef for Driftwood Hospitality, is leading The Scottsdale Resort's culinary outlets with the introduction of Barnaby's Café, a café and wine bar focused on wellness-oriented cuisine with a holistic approach while using local purveyors and a global wine list; The Madam, a speakeasy offering twists on classic cocktails alongside new creations; and La Fogata, the resort's signature restaurant with open flame creations and Southwest flavors. Barnaby's Café and The Madam will be the first to open in early December, followed by La Fogata in late December.