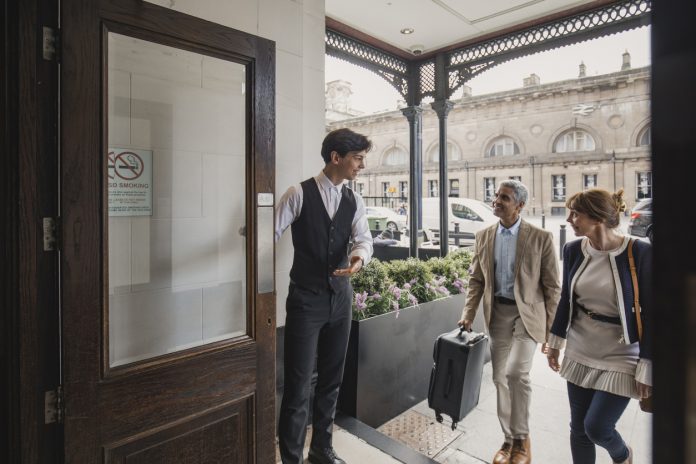 Have a question for our experts? Submit it here.
---
How Can I Improve My Hotel's First Impression? 
"I'm always getting dinged on my online reviews for my property's appearance. Overall, the hotel is still in good shape—the furnishings are relatively new, we keep it clean, and we refresh our paint and carpet fairly often. What can we do to make a better first impression when guests walk in? And how can we make sure this good first impression carries through their stay?"
You're not alone. Lots of hotels are getting surprised by these less-than-stellar online reviews. We frequently hear concerns along the lines of, "Guestroom cleanliness complaints are going up—but we're meeting the same housekeeping standards we always have." The problem is that guests' expectations are higher than ever. A recent study found that the vast majority (71 percent) of travelers expect "above average" cleanliness. In other words, they want something better than what they're used to—and what many hotels are used to delivering.
As you mentioned, if you fall short, you're going to hear about it—and not just in quaint, anonymous comment cards. Guests can air their complaints to the whole world with the click of a button or the tap of a finger. And just one bad online review can cost you 30 potential customers.
So, how do you meet these "above average" expectations? And how do you do it without seriously slowing down your housekeeping team or significantly increasing costs?
Here are five smart, easy-to-implement strategies to get you started:
Smells leave powerful impressions. But no matter how hard you try, you can't prevent guests from stinking up your rooms from time to time. Fortunately, the latest innovations in odor removal allow you to eliminate odors quickly and completely.
Odor-specific products: Advanced chemistry now specifically targets the most common odors that can linger in a hotel guest room—from cigarette and marijuana smoke, to body odors and even urine.
Faster-acting products: Best-in-class odor removal products work in just minutes, allowing housekeeping staff to treat room odors as part of their standard room-turn protocols.
2
Proactive Bed Bug Prevention
Four in five guests are concerned about bed bugs. One in four actively check their rooms for bed bugs. And a single bed bug sighting can lower room value by $38 per night. Consider new tools that fight against bed bugs:
Proactive bed bug treatments: New innovations in science-based pest mitigation can dramatically reduce your risk of bed bug incidents.
24-hour bed bug elimination: Advanced chemistry and equipment allow providers to treat infested rooms in hours, not days.
3
Improved Linen-Stain Management
More than 80 percent of travelers report that they're concerned about how often hotels wash their linens, and a recent study found that linens account for as much as 20 percent of a guest's satisfaction rating. Throwing out stained towels is expensive—but you can build a more effective and more efficient stain management program.
All-purpose stain removal: Advanced chemistry now makes it possible and cost-effective to treat every load of linens with a general stain removal product.
Targeted stain removal products: Research into the science of stains has produced new stain removal products that target the chemical bonds of stains like coffee, wine, or blood.
4
High-Performance Bathroom Cleaning
You know that guests scrutinize bathroom cleanliness. Bathrooms also present the biggest public health risks in a hotel. Your housekeeping staff needs powerful multi-purpose products that help them ensure bathrooms are both aesthetically and antiseptically as clean as they can be.
Research-backed cleaning and disinfection: The most advanced multi-purpose products now come backed by extensive research that delivers complete assurance in their performance and efficacy.
Consistency and efficiency: By combining cleaning and disinfection into a single, highly effective product, you can ensure your staff consistently complete both the cleaning and disinfection steps—in half the time.
5
Partner-Driven Staff Training
The most advanced cleaning products are useless if your staff do not follow protocols. But training takes time and adds costs—and with high turnover, it's tough to keep up. Take advantage of vendors that often provide resources to help hotels improve staff with:
Training the front lines: Ask your cleaning chemistry and pest management vendors about providing targeted training on things like "right-way" room cleaning, stain removal and recognizing the signs of bed bugs.
Self-service, visual training resources: Recognizing the time crunch in most hotels, leading vendor partners now offer self-service training materials that are simple, highly visual, and accommodate multi-lingual staff.
The bottom line is that guests' expectations are rising—particularly when it comes to facility and room cleanliness. But the good news is that there are lots of exciting new products and innovations that make it easier than ever to take your standard of clean to the next level and make a bold impression on your guests—without sinking your bottom line. And the really good news is that these efforts pay off: Even a 1 percent increase in your hotel's online reputation drives a 1.42 percent increase in RevPAR. That's real, clean ROI.
Answered by Ecolab
---
Want more hotel advice? Subscribe for updates.