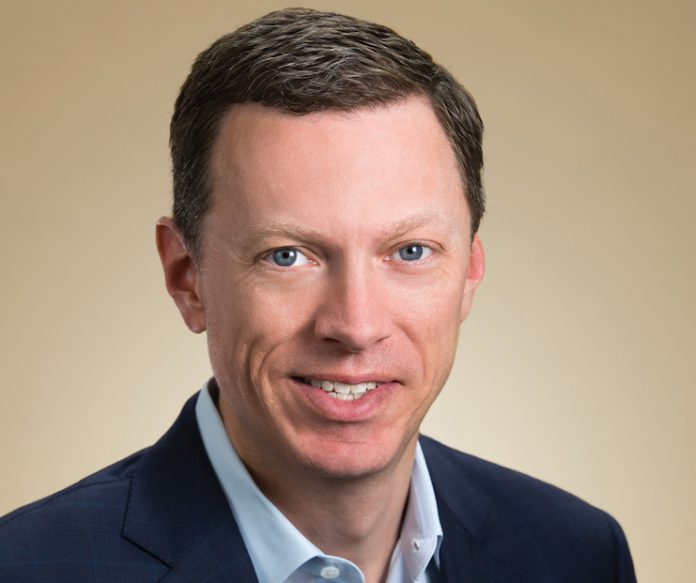 Kevin Jacobs, CFO and president of global development, Hilton, recently assumed the role of AHLA's 2023 board vice chair after serving as secretary/treasurer during 2022. Jacobs has spent nearly 30 years in the lodging industry, the last 15 of which have been with Hilton. LODGING Magazine checked in with Jacobs recently to discuss some of the top priorities for the association, the trajectory of his career, and his outlook on the industry going forward.
What attracted you to the hospitality industry?
I say all the time, "I'm an accidental hotelier." I started at Cornell University studying engineering and I decided at some point along the way that I didn't want to study engineering any longer and I wanted to switch to studying business. There are a couple of different business programs at Cornell, and one of them happens to be The Nolan School of Hotel Administration. I applied to transfer into that program, and I was fortunate enough to be accepted. So that started my time learning about [the industry]. And then through work-study programs and the requirements of being in that program, I was exposed to all the different facets of the industry, and I've always really enjoyed it.
How did you get involved with the AHLA?
Hilton has always been very involved with AHLA. In 2019, Justin Knight [2022 AHLA Chair] and I co-chaired what AHLA called Project Ascent. Through this, we took a good hard look at revamping the revenue model for the association, and that effectively started the five-year strategic process that Mark Hoplamazian led as chair. I've been on the board officially for a couple of years now, but starting with Project Ascent I've been pretty involved over the last three to four years.
What are your objectives for the coming year as vice chair?
We really want to keep furthering the five-year strategic plan. We have the benefit of getting to draft a bit off of Mark's amazing work in leading us through the strategic plan, and we have a lot to do. It has a labor component to it, a workforce component to it, a stakeholder stewardship component, and it has an alternative accommodations pillar to it. My job is to help as an officer on the executive committee and wherever Leslie wants to focus. Every piece of the strategic plan is important, and every issue has its own time in the day.
As vice chair, what are some of the ways you plan to support AHLA's 2023 Board Chair Leslie Hale?
She's incredibly accomplished, and we're very fortunate to have her as chair of AHLA; she's structured and she's disciplined. My role is to support Leslie and support Chip [Rogers, AHLA president/CEO] and the rest of the association in whatever needs to be done, and I'm really hoping to have a hand in driving all of the pillars of our strategic plan.
What do you like most about the hotel business?
One of my favorite things is we can do a lot of good in the world—both as an industry and Hilton as a company—while doing well. All of us that work in [these] companies are for-profit enterprises. We're a business and we need to grow; we need to make money and drive shareholder value. But along the way, we provide great experiences to our guests and we also provide great experiences to our team members. We add a lot of value and bring a lot of opportunity into the communities where we operate.
What are your thoughts about labor challenges in hospitality?
We have a great story to tell in our industry, and it's not just a story of being back from COVID. It's a story of being an amazing provider of opportunities to people over a really long period of time. Hilton's been in business for 103 years, and we've been providing those opportunities for a really long time. We're really focused on telling that story at Hilton in our own employment brand and our own recruiting, but also we take those best practices and share them with the AHLA.
Are you bullish on recovery for the industry?
I'm never not going to be bullish on the hospitality industry and travel and tourism, more broadly. I think when you talk about short term, we have headwinds and tailwinds… What our industry needs to succeed is economic growth and mobility. The economies of the world will continue to grow, people will enter the middle class, and they've shown time and time again that they want to travel. At Hilton, we've said post-COVID we're entering a new golden age of travel. COVID was a big pause, but for the next five, 10, 20 years in our industry, I think the future is very bright. I'm super bullish on both the industry and Hilton's prospects. I can't guarantee anybody that the arrow will always will be pointing up in terms of RevPAR growth, same-store sales, or EBITDA growth, but if you're thinking about our industry for the long term, I wouldn't ever bet against it.