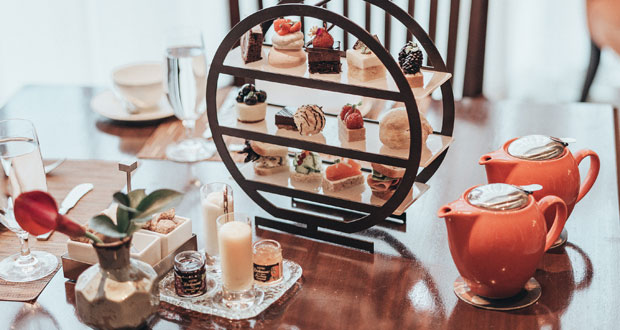 A mid-1800s English duchess enjoyed gathering with friends over tea, bread, and butter between lunchtime and dinnertime. And after the founding family of The St. Regis brand turned that custom into a tradition at the flagship New York property, every hotel in the portfolio adopted the ritual.
The St. Regis Atlanta's Director of Operations Sheila Buciuman says, "For us, afternoon tea showcases the brand's vibrant culture. We try to adapt to the location of the property and it allows our guests to experience the luxury of tea."
A selection of both loose and bagged teas are offered in an intimate setting at the Atlanta hotel's Astor Court restaurant. Teas are paired with milk and garnishes and a signature tea is served, which is blended and crafted for The St. Regis brand. Executive Chef of The St. Regis Atlanta Jordan Barnett says, "If you look at other tea menus, you'll see regular finger sandwiches and nice desserts. It's always the same thing, but we want to make our afternoon tea an overall experiential event."
To make afternoon tea an experiential event, the hotel makes the daily ritual interactive for visitors of all ages. In March, the ritual featured a maple tea with Canadian syrup and every offering on the menu in some way incorporated maple. A pastry chef made maple taffy offered to both children and adults. The St. Regis Atlanta also decorates the Astor Court restaurant to reflect the right atmosphere for the afternoon tea ritual.
Afternoon dining is a competitive space in markets saturated with brunch and tea service offerings. To attract guests and keep them coming back, St. Regis offers a new theme each month to encourage participants—either hotel guests or locals–to experience what's new. And part of that retention is having the right employees working the ritual to make those guests want to participate in the activities and return for more.
This fall, the theme is cider tea, where all teas, food, and refreshments will include cider. Barnett says, "We have a special activation where we will use cider tea and candy apples. It'll be a live-action experience for our guests to enjoy the candy apples, and maybe they'll get transported to their childhoods or trigger memories."
Barnett says that the food and beverage team is constantly working on ideas for the afternoon tea event. For the future as a whole, Barnett is considering starting custom activities for children in addition to the already implemented tea menus specifically designed for kids. The existing activities are already family-friendly for children and parents to participate together.
Buciuman and Barnett both say that one aspect of the afternoon tea program that sets the Atlanta hotel apart from the competition is that the tea programming runs year-round, unlike similar programming at southern properties, which typically avoid hosting similar events during the summer months.
With the holidays being the busiest time of year for afternoon tea, Buciuman believes the future of the ritual is strong. She adds, "We always have to come up with innovative approaches and excitement. While afternoon tea is a nice tradition we want to make sure that despite the summer months, it's something exciting that everyone will enjoy."