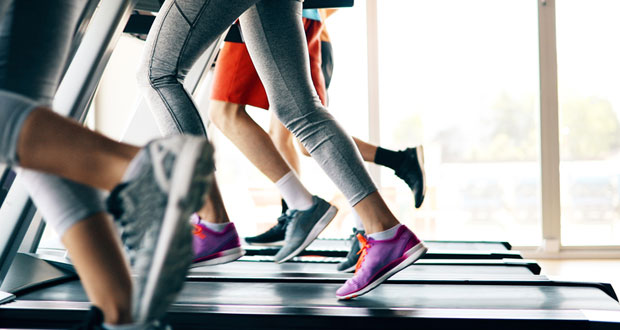 The hotel gym is finally getting a makeover. Gone are the days when working out while on the road is a dreaded experience in a facility located within a dreary, low-ceilinged basement. Today, many travelers eagerly await experiencing something new in the world of fitness while staying at their property of choice—anticipating the opportunity to try the latest and greatest equipment, classes, fuel, and supportive amenities. The future of the hotel gym looks nothing like its past.
How it used to be
It was not so long ago that hotel gyms were considered little more than an afterthought amenity provided only as a "must-have" on a hotelier's checklist. With their often-broken equipment, fluorescent lighting, musty carpet, and loud televisions (with remote controls nowhere in sight), they were understandably underused by guests.
Changing times
This combination of lackluster aesthetic appeal and poor function became a significant problem for hotel management when it became clear the fitness craze was here to stay.
The fitness and mind-body industry today is a $542 billion one whose growth has been exponential and disruptive. Incredible evolution has been seen across product, technology, and programming in recent years, with a clear surge in boutique fitness brands, such as Soul Cycle and CrossFit. Hoteliers are now responding to data reflecting hotel guests' desire for better workout facilities; in one study, 48 percent of travelers ranked wellness as "very important" when choosing a hotel for business travel alone.
Today, the demand for wellness experiences while traveling is strong—especially relative to 10 years ago. Moreover, as the freelance economy continues to grow, more people are calling the hotel "home" and considering their hotel gym their "home-gym." No longer confined to the basement, fitness centers in progressive-minded properties are relocating to prime real-estate spaces to capitalize on the growing opportunity.
Changing gyms
Looking forward, it is clear that the cookie cutter approach to the hotel fitness center will no longer cut it. Rather, successful brands are integrating localized programming, sustainable design elements, and partnerships with leaders in health and well-being to ensure the fitness center has a branded appeal in and of itself. This means that hotels are now working with multiple suppliers rather than one, and investing more dollars to make this possible. For example, at the Four Seasons Hotel in Philadelphia, the entire 57th floor is a wellness destination, fully equipped with the latest exercise equipment, an infinity pool, and views of the city skyline.
The hotel gym of the future
The hotel gym of the future is designed to integrate wellness into every detail—peaceful paint colors, natural lighting, calming acoustics, sophisticated air purification systems, relaxation nooks, and more. Inspired by the current movement in wellness architecture, hotels are building and designing in a way that is "healthy for humans" and meeting an entirely new set of standards. Another example, the fitness center at the Park Hyatt in Tokyo, occupies a prime location on the 47th floor with views of Mount Fuji and speakers constructed into the "bodysonic" flooring.
There is a growing global demand among business travelers for well-designed, thoughtful spaces where they can spend their time—and increasingly, it's focused on their well-being. Hotels that offer high-end equipment, accompanied by modern biophilic design and Instagram-worthy aesthetics, are bringing in new guests and inspiring entirely new revenue streams for hotels, from fitness retreats to wellness getaways.
It is interesting to note that much of what will be offered at such "gyms of the future" will not actually occur within the four walls of the facility itself. Instead, the hotel gym may serve as the meeting point for the neighborhood run club or as the pre-gathering space for the rooftop yoga classes.
In many cases, the guestroom itself will serve as the premier private fitness space. A feature launched five years ago by IHG's Even Hotels is their "in-room training zone" where each guestroom has a mounted fitness wall, a foam roller, yoga mat, yoga block, core exercise ball, and resistance bands. They also include videos and illustrations of exercises that guests can follow along with.
What's next?
In the future, guestrooms could be equipped with Peloton bikes and a spin class conducted by a top instructor whose class is streamed live from New York. Afterwards, the guest can don the guided meditation headband found on the night-side table. Then, thanks to the in-house wellness concierge, the guest can enjoy an essential oil-infused bath before retiring, and a mini-bar stocked with a nutrient-rich grab-and-go breakfast and coconut water prepared for the morning.
If being healthy is the new wealthy, if hotel run clubs are the new five to seven networking session, and if taking a gym selfie is the new mode of fitness motivation, it is in the best interests of all hotels to start taking their wellness and fitness offerings to the next level.
About the Author
Ashley Holly McEachern is a global wellness consultant at Core Essence, a design and consulting firm specializing in spa and wellness. Core Essence works within and beyond the traditional spa environment with an approach that examines design, development, and operations concurrently.