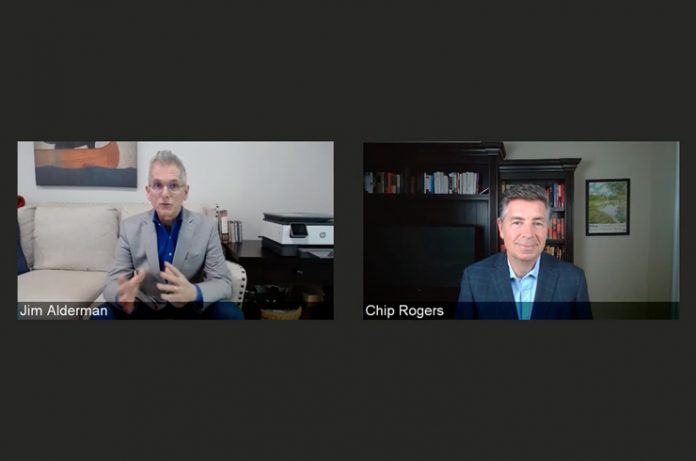 Last week, president and CEO of the American Hotel & Lodging Association (AHLA) Chip Rogers joined Radisson's newly minted Americas CEO Jim Alderman for an online video discussion about the challenges facing the hotel industry due to the COVID-19 pandemic. The webcast was viewed by almost 350 Radisson corporate team members, which included people from the company's Minneapolis and Omaha corporate offices, field team members, and leaders of the Radisson's managed properties.
Rogers started the call by outlining AHLA's COVID-19 response and the resources the organization has made available, including AHLA's Hospitality for Hope Initiative, which helps facilitate collaboration between hotels and the healthcare community. Rogers also relayed takeaways from his conversation with President Trump and Vice President Pence back in March, and urged those listening in to become involved with AHLA's HotelsACT grassroots advocacy organization to help push through legislation that will help the hotel industry, like authorizing additional funding to the Paycheck Protection Program (PPP).
Alderman asked Rogers to weigh in on a few of the pressing questions that people in the industry have during this difficult time, including what Alderman called the "elephant in the room": the president's ties to the hotel industry. Rogers called President Trump's involvement with the industry a "double-edged sword," and noted that it is a balancing act for the current Administration.
Much of the conversation was focused on what the post-pandemic recovery period is going to look like for the hotel industry. Rogers said that he believes that of leisure, business, and group travel, the latter will be the slowest to rebound. "I don't think a large portion of that business will come back until next year… Everyone that I'm talking to right now is trying to find a place their events that they postponed from earlier this year in November, maybe some pull it back into October… [But] there's limited space there, so a lot of people are saying, alright, I'll just do it in 2021," he explained.
He added that the hotel industry's recovery will be influenced by two factors—the development of a COVID-19 vaccine and more effective therapies for those who contract the virus. "I suspect it'll be a couple of years before we're back to meetings and events and conferences the way that we knew them at the beginning of 2020," he added.
Rogers also discussed how AHLA is working with the U.S. Travel Association and its president and CEO, Roger Dow, on travel industry recovery campaigns. These campaigns will encompass not just hotels, but also restaurants, sporting events, concerts, and other travel drivers.
Rogers also fielded questions from Radisson employees, including when he thinks business will come back (leisure by mid/late summer; business by late fall/early winter; group and convention by the middle of next year), if people who aren't U.S. citizens can participate in AHLA's advocacy initiatives (yes), and how the crisis will impact short-term rentals like Airbnb (fewer units will become available as more people move back in with their parents/seek long-term renters). Rogers also noted that the hotel industry has an advantage over these short-term rental companies—they're perceived as much cleaner. "Think about a hotel room. It's cleaned every single day, and we use products that are stronger and more effective than even what you use at home. So we can make the argument today that a hotel is cleaner than just about any place other than a hospital. And I believe that people will look at hotels—from a cleanliness standpoint—as the safest place to be."
LODGING touched base with Alderman and Radisson's COO, Aly El-Bassuni, after the call. El-Bassuni said having Rogers connect with Radisson employees was a great way to show them what they could do to support the industry as a whole. "Our industry is in distress," he noted. "And I think what Chip brought and helped us deliver to our teams is that there's advocacy, there are things we can do to make lawmakers and legislators aware of what our industry needs."
Alderman added that even via video, giving Radisson employees an opportunity to see him and Rogers have a conversation helps show that everyone is still connected and impresses how strong those connections are. He also said it was important that Radisson employees know exactly what AHLA is doing for the industry during this difficult time. "It's something I'm extremely proud that we're apart of and a member of," he said.
---
Subscribe to Lodging Daily News for updates.