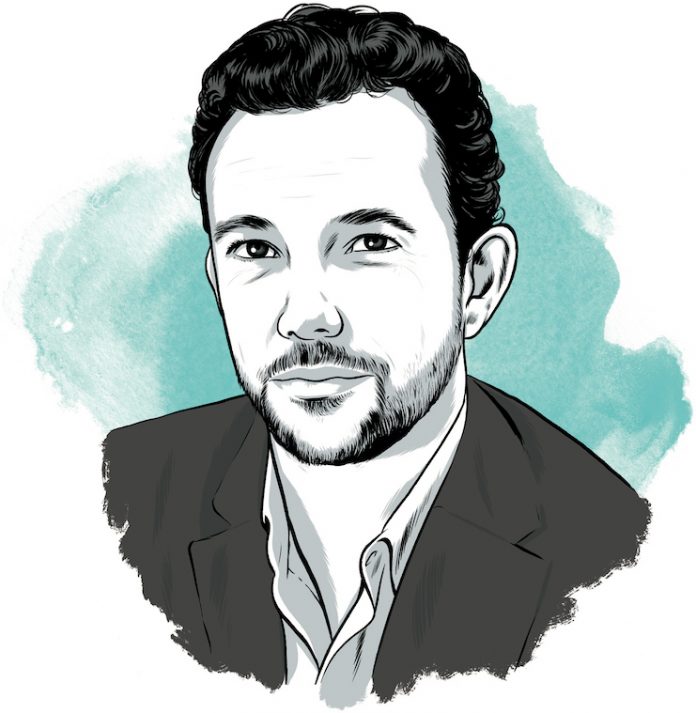 English-born architect Mark Eacott is an associate at the hospitality design firm Hirsch Bedner Associates (HBA), where he heads the new branding division called HBA DNA. Admittedly impatient, Eacott says he gravitated to hospitality design at least partly for his own lifestyle preference. "An architecture project can go on for 5 years, but hospitality projects are usually completed within 18 months."
He and partner Alexandra Beggs, who is creative director of the design division, recently shared with LODGING the how's and why's of design based on their research into the things that guests today care about most, and creating spaces that are "future-proofed, relevant, and focused."
How did you get involved in the hotel industry?
Eacott: I trained and qualified as an architect, but soon switched into hospitality interiors after working on the design of the award-winning Virgin Atlantic Lounge at Heathrow with SOFTROOM in London. I found interior projects faster in general and was mesmerized by the emotional impact and response good interior design could have on the guest.
Following this, I then did two stints working in-house for hotel operators before returning to consultancy. This additional "string on the bow," that is, insights gained from the operator's side, was immensely useful in helping us—Alexandra joined me at HBA in 2016—understand things from the client side of the table, a perspective that helps us every day.
How did your career path lead to creating the new HBA DNA division?
Beggs: As is often the case, timing had a lot to do with it. First, we developed our somewhat unique approach to branding when a client dissatisfied with the efforts of a branding agency approached us about creating from scratch three new hotel brands—a luxury, a lifestyle, and a boutique. With our hospitality background, we went beyond creating and defining the target guest, the brand, and its essential elements— that is, what we call its DNA—in that we actually designed and rendered the key spaces so they could visualize it, which was exactly what they needed. The project was a success, and we won lots of new work, creating new hotel brands in this way for clients.
Eacott: At the same, the industry was going through all the mergers and acquisitions of the big hotel groups, leaving many hotel groups with so many brands, they were often competing with themselves. Given that they couldn't just cancel brands in hotels—which typically have an eight- to 12-year contract with owners— hey needed to refresh, update, or even completely overhaul them to provide what travelers are now looking for. They needed to redefine their brands with a very clear DNA, voice, and position, which was exactly what we were doing in our new division. So, between the need to cater to new-generation travelers and all the brands needing updates, we saw an opportunity and established this exciting new division.
What differentiates your approach to branding?
Eacott: We're a subdivision of HBA but as part of our work, we've become the internal research and development arm of BDA. In this capacity, we do a great deal of data-driven research, as well as insight and immersion work, which informs all of our work throughout the entire company. Even before there are official sites or projects, we work with operations, owners, and hotel groups on what's happening in hospitality. We focus on defining the next-generation traveler, determining what they want in guest experience, and what hotels should provide in response to that. We basically work to keep things interesting and future-proof by keeping an ear close to the ground, being in touch with and understanding the next-generation traveler.
One tip we always give to clients is, "Know your guest. Know them, understand them, and even hire them." We say this because when you truly understand your guest, you can create a product that is truly focused on them, relevant, and future-proofed. It's not a secret, but it's a commonly overlooked or underestimated key source.
What is the impact of the next-gen traveler on the industry, and where do you think it's headed?
Beggs: The trend is clearly toward making travel choices based on personal fulfillment. Across generations, travelers are looking to escape the constant bombardment of noise, unrest, and hyper-connectivity and to reprioritize what's important to their personal wellbeing. Whether it's learning a new skill, spiritual sanctuaries, or civic tourism, the next-generation traveler will be looking far beyond the spa for holistic travel that provides personal enrichment and a chance for them to be better versions of themselves.
Eacott: There has been a lot of talk about millennials in the industry, but we try to avoid using that and other labels. We prefer to focus on a mindset that better describes the true next-gen traveler. This includes silver-haired nomads and millionaire backpackers—people who can afford to stay in five-star luxury hotels, but choose midscale lifestyle hotels because they want to experience the location in a new way. This is true in the economy sector, too; done well, budget doesn't need to be boring any more than luxury needs to be stuffy and traditional. As things are changing on both ends, we're doing concept work on all sectors and through the generations.
However, we are grateful to "me"-llennials for creating a disruption and demand for the hotel industry to create more personalized customized experiences for travelers of all generations with this particular mindset.
What do you like best about the hospitality industry?
Eacott: Offering people the chance to disconnect. In such a hyper-connected world, hospitality done well can offer the guest an escape from the daily humdrum and enable them to refocus physically and mentally.
Beggs: Letting guests, who are normally so digitally focused, just be—whether in a beautiful restaurant or on a weekend away—is what draws me most to hospitality. It's often about personal development and learning, not just about themselves, but also their environment. Once they disconnect, they can begin doing activities and have new experiences.