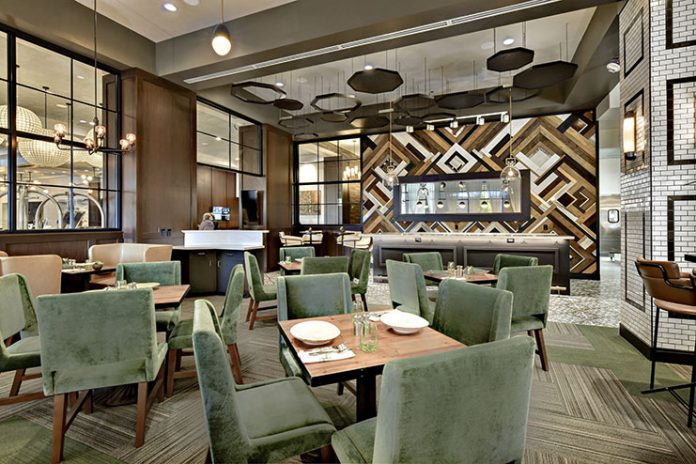 BOISE, Idaho—A distinctive landmark in downtown Boise for 20 years, the locally-owned Grove Hotel has revealed its lobby renovations and re-designed restaurant. The new restaurant's name, Trillium, is a nod to a native flower and the restaurant's use of locally-inspired, regionally sourced products.
"We are proud to be located in an area with so much agricultural bounty, and we wanted our new menu to reflect that," said Executive Chef Chris Hain. "Some of our signature menu items include Huckleberry Short Ribs and house-smoked Steelhead Salmon. Nearly everything we make on the menu is from scratch and sourced regionally."
Trillium aims to attract both guests and local residents and will be offering complimentary three-hour valet services to restaurant customers.
In addition to Trillium, The Grove has undergone a complete renovation of its lobby and bar area. The bar will open up as a specialty coffee bar in the morning (featuring premium Northwest-roasted beans), and then transition mid-day to the full bar featuring many options for Idaho-produced beer and wine, as well as cocktails made with local ingredients.
The Grove will also be adding a complimentary bicycle rental program for guests with a selection of cruisers and mountain bikes. The hotel expanded its guest services storage area to include ample space for guests' skis, snowboards, and bikes.
"We know the easy access to recreation is a big part of what makes Boise so special," said General Manager Steve Steading. "We want our guests to be able to easily take advantage of the ample bikeways, Boise Greenbelt, and foothills trails, as well as the quick drive up to Bogus Basin Mountain."