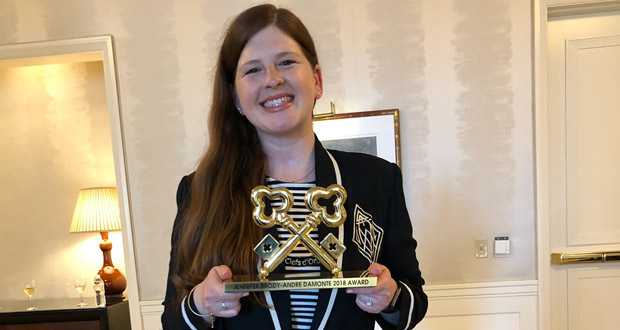 In April, Jennifer Brody, concierge at The Peninsula Chicago, was awarded the prestigious Young Leader Award at the Les Clefs d'Or International Congress in Seoul, South Korea. The award recognizes and encourages young members to become active participants in the Les Clefs d'Or global network. Brody began her concierge career fresh out of college in 2010 after graduating from the University of Central Florida with a Bachelor of Science degree in Hospitality Administration and Management. She says that she continues to educate herself both professionally and personally, and attributes her success to other industry leaders before her, her local concierge community, and her determination to make lifelong memories for her guests.
Adam Isrow, founder of GoConcierge and now executive vice president of ALICE, spoke with Brody about her journey to becoming the 2018 Young Leader Award winner and what it takes to become a member of the esteemed Les Clefs d'Or community.
What did it mean to you to earn your keys? How has Les Clefs d'Or impacted you as a concierge?
Since the beginning of my concierge career eight years ago, I have always had my goals set on earning my golden keys with Les Clefs d'Or. The crossed keys are a globally recognized symbol of trust, hard work, integrity, and commitment to excellence.
To be a part of the most prestigious concierge association in the world is a true honor and testament to my dedication and passion for my profession. Becoming a Les Clefs d'Or member has only strengthened my dedication to my craft as a Concierge and has helped connect me with the best of the best in the industry from every corner of the globe.
What brought you to the hospitality industry and the concierge profession?
I've always loved helping people, traveling, learning about different cultures and customs, and meeting people from around the world. My first job at the age of 17 was at an Italian restaurant in my hometown, so I got my first taste of hospitality in high school. Then, I went on to earn my degree at the Rosen College of Hospitality Management in 2009, but I still wasn't sure what I would do within the industry. It wasn't until 2010 that I discovered my true calling as a concierge at the Hilton Marina Hotel in Fort Lauderdale, Florida, where I'm from. I spent four amazing and crucial years developing as a concierge in South Florida and decided to challenge myself with a big move to Chicago in October 2014. Not only did I move away from my family and friends, whom I'm very close with, but I went from a three-star hotel to a five-star, Forbes-rated hotel. I needed to change and adapt my approach and delivery as a concierge. If you told me back then about all of these incredible experiences that would occur in my life, I wouldn't believe you. I'm just so grateful and this is just the beginning!
How did you learn about being a good concierge early on? Did you have any early mentors?
I like the quote, "You are the sum total of the people you meet and interact with in the world." I like to think I began my "concierge training" long before I even knew about the profession. In order to be a great concierge, you have to be a people person, self-motivated, patient, adaptable, and so many other attributes. These characteristics are not something you necessarily learn, but nurture over time. I certainly cultivated many of these attributes with the help of my parents and three siblings. "Treat others how you want to be treated" has always been a key philosophy in our family. I was also a proud member of the Girl Scouts growing up, which I think helped my passion for helping people grow. Once I actually became a concierge in 2010, I became part of an all-female team, which can be very rare in this profession. I learned how to be a fierce woman concierge in Florida, which helped me prepare for my move to Chicago. I would be remiss to say that many seasoned and Les Clefs d'Or concierges took me under their wings when I moved to Chicago and assisted me in getting to know the city and its warm and inviting community.
You never know what you might learn from someone, especially how to improve both professionally and personally. As a concierge, every day is different, and you must be willing to keep learning and keep adapting. I'm also open to admitting when I am wrong or make a mistake, which I think is an integral part of where and why I am where I am today.
What do you think makes you such an exceptional concierge?
I think it's because I truly and genuinely care about the well-being of my guests, both hotel guests and internal guests—my colleagues and vendors around the city. "No" is simply not in my vocabulary; where there's a will, there's a way. Sometimes, guests may ask for seemingly impossible requests, but I've learned over the years through my experience and especially in the last year of wearing my Golden Keys, that anything is possible. In our Les Clefs d'Or "in service through friendship" motto, we can create anything from nothing and make lifelong memories for our guests.
I also feel that my fairness and kindness to everyone sets me apart. No task is too small or too difficult and I'm happy to help anyone in need. That's why winning this year's International Young Leader Award in honor of Andre Damonte is very special to me. Mr. Damonte was a highly-revered leader of Les Clefs d'Or and known for his exceptional thoughtfulness and caring qualities.
As a young concierge who has grown up with technology, what are your thoughts on how it relates to the profession?
Technology is an integral part of our profession these days. Indeed, I have grown up professionally with technology. I cannot imagine the old days of everything being written down in one giant ledger book. Let's not forget all of the search engines, which guests can utilize in the click of a button, such as Google search, Yelp, or TripAdvisor. These search engines may provide quick answers, but concierges are the filters for this endless amount of information on the Internet. We provide the personalized recommendations to guests because we take the time to get to know their likes, dislikes, and interests.
What are the big challenges for the profession currently? What are the opportunities?
The biggest challenges for the profession right now are outsourcing the concierge desk and technology. With technology, guests are used to having information at their fingertips within seconds, especially with the younger generations. This can also be our opportunity. We as concierges need to remind guests that the human interaction, the personalized recommendations, and the genuine care that we display cannot be replaced by technology.
With outsourcing a concierge desk, hotels run the risk of not keeping guests' best interests in mind. If a concierge desk is run by an outside company, the hotel has no say as to what the desk is recommending to guests. Therefore, recommendations might be based on the concierge's preferences and not the guest's. An outsourced desk can also not feature any Les Clefs d'Or concierges, and thus guests are unable to interact with a seasoned professional who earned their Golden Keys, which are a symbol of trust, dedication, and hard work. With the advancements of social media, Les Clefs d'Or concierges are teaming up all over the world to unite our guests and colleagues through knowledgeable and professional recommendations on Facebook, Instagram, and Twitter. We are using technology to our advantage and keeping us relevant, but also staying true to our craft and staying "human."
What advice do you have for concierges just starting out?
My advice for new concierge is to get out and about in your city and really get to know it like the back of your hand. Learn all of the hidden secrets and insider tips so you can fill in your guests and make them feel special and in the know like a local. Get to know your local restaurateurs, purveyors, tour companies, etc., so they keep you in mind when you're in need of sold-out tickets or a table reservation that doesn't exist otherwise. Be the connection for your guests that only you can provide.
I also recommend asking questions and getting to know your fellow concierges in the community. Be open and willing to learn as much as possible and be active within the city. What really helped me get to know my community better was starting an initiative within our local Chicago Hotel Concierge Association to volunteer more. We now have a whole committee within the association that I co-lead with a colleague that gets us together at least once every few months to volunteer with a local non-profit organization.
The three winners from the United States have been women, which is quite phenomenal for an industry so dominated by men. What's it like to be a woman in this profession? Why do you think women are excelling?
I know that I have enjoyed a much "easier" journey as a woman in the United States compared to living anywhere else in the world, as we have the most female concierge contingent in the world—we have legends like Holly Stiel, who was the first American female Les Clefs d'Or Concierge member, and Marjorie Silverman, who was the first woman and first American to serve as International President for Les Clefs d'Or International, both of whom helped pave the way for women in the United States early on.
The ratio of men to women on the other side of the world is a huge difference. However, we are making very large strides in the concierge profession to reduce this gap, especially as leaders. Many women are gaining impressive leadership roles such as president of the NYC Concierge association (Regena Falling) and the first female president of the Les Clefs d'Or Great Britain chapter (a largely male-dominated section), Madeleine Calon. Not to mention that five out of the 11 Les Clefs d'Or Young Leader Winners so far have been women. I feel very lucky to be a part of this ongoing movement and can't wait to see and be part of the future progress.
About the Author
Adam Isrow is the founder of concierge software company GoConcierge and now executive vice president of ALICE, following the company's acquisition in 2017.