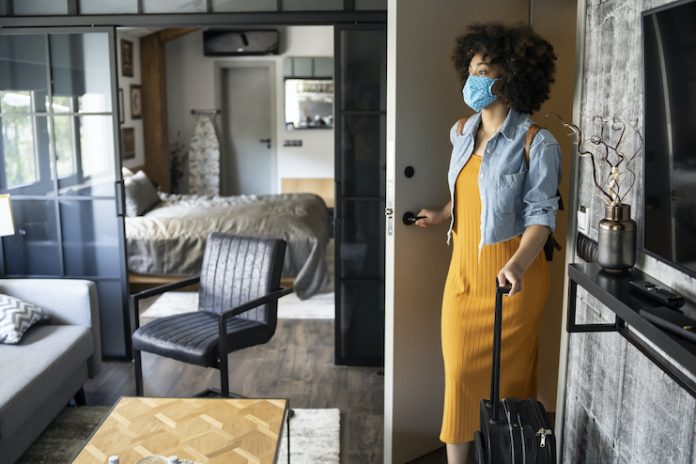 As 2020 draws to an end, hospitality stands at a critical pivot point. The entire industry continues to navigate the many challenges and setbacks caused by COVID-19, but despite best efforts, there is still only so much we can control. 
Consequently, the needs of your guests have changed. Yes, many guests are eager for engaging out-of-home experiences, but they won't book rooms without the assurance that your property is sufficiently clean and leveraging best practices for sanitation and social distancing. 
Simultaneously, more hospitality brands are already providing this assurance while finding new ways to distinguish themselves and achieve greater loyalty. They're raising the bar for surprise and delight, incorporating immersive and contact-reduced elements such as LED displays, digital concierges, and branded scents. As a result, they're connecting with guests on a more personal level and enhancing the perceived cleanliness of their properties. 
For your brand to thrive amidst the challenges of a changing and increasingly competitive marketplace, you'll need to follow suit on both accounts, while also boosting team alignment and productivity. Below are some key insights and keys to success, enabling you to develop a solid growth strategy for 2021. 
During these uncertain and stressful times, providing positive moments of surprise is the way to create lasting memories for your guests and encourage repeat bookings. 
To bring that necessary "wow" factor, you need to give some serious thought to how you want your guests to feel from the moment they step foot on your property. What do you want them to see, hear, and smell, and how will those sensory elements enhance the emotions you want your guests to feel? 
Additionally, how will those elements help relieve any anxiety they may be feeling? Don't overlook the power of music, visuals, and scent marketing in creating a powerful multi-sensory experience. These elements are fundamental to connecting you with your unique clientele on a more personal and emotional level.  
Your guests and your employees need the peace of mind in knowing that your property provides a clean environment that doesn't put them at risk. Implementing advanced cleaning techniques is the first key to providing that necessary level of assurance, but the truth is that it's going to take more if you really want to make a positive impact. 
The second key is making your guests aware of these efforts before and during their stay through clear communication. Email marketing, web, programmatic ads, and social media are great ways to share your commitment and generate some positive buzz before the stay. On-hold messaging and digital signage are effective mediums to further drive that sense of assurance on-site. 
Remember—the things your guests and employees see, hear, and smell while at your property need to contribute to creating a strong sense of trust and comfort. Do guests see engaging signage communicating best safety practices? Do rooms have sanitation seals? Do guests smell peppermint, vanilla, or lavender, giving them the impression that your property is clean and inviting? Are you playing the right music to maintain a certain vibe and make your property feel energized or relaxing, but not overly generic or sterile? (You can explore this concept in greater depth in Trust, Assurance & Your Guest Experience: 5 Keys.)  
Additionally, if guests are confident in the cleanliness of your property, they're more likely to visit your bar and order from your kitchen, rather than take their chances with a restaurant they've never been to. Simply put, creating that clean and sanitary impression can go a long way towards driving positive business results. 
Hospitality is an industry in which coworkers often feel like family, and to them, your property feels like home. When you reach a position in which you can start bringing employees back, the first order of business is to start reestablishing that sense of family amongst your team. Show them that you have their back and listen to any concerns they may have about returning to the workplace. 
One of the most effective ways you can address such concerns and reinforce a sense of family is by leveraging a robust back-of-house communication strategy. Displaying safety best practices and training tips will show your team that you care about their well-being. 
Additionally, keep in mind that uncertainty will linger around even as the economy rebounds, so provide flexibility in shifts and empathy in leadership. The goal of all of these efforts is to get your employees emotionally invested again towards giving 110 percent. The result is stronger focus and a drive to provide world-class hospitality. 
Surprise and delight, trust and assurance, greater team alignment—when these three foundations are executed strategically, consistently, and with heart, your bottom line will reap major rewards. The increased bookings, greater spend per visit, and lasting guest loyalty your business needs become much easier to achieve.