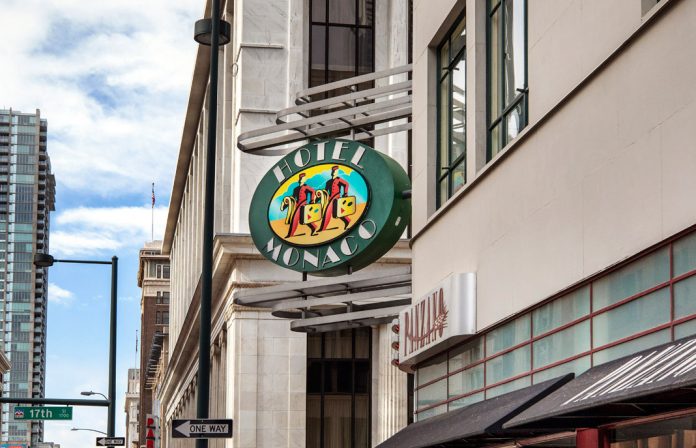 Choosing healthy options are often put on the backburner when checking out of a hotel and traveling home. Because the day is hectic and stressful, guests often grab a coffee or eat fast food on the way to the airport, which can be both unhealthy and inconvenient. Guests typically don't consider ordering takeout food from the hotel restaurant when traveling far distances. To support eating on-the-go, the Kimpton Monaco Denver started the "Breakfast with Wings" program at in-house Italian restaurant Panzano.
Matt Snyder, general manager of Panzano, says, "From our hotel in Denver's business downtown district to the airport is about 45-minutes. Whether a guest is taking a taxi, an Uber, or a light rail train, it's a hefty commute. We're trying to simplify the process for guests to have an easy meal where–for their convenience–they can call the host stand from the room and have a meal ready to-go at the front desk upon check out."
From a back-of-house perspective, the host stand receives the guests' calls and passes orders to a server, who inputs the order to be made in the kitchen of Panzano. The kitchen staff cooks the order and places it in a custom to-go container supportive of guests leaving the hotel. Then, a manager overseeing the expediting station checks the order and sends it to the front desk, where guests can pick up food in 15 minutes or less.
After taking the food and checking out, Snyder says, "We use a text message system for the front desk to interact with all hotel guests. Guests can text if their order was wrong or they were unsatisfied, and we are more than happy to provide them with an offer or discount to take care of them. It's a great communication tool."
On the "Breakfast with Wings" menu, some offerings include homemade banana bread; a breakfast panini with choices of eggs, sausage, bacon, and cheese; a Greek yogurt parfait with fresh fruit and toasted almonds; fresh-squeezed homemade juices; and an avocado toast sandwich made easy to takeout.
Snyder explained that the restaurant adapted popular in-house items like avocado toast to be less messy and better support traveling guests. Panzano changed the avocado toast offering to a sandwich form specifically for the takeout menu and still offers the original item in-house.
Like the avocado toast, the program has experienced behind-the-scenes challenges that helped shape today's operational efficiencies. When "Breakfast with Wings" began, the room service server took guests' orders. The hotel soon found that this wasn't effective, as the server was usually delivering orders on different floors and the to-go orders weren't handled proficiently. Pancakes, another popular in-house item, were initially on the takeout menu and came with a full plastic cutlery set that wasn't suitable for train traveling or car rides. Snyder says, "We only have offerings that can be eaten with a singular plastic spoon or be wrapped and eaten in a more compact, easier packaging."
Hotel restaurants are constantly evolving food and beverage operations to meet the diverse needs of guests. Snyder says that for outlets hoping to implement evolving takeout and in-house menus, managers may be hesitant to take a leap in another direction. "Take a look operationally and see what works best for the space and staff model. Be creative. An issue is usually having the fear to be creative or make changes. Changes can be scary, and just having the willingness to come up with a good idea and execute it is a step in the right direction," Snyder says. "If it doesn't work, it doesn't work, but you have to constantly try and get involved to better yourself and better your operation."