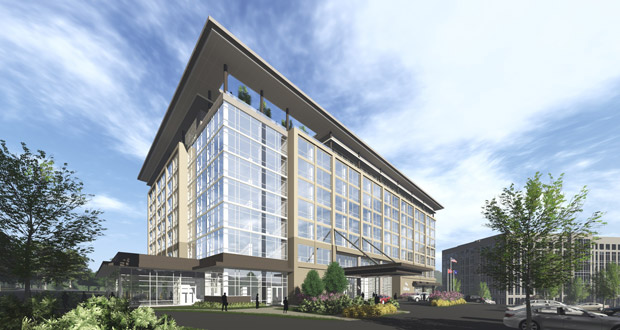 FRANKLIN, Tenn.–Chartwell Hospitality LLC recently opened the Hilton Franklin Cool Springs, the area's first full-service hotel built in nearly a decade. The hotel is located in Franklin's Meridian Cool Springs Business District, a 60-acre mixed-use development with office space and pedestrian-friendly retail and restaurant offerings.
The property has 244 guestrooms, six suites with floor-to-ceiling windows, a roof-level patio, a heated pool, and a terrace with a fireplace. Guests and visitors can dine at Härth, the hotel's signature on-site restaurant serving locally sourced American fare. The adjacent Härth Lounge offers a more casual experience with extensive small plates menu and a list of wine, beer, and craft cocktail options. The property also has indoor and outdoor event venues with more than 6,200 square feet of flexible space and equipment.
"Over the years, Franklin has evolved into a thriving business center, and we have seen an increase in visitors looking for modern new hotel options," said Chartwell's President Rob Schaedle. "Hilton Franklin Cool Springs fills a significant void in the market of full-service upper upscale hotels in the region."
In addition to developing the property and the adjacent parking structure, Chartwell will also manage the eight-story hotel.