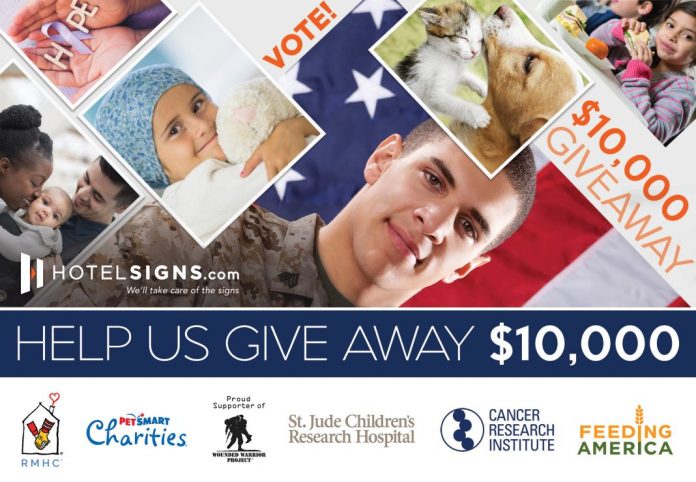 HOTELSIGNS.com has started its $10,000 charity donation event. From November 6 through December 19, you can vote once a day for your favorite of six nominated charities.
The charity that gets the most votes by December 19 at 11:59 P.M. EST wins. The winning charity will receive a $10,000 donation. The nominees are:
Wounded Warrior Project — Raises awareness, directs programs and services, and helps aid and assist severely injured service men and women.
St. Jude Children's Research Hospital — A leading children's hospital pioneering research and treatments for kids with cancer and other life-threatening diseases.
Ronald McDonald House Charities — Creates, finds, and supports programs that directly improve the health and well being of children through chapters in 64 countries.
PetSmart Charities — Improves the quality of life for all pets by creating and supporting programs that save the lives of homeless pets and promote healthy relationships between people and pets.
Cancer Research Institute — The world's leading nonprofit organization dedicated to transforming cancer patient care by advancing scientific efforts to develop new and effective immune system-based strategies to prevent, diagnose, treat, and eventually cure all cancers.
Feeding America — A nationwide network of 200 food banks that leads the fight against hunger in the United States.