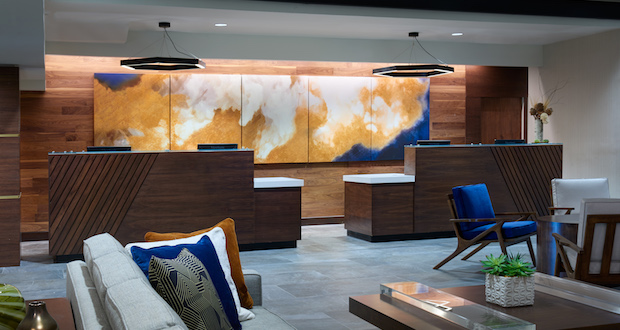 While artwork may not always be the first thing guests notice when they walk into a hotel, it can certainly make a big impact on the overall design and feel. When done right, artwork can be the focal point of any hotel lobby, guestroom, or spa, and should be considered as important as any other major design element. Artwork is chosen for a variety of reasons and can be implemented in many different ways. The following are four tips on choosing artwork for any hotel space.
Compliment the Design Story
While you may be compelled to choose artwork that incorporates the same colors or feel of the furnishings and fabrics that are being used throughout the hotel, it may not create the impact you desire. There are times that a safe or neutral choice is best, but on the other hand, sometimes a bold piece strategically placed in the property is exactly what you need to complement your story. Perfecting this design choice is all about moderation—it's imperative not to go overboard, but you shouldn't be afraid to make that bold design statement, either. Artwork that is carefully curated and placed throughout the property will help bring that design full circle, leaving guests with a cohesive, refined place to stay and enjoy.
Culture, Culture, Culture
When booking their stay, many guests seek a hotel that helps immerse them in the location's culture and history. While it may be easier to fill a space with artifacts and décor that represent those special elements, there are other ways to incorporate culture into the space. For example, working with local artisans allows you to create and curate a unique piece of art that highlights the hotel's surroundings and lifestyle. A collection of carefully curated pieces that celebrate the respective culture can also artfully accomplish the goal.
Additionally, there are other unique ways to incorporate artwork that you can consider. Three-dimensional wall pieces, sculptures, and bold graphics that complement your design story are impactful ways to implement artwork and can help honor the hotel's culture—something a hotel guest can appreciate.
Contrast Is Always a Good Idea
If complementary artwork and color schemes don't align with the desired design direction, choosing contrasting artwork is another fun way to make a bold statement without overwhelming a space. Consider incorporating a series of bright, bold colors throughout the hotel–perhaps a collection of pieces strategically placed in the guestroom and public spaces or bold graphics that become focal elements in certain areas. In doing so, careful attention should be taken to ensure that complementary and/or neutral pieces are used to help provide balance and harmony within the space.
Consider Your Audience
Art is subjective and should always provide that last, little finishing touch to a space. There are times when it is the main dramatic focal point in the room and other times when it blends more into the backdrop and creates a serene moment to rest one's eye and take in the beauty of the space. Regardless of which version you choose, keep in mind who your audience may be and what restrictions may be required. In the end, artwork should provide a beautiful complement to a hotel's design story and help guests feel at ease in that perfectly designed space.
About the Author
Lisa Haude is the president of Paradigm Design Group.
Top photo: Kansas City Airport Marriott