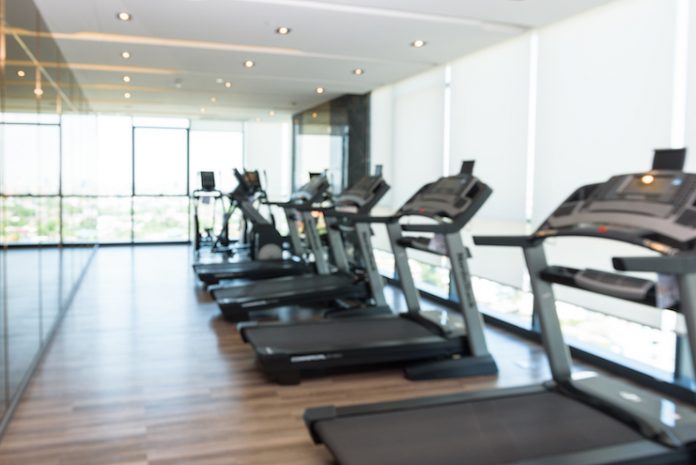 When every guest checks in, they have a multitude of wants: exceptional service, restful sleep, clean rooms, and more. Tech and app-driven convenience can help provide the experiences guests are searching for, which can encompass everything from on-click app check-in before guests arrive, room service or third-party food ordering, and even a hotel fitness experience. Long considered difficult to pull off at scale in guestrooms—and costly to manage in physical fitness clubs—the hotel fitness experience is getting a new look with new technology and new thinking. Here are five things you need to know about new hotel fitness experiences:
1
Hotel-Wide Fitness Flexibility
Not all guests want to hit the treadmill in the hotel gym immediately upon arrival, or get back to their room after a full day of client meetings and go find the hotel gym. Traditional in-room fitness options have been challenging for hotel operators and less than engaging for guests. A few resistance bands and workouts added to the in-room on-demand movie platform might not suggest a premium fitness experience.
One of the biggest challenges of implementing a more engaging fitness experience has been the expensive and labor-intensive nature of in-room hotel technology installs. Another challenge is the diversity of guestroom entertainment system options that make in-room fitness consistency and efficiency difficult to achieve. On-demand content providers have also struggled with creating effective, financially-viable platforms that can deliver a wide variety of premium fitness content across the many hardware platforms used by hotels.
Now, more efficient mobile technologies have caught up with consumer demand. New advances in online, on-demand fitness content portfolios mean a zero-install operation for hotels and an upgrade in fitness experience for guests wherever they are in the hotel.
2
Convenient Content Access Means No Maintenance
During the COVID-19 pandemic, the QR code was brought back to support contactless and touchless solutions. QR codes are an easy and instant way to access next-generation hotel fitness platforms built around convenience for guests. The better on-demand platforms offer immediate check-in to a curated portfolio of workouts, instructor-led classes, and cooldowns or stretches.
These can be provided by a fitness content partner, and the QR code requires minimal front desk management or explanation for guests who are now much more familiar with the technology. Table tents and other reminder signage with QR codes throughout a hotel lobby, fitness facility, and guestrooms can be focused on quality of experience and diversity of content without the need for an in-depth explanation of how to access in-room systems.
3
Club Connections on the Road
For guests who work out regularly at their club or stream fitness content at home, they might not want to take a short travel hiatus from their fitness regimen. A few fitness content providers now collate more than 1,000 workouts, cooldowns, and specialty classes for improved fitness options in a portfolio curated for what guests either need or want when away from their own gym. Those workouts can include instructor-led treadmill or stationary bike sessions they can access on an iPhone in the hotel gym or bodyweight strength training and stretches.
When searching for a content provider, review available content packages and make selections based on what guests might be missing at home, including instructor-led, motivational sessions for equipment-based bike or run workouts in the hotel gym and content that's appropriate to the in-room guest experience, too. Shorter-form workouts that focus on core strength, flexibility, or yoga can be an addition for time-crunched guests in the privacy of their own room or suite.
4
Global Trends Brought In-Room
An out-of-town trip is a chance for guests to get new perspectives. The traditional hotel gym experience, however, might not be as exciting, but a properly curated portfolio of fitness content can be a way for hotels to upgrade guest amenities beyond the treadmill and stationary bike. Look for content provider offerings that feature emerging fitness classes from some of the world's leading brands and instructors. They're marketable to fitness-aware guests and can engage guests with fitness offerings. There is also a trend toward all-ages fitness—classes and technique exercises designed specifically for older guests and tailored to promote functional fitness over more intense workout forms. All-ages fitness can help older travelers with the aches, pains, and stiffness of airplane travel. Hotel stays shouldn't mean missing out on staying fit, active, or fun.
Nothing ages a fitness experience faster than dated equipment, which can be costly to buy, maintain, and worse, replace. Installing a hotel gym can start at $125,000 and climb sharply from there with costs escalating for the lifetime care of equipment, power costs, and insurance. Many hotels are evolving their former heavy-equipment spaces into more mixed-use environments, offering spa treatments, massage, and wellness options, as well as large-screen areas for digital content and screen sharing from devices. As 2022 progresses, it seems likely that the search for operational efficiencies will continue across the hospitality category and fitness will evolve as a truly mobile, anywhere experience for all guests.
About the Author
Andrew Evenson is senior director, operations and brand strategy, FitnessOnDemand.