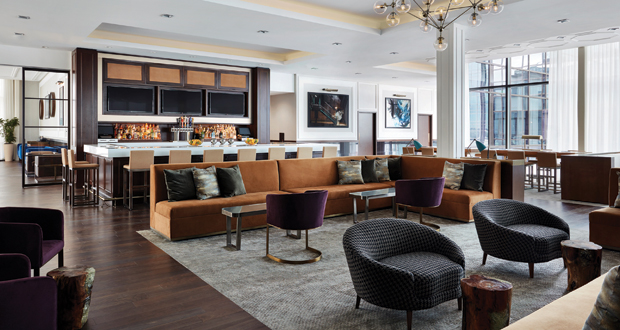 In the center of Jersey City, N.J.'s, emerging financial and art district, the Hyatt House Jersey City offers a glamorous, yet approachable, aesthetic that welcomes guests from all walks of life. The adaptive reuse of the First National Bank of Jersey City has 14 stories, including a rooftop and 258 apartment-style suites equipped with kitchens and living rooms. Although many of the building's original design elements were lost to time, Hyatt House Jersey City plays up its historic elegance with its restored octagonal ceilings. Across the Hudson River, views include the Manhattan skyline, the Statue of Liberty, and the Freedom Tower.
The Terrace Bar welcomes relaxation and socialization with original culinary concepts and cocktails, and The Rooftop at Exchange Place has fireplaces and water features facing the Hudson River. A separate glass elevator provides direct street access to Hyatt House Jersey City's lounge and bars for locals and guests. When guests enter the property, they are immediately brought up to the 13th floor reception area. From there, they are taken downstairs to the guestrooms.
Nikoletta Stagias, interior associate for Stonehill Taylor and the lead designer for Hyatt House Jersey City, says, "The concept of entering from the ground and traveling up was explicitly driven by the incredible views. We wanted to take advantage of them in public spaces, as opposed to only in the guestrooms. You get a bigger bang for your buck."
Comforting 
Colors
Initially, the space was green and gold, but Hyatt House brand standards called for more neutral colors. "We've created something that will last longer. You feel comfortable walking in. It's glamorous, but approachable. It's reminiscent of someone's really nice home," Stagias says.
Retractable Relaxation
With sliding glass doors, the bar area can open 
and close for busier nights or private events. 
Stagias says, "Sometimes, if you go to a bar and 
it's large and empty, it's a little sad. We purposefully put those doors where, if it's not busy, the space can be closed off."
Authentic Artwork
While corridor artwork depicts 
classic New York scenes and guestroom pieces are more Jersey City specific, the public space art, Stagias says, "is mainly abstract depictions of the waterfront."
Minimalistic 
Lighting
The chandeliers in the hotel were specifically chosen to minimize view disruption. Stagias adds, "We also wanted to ensure that the quality of the lighting made everything feel open."