Following its dramatic decline in the late 90s and early 2000s, 
many had written Atlantic City, N.J., off as a has-been attraction 
for gamers, day-trippers, and beach vacationers. However, these 
naysayers are not seeing what a group of casino investors and a 
university executive see in the once-popular beach destination.
Three self-described "Jersey boys"— Jim Allen, Hard Rock International chairman; Jack Morris, CEO and president of Edgewood Properties; and Joe Jingoli, CEO of Joseph Jingoli & Son Inc.—are now all in, as is Brian K. Jackson, chief operating officer for the Atlantic City Campus of Stockton University scheduled to open this August. As they told LODGING, all are optimistic that Atlantic City is poised for a comeback, thanks to a confluence of numerous factors, including the opening of an Atlantic City Stockton University campus, new investment that includes but also goes beyond the college and casinos, and the support of a welcoming community and sorely needed social services.
Gaining Critical Mass
Allen, who grew up in New Jersey and got his start in hospitality in Atlantic City, says he is especially passionate about the area, and its budding revitalization is "near and dear to my heart." However, he says, the decision to purchase and totally renovate the bankrupt Trump Taj Mahal to transform it into Hard Rock Hotel & Casino (HRHC) Atlantic City was strictly a business decision. "The casino industry has been doing well in the U.S. and internationally, both in business volume and sales of companies with high multiples. But while the market has been growing, a lot of the product in this town is old." Therefore, when Hard Rock International, in collaboration with Jingoli and Morris, had the opportunity to buy the former Taj Mahal, Allen continues, "We felt the time was right to create the right product, a must-see attraction via our massive renovation of the existing property."
Morris and Jingoli, who had already worked together to revitalize other New Jersey cities—including New Brunswick and Somerville—never gave up on Atlantic City. "Atlantic City is one of the most iconic cities in the country, and it has things no other city has: There's entertainment, beaches, the Boardwalk, and an airport, and we're sandwiched between two great cities—New York and Philadelphia," says Morris, who maintains that he and Jingoli were especially well positioned to take on the challenge. "A lot of people don't want to take that risk, but between our financial strength and willingness to work with communities, we're able to take this project on. We saw an opportunity there and invested in it, just as we do with other cities."
Jingoli notes, too, that they are not alone. "There's a lot of business coming to Atlantic City now. The well-known utility South Jersey Gas, a subsidiary of South Jersey Industries, is moving here, and another high-profile casino, the Ocean Resort, which is replacing the Revel, is in the works. Both have brought in construction and will also bring in jobs," he says. The gas company is expected to bring some 100 positions, and, according to Allen, Hard Rock Hotel & Casino Atlantic City alone will generate some 3,500 permanent jobs for residents of Atlantic City, Cape May, and Cumberland Counties.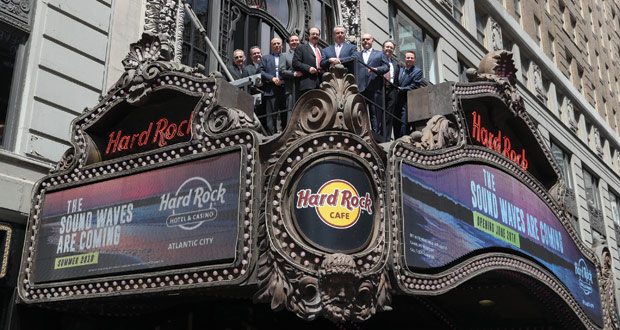 Another significant factor that has improved Atlantic City's prospects for a comeback and is inviting further investment is the Atlantic City campus of Stockton University, which is set to open this fall.
The immediate impact of Stockton University's new campus on Atlantic City has been a $220 million construction project, a public-private partnership with Atlantic City Development Corp. (AC Devco), which has brought in hundreds of construction jobs to the city. As Jackson describes, it will include residential housing and retail overlooking the Boardwalk, an 879-space parking garage topped by new corporate offices for South Jersey Gas, and a 56,000-square-foot academic building.
As Jackson notes, upon its completion, this flurry of construction promises an injection of new blood—over 500 students living in apartment-style residences this fall, academic space that can accommodate over 2,000 students, and over 20,000 square feet of retail space.
Noting that the main campus of Stockton, which is located 14 miles away in bucolic Galloway, will eventually outgrow its buildable space on the 1,600-acre campus, which is surrounded by protected land, he says, opening an Atlantic City campus was a natural choice. "We've had a presence in Atlantic City since 1971. We were teaching classes in the former Mayflower Hotel on the Boardwalk while the first buildings on the Galloway campus were being constructed."
Jackson says the previous Stockton president, Dr. Herman Saatkamp, had a vision to expand into Atlantic City. However, it was the current president, Dr. Harvey Kesselman, who, by way of a public/private partnership with AC Devco, the State of New Jersey, South Jersey Industries, Atlantic County Government, and the City of Atlantic City, embraced the opportunity to work with these partners to build a brand-new campus in the historic Chelsea neighborhood of Atlantic City.
Jackson says Stockton, as a designated anchor institution, is eager to be part of Atlantic City's renaissance and to offer its students the benefits of a different type of campus. "We see Atlantic City as a perfect place to grow and attract new students who might be interested in receiving their education in an urban resort setting." He notes, too, that the city will benefit from their presence. "Students will be out in the streets, taking advantage of the wonderful diverse restaurants, businesses, entertainment, and outdoor activities within walking distance of the campus, in addition to engaging in community service. We're also beginning to see interest in other businesses that want to come into the neighborhood, to be part of this new energy that Stockton and South Jersey Gas are bringing to this part of the city."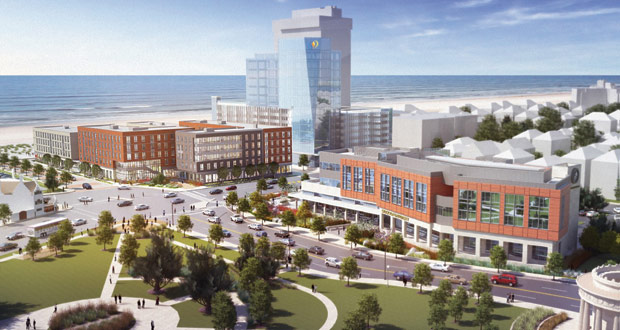 Community Connection
Big plans and high hopes notwithstanding, Jackson points out, work still needs to be done to prop up the economy and surrounding communities. "Due mainly to the massive job losses that followed the closing of several casinos, there remains an enormous need to help people who are not where they want to be. However, the level of excitement and support Stockton has received from the community has been extraordinary and encouraging to all of us at the University."
Jackson stresses how the University is stepping into the breach, where possible and appropriate. For example, its Center for Community Engagement collaborates with local agencies to administer its Campus Kitchen Program, which helps to address food insecurities in lower-income neighborhoods. He says the MSW degree program, which is completely housed in Atlantic City, was placed there specifically "because we thought it was important for social work students to be here where they're needed." The University has also hosted networking events, including a recent citywide career fair that brought in 4,800 people to meet with some 100 companies seeking to fill positions.
Jackson also describes the wide range of activities that other Stockton students undertake to make a difference in the Atlantic City community. "We have student volunteers working in after-school homework completion programs, serving about 300 Atlantic City students annually. We're also conducting naturalization classes, teaching English, and offering programs to assist older adults, as well as workforce development and services to help local entrepreneurs start businesses and existing small businesses to grow."
Jackson says the University, which is committed to the growth and revitalization of Atlantic City, is also poised to support the town and hospitality industry through its academic programs. "We have an excellent hospitality and tourism management studies program, social work school program, and teacher education program, all of which have students interning and working throughout Atlantic City, and we plan to continue to work to expand our presence here."
As Allen mentions, it's not just the University and the town that are rallying for the people of Atlantic City; Hard Rock Hotel & Casino Atlantic City is stepping decidedly outside property lines in an effort to forge lasting positive relationships with their neighbors in the community. "We have hosted community meetings with residents of Atlantic City to make sure we hear their concerns and work with them to address them."
These initiatives, says Jingoli, are coordinated by Hard Rock Hotel & Casino Atlantic City's community relations department. "We have the only VP community relations position at a casino in Atlantic City. Under the direction of Robert Lee, we'll be coordinating with and including our neighbors in the community through activities like urban gardening. There will be career programs with live classrooms to attract young people to our industry, and public service announcements to let them know we want and need them. We're a property in Atlantic City, but we're also a member of that community and we want our neighbors to feel the same way about us," Jingoli describes.
Beyond the Slots
All agree that casinos alone aren't enough to bring in the volume of business needed to power a full recovery to sustain both the town and the casino industry there.
Morris recognizes that casinos will continue to be a major attraction. "The casino industry has been the driving force in Atlantic City since it came here in 1978. It still is and always will be." Yet, as Allen points out, while Atlantic City is the second largest gaming market in the United States, fewer than 10 percent of visitors stay in hotel rooms. "When you look at the 26 million who come to Atlantic City on an annual basis, the vast majority are from the geographic drive between New York and Philadelphia."
With that in mind, says Jingoli, the challenge isn't so much to get them to come; it's to get them to stay. "The key to success here and now is to give guests an experience that makes them want to stay that extra day or two. Whether they're here for a convention, the weekend, or just to see a show, we want guests to bring their family, to hang around for the many other things we offer." He points out Hard Rock's fun-filled activities and attractions, such as a spa, a comedy club, and restaurants and bars, including the Sugar Factory, which he says is "the number 1 spot for selfies or for 21-year-olds to have their first drink." He says the property also has valet parking on the street next to the casinos that offers access to the beach and the Boardwalk, which he says, thanks to video cameras, "is one of the safest places in the United States."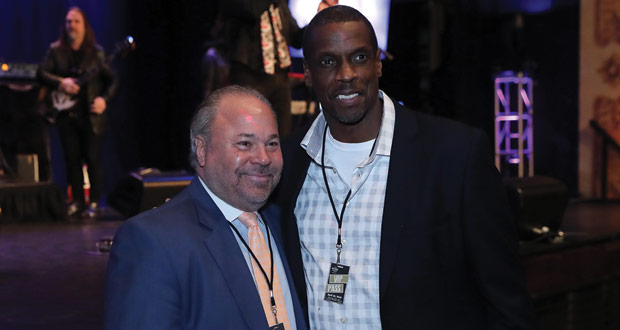 Allen mentions, too, that residents of a revitalized Atlantic City—including students—will be able to enjoy the very same restaurants, casinos, and entertainment that bring in the out-of-towners for gaming, a show, or a convention.
Jingoli believes Atlantic City is at somewhat of a tipping point now that has people rooting for it. "It used to be popular to kick Atlantic City, but we're at that point now where it's really about a comeback and renaissance, not just for our property, but also for the people of Atlantic City."
He says the Hard Rock's arrival in Atlantic City has started an "arms race" that has inspired other properties to invest in their infrastructure, advertise, get more entertainment, and do more for their employees. "We've put a spotlight on what's good about Atlantic City; that has lifted that malaise and changed the public perception of Atlantic City."
Allen credits the turnaround—and his company's part in it—as being a product of what Jingoli calls "an all-hands-on-deck attitude" that invites cooperation and goodwill. In summary, Allen says, "Giving back to local communities and focusing on helping people, not just the bottom line, is something Hard Rock has been doing since 1971 as part of the brand's motto to Love All – Serve All. So, we're very optimistic that those core values, will translate into people being interested in and coming to Atlantic City to see what we've done. We hope our success will encourage other companies and investors to reinvest and that we'll see better days ahead for the population and the general real estate values for Atlantic City and the surrounding areas."