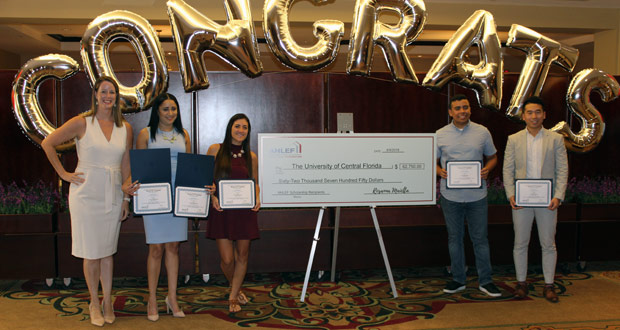 On Thursday, August 9, University of Central Florida's (UCF) Rosen School of Hospitality and the American Hotel & Lodging Educational Foundation (AHLEF), the philanthropic arm of the American Hotel & Lodging Association (AHLA), surprised hospitality students with scholarships for the 2018-2019 school year at an exclusive reception at the Orlando campus. The UCF students had not received any notification that they have won scholarships and did not know they are attending a reception in their honor.
This year, AHLEF awarded a record-breaking $1.3 million via 420 scholarships—the highest amount ever awarded to students seeking a career in the hospitality industry. Having been awarded $62,750 in over 20 scholarships, UCF students secured more AHLEF scholarships than any other school.
AHLEF administers scholarship programs for students enrolled in hospitality-related degree programs at colleges and universities across the country. The Foundation received and evaluated more than 2,000 applications based on financial need, academics, relevant work experience, extracurricular activities, and personal attributes. The Foundation says that these scholarships will help foster students' future and careers in the hospitality industry.
Photo: Shelly Weir, senior vice president of career development at AHLEF, and UCF scholarship recipients at the August 9 reception.