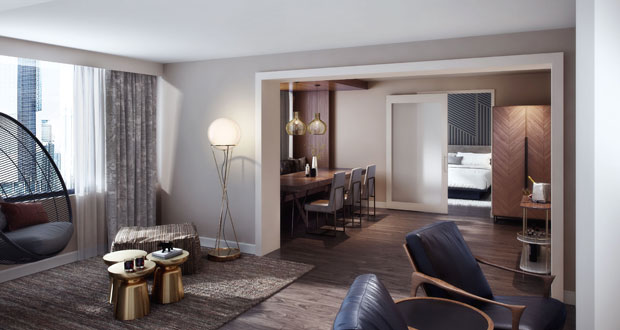 ATLANTA—This past May, Woodbine Legacy Investments (WLI) began a $20 million renovation of W Atlanta-Buckhead, a 12-story, 291-room full-service luxury hotel in Atlanta's affluent Buckhead neighborhood. The renovation will be completed in late December 2018, just weeks before the city hosts Super Bowl LIII. Woodbine hired C+TC Studio of Atlanta as the architect and interior designer for guestrooms and the hotel's rooftop bar, Whiskey Blue; STUDIO 11 of Dallas as the interior designer for the lobby, public areas, and meeting space; and Genoa Construction as the general contractor for the project.
"When this hotel debuted as part of the W Hotels portfolio in 2008, it quickly became a hotspot for locals and visitors alike and has remained that way for the past decade. That said, when Woodbine purchased the property in 2017, we knew it needed a reboot to restore its shine," said Dupree Scovell, managing partner and chief investment officer for Woodbine. "This renovation is definitely more than a makeover—it will reinstate the edgy and artful experience guests expect from the W brand, especially with Buckhead as the backdrop."
W Atlanta-Buckhead General Manager Robert Woolridge added, "Our renovated hotel will feature a bold new design that will appeal to our guests, all of whom are drawn to the chic-meets-rebel style of our luxury destination. This overhaul will ultimately make our address—the hottest address in Buckhead—even hotter."
[slideshow_deploy id='40994′]
Taking cues from Atlanta's Southern location and bent toward fashion, design, and art, the top-to-bottom revamp includes a lobby redesign that delivers on form and function, with the addition of a dedicated welcome area for the Whatever/Whenever concierge team; new furnishings; and a café-style seating arrangement that lends to work for individuals and groups alike. The flexible layout will also flow easily from day to night, providing a calm, comfortable, and swanky space by day and a dynamic, energetic setting with a DJ booth by night—always showcasing fashion, art, music experiences, and more. Also in the lobby will be a new custom mural by the W photo booth, allowing guests to take photos that will then be displayed on-loop with a Polaroid-style treatment on a nearby screen.
The hotel's 11,000 square feet of flexible indoor/outdoor meeting and event space will receive new furnishings, paint, carpeting, lighting, and artwork, along with enhanced spaces for breakout sessions and pre- and post-function events and activities. The fitness center, where guests can enjoy views of the city, will also get a new artful look. Additionally, Woodbine is upgrading all internet cables for faster connectivity throughout the hotel.
Guest accommodations—which include 286 guestrooms plus four WOW Suites and one EWOW Suite—will get new headboards, armoires, damask wallcoverings and carpeting, 55-inch televisions, in-room Nespresso machines and beverage bar, and vivid artwork throughout. All guestrooms have splashes of color and a blend of graphic and sophisticated elements to create a space that's compelling, energizing, inspiringm and comfortable all at once. Air-conditioning window units will also be removed from all guestrooms, decreasing system-related sounds and making room for a window portal to frame up a new work/lounge area with a chaise, table, and cocktail cubby. Guest bath updates include bold wallcoverings and new, glamourous sliding glass doors for augmented privacy. Guestroom corridors also have new wallcoverings, carpeting, and lighting throughout.
W Atlanta-Buckhead's rooftop bar, Whiskey Blue, operated by Gerber Group, is also being transformed. "We're extremely excited to reintroduce the renovated Whiskey Blue to the city of Atlanta," said Scott Gerber, principal and CEO of Gerber Group. "We've aspired to create an exceptional experience for our guests through every detail, from our design to our renowned beverage program."
Updates to Whiskey Blue will include new furnishings, flooring, wallcoverings, lighting, artwork, terrace furnishings, and landscaping, as well as changes to the entrance elevator and surrounding rooftop. These updates are anticipated to be finished in late October.
A second phase of renovation will commence in 2019, which will focus on the hotel's restaurant, Cook Hall.