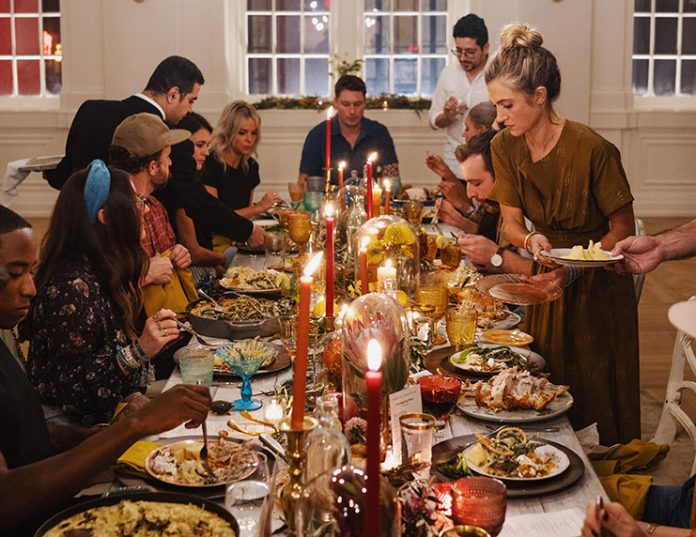 Bethesda, Md.–Tribute Portfolio, Marriott International's newest collection brand, has created a Friendsgiving package at participating U.S. hotels, reimaging traditional Thanksgiving celebrations with a hint of wit and whimsy among friends.
Celebrating the spirit of comradery in creative communities around the country, the Tribute Portfolio brand's Friendsgiving package will offer overnight accommodations; a communal culinary experience with an unexpected twist on traditional Thanksgiving staples; throwback board games; and classic cocktails that will set the stage for the music to play a little louder and friends to linger a little longer into the night.
"With 28 hotels opened and growing, Tribute Portfolio has struck a chord with travelers who have an insatiable appetite to collect independent experiences and connect with local communities," said Jennifer Connell, vice president, brand marketing and management, Tribute Portfolio Hotels. "This Friendsgiving package is a light-hearted way to showcase our hotels' captivating design, vibrant social spaces, and sincere service in a way that brings together travelers and locals as well as friends and family."
Each participating hotel will center its experience around a locally inspired culinary feast. Guests visiting The Wick in Hudson can expect menu items like turkey porchetta with giblet gravy, local heirloom tomato goat cheese tarts, crisp chicken liver pate, maple-roasted acorn [squash] with spicy pecans, and pumpkin gingerbread tiramisu with a mini candied apple and cider donuts. At Noelle in Nashville, the menu will include marinated spaghetti squash salad with pumpkin seeds and ricotta, whole roasted chicken with savory leek dressing, whipped sweet potatoes with brûlée marshmallow fluff, and pecan pie with lemon-mascarpone crème fraiche, as well as signature cocktails like Blade and Bow Kentucky Bourbon with amaro, Giffard Banane du Brésil, and Saigon cinnamon syrup.