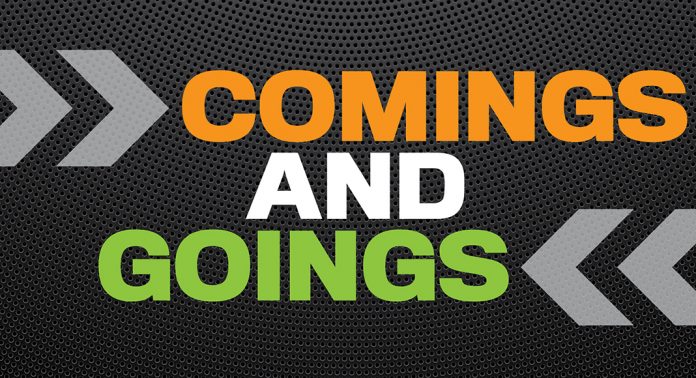 Wyndham Hotels & Resorts has named Shane Platt senior vice president of franchise & sales development – west, where he will lead conversion and full-service franchise sales teams in the western United States. Platt was managing director of development at Best Western International before joining Wyndham.
Here's a look at other notable comings and goings that took place this week.
Todd Walter has been promoted to executive vice president and general counsel for Rockbridge. Walter was previously executive vice president and associate general counsel. In his new role, Walter will be overseeing responsibilities for the legal affairs side of the firm, including individual investment and affiliate business matters.
Ronald Vlasic has been named chief operating officer for Hostmark Hospitality Group, where he will assist in helping the brand expand its portfolio into new markets. Vlasic was most recently vice president of operations for Kimpton Hotels & Restaurants, where he created and managed brand standards.
OTO Development welcomes Denise Beers-Kiepper to lead over 2,400 country-wide employees as vice president of human resources. Beers-Kiepper has experience in human capital strategy and organizational development, most recently working for Cloud-based startup MadDog Technology.
Midas Hospitality has hired Linda Eigelberger to drive revenue and talent development as vice president of sales and revenue management. Additional responsibilities include managing team members, operations, and strategic initiatives. Eigelberger worked for InterContinental Hotels Group (IHG) in various roles before joining Midas Hospitality.
Lindsay Jarvis has been named general manager of the Hyatt Place Grand Rapids/Downtown, an AHC+Hospitality property opening summer 2019. Jarvis spent 10 years at the Amway Grand Plaza, leading its transition from a Preferred Hotels & Resorts affiliation to a Curio Collection by Hilton hotel.
David Kingston is now general manager for Snow King Resort Hotel & Condos, a Benchmark Resorts & Hotels property, in Jackson, Wyo. During his 25-year career, he served as chief operating officer for Averill Hospitality of Whitefish, Mon., and general manager of Brasada Ranch in Bend, Ore., and Snake River Lodge & Spa and Hotel Terra, both in Teton Village, Wyo.
The Brown Palace Hotel & Spa has appointed David Larson to manage 6 restaurants and bars as complex director of food and beverage. This position also allows him to oversee food and beverage operations for the adjacent Holiday Inn Express Denver Downtown, which is part of The Brown Palace complex.
Wayne Childs is the new director of sales for the Hampton Inn & Suites Gainesville-Downtown hotel in Fla. His responsibilities include running the small meetings and group travel markets. Childs has spent the past 20 years in hotel sales, most recently serving as sales manager for The Plantation on Crystal River.
Kimpton Solamar Hotel has appointed Rosaline Verhoog to group sales manager. Most recently, Verhoog was executive meetings manager for the Estancia La Jolla Hotel and Spa. Additionally, Crystal Wagner has been promoted to executive meeting manager, and she will be focused on booking small groups and meetings, as well as oversee social media marketing efforts.
Kate Poole Cropsey is regional leader of hospitality interiors for Gensler design firm. Cropsey has worked in hospitality interiors for over 26 years, primarily in luxury and upscale brands. Cropsey was most recently principal of Simeone Dreary Design Group, and before that, was vice president of interior design for The Gettys Group.
Mark Amodeo is the new sommelier for Pechanga Resort Casino in Temecula, Calif. In this position, he will curate a wine list and partner different wine selections with dining outlet offerings. Amodeo is joining the property following its March 2018 renovation when it added two restaurants and two bars/lounges.
Radial Innovation has named Patricia Martin managing director, where she will grow international visibility and be responsible for bringing long-term projects to the company. Martin's experiencing is working in conference management roles, most recently at events in Europe, Asia, and the United States.
Fred Trimble is regional sales executive for the convention sales team for the Greater Fort Lauderdale Convention & Visitors Bureau (GFLCVB). Before joining GFLCVB, Trimble assisted in reopening and rebranding the Watergate Hotel in Washington, D.C., and held various positions at The Diplomat Beach Resort and Bonaventure Resort & Spa.
Ethos Creative Group—a hospitality and travel creative agency—has named four new team members to help grow the business: Julia Alexander Poole is an art director; Megan Jacobs is an editorial assistant; Zach Eller is an associate art director; and Bailey Profitt is an administrative assistant.