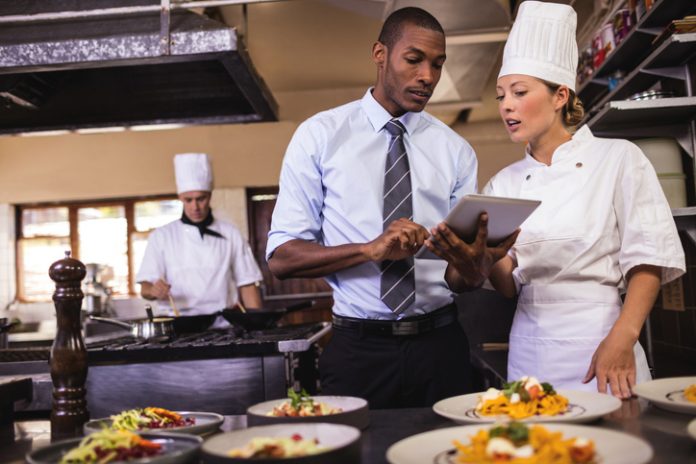 The hospitality industry strives to provide exceptional customer service, a healthy and safe environment, and attention to even the smallest details. Now, technologies are helping hotel restaurants elevate operations by streamlining their processes, boosting efficiencies, and improving quality and safety protocols. Hotel restaurants have experienced significant benefits after implementing digital systems.
Below are nine ways technology is boosting efficiency and reducing waste in hotel kitchens.
1
Operational Improvements
Many restaurants attribute measurable operational improvements (including online ordering speed, consistent recipe prep, and food safety) to technology deployments. Digital systems allow restaurants to elevate their business practices and systems.
When restaurants use paper and pen systems for line checks and temperature logs, there's a high risk for human error—e.g., failure to complete inspections correctly, misreading key data, mistakes in recording information, etc. Using digital systems elevates food safety processes, making them more convenient, accurate, and efficient. Staff can use cell phones to record data, while managers can access the results in real-time. This ensures that critical tasks are completed accurately and promptly.
Humans make mistakes. They may misread a thermometer, log critical data incorrectly, or forget to close the walk-in cooler door, putting foods at risk. Perhaps they forget to do a critical safety check during an especially busy lunch shift. Digital tools significantly reduce the chance of human error, keeping foods, guests, and businesses safer.
Sensor technologies help restaurants with everything from monitoring food temperatures to receiving immediate notifications about power outages. Digital thermometers are a simple way to ensure that foods have been cooked to proper temperatures. Equipment monitoring sensors can detect changes in temperature, like if the walk-in cooler door has been left open, the oven isn't working properly, or the power goes out, helping reduce product loss and protect against food safety issues.
Food waste is a huge, expensive problem in restaurants. Technology can vastly improve ordering, storage, and prep processes, reducing food waste and saving restaurants significant money. Using digital systems, chefs and managers can easily access and analyze the previous months' sales numbers to gauge necessary volume. Armed with this data, they can be much more accurate in what—and how much—they order, resulting in less food waste and related expenses.
If a restaurant had a customer complaint or norovirus outbreak and the GM had to provide paper line check documentation from a particular date, how difficult would it be to locate the necessary records for the local health department? If that restaurant was working with paper records, it would be challenging to access specific files from an overstuffed filing cabinet or paperwork piles. Digital tools make it much easier to quickly and accurately access records.
7
Improved Processes and Accessing Critical Information
Tech tools help restaurant employees streamline and centralize information. If the power goes out in the middle of night, chefs and GMs can use digital alerts to instantly tell what time and for how long. Alternatively, restaurant owners using paper systems would arrive at work the next morning with no idea that the power was out or for how long, and no information about whether their cold food remained within the "safe temperature zone." They'd either have to throw out the food—a tremendous expense—or risk serving compromised food to their guests—a potential foodborne illness hazard. Tech tools monitor critical points of hazards and alert restaurant leaders to any issues, helping to reduce risks and expenses.
In many cases, restaurant owners and operators could improve performance by analyzing data to determine trends. Using digital tools instead of paper, they could review their ordering history and sales data on a calendar basis to decide how much food to order at various times of year, potentially saving significant money by reducing food waste.
9
Focusing on What Teams Love
While few food service professionals would say that ordering, inventory, and inspections are their favorite parts of their job, these tasks are necessary to keep their restaurants running efficiently and safely. Tech tools make it faster, easier, and more convenient to do the "less fun" parts of the job so teams can get back to focusing on what they enjoy—cooking delicious food and providing exceptional hospitality.
Implementing technology in hotel restaurants isn't complicated, expensive, or overwhelming; in fact, it's become much more mainstream, affordable, accessible, and user-friendly in recent years. The ROI on implementing digital solutions is high—these tools help improve efficiencies, safety, accuracy, and productivity, while also reducing foodborne illness and food waste. Restaurants that implement digital systems will enjoy a significant and positive impact to their bottom-line.