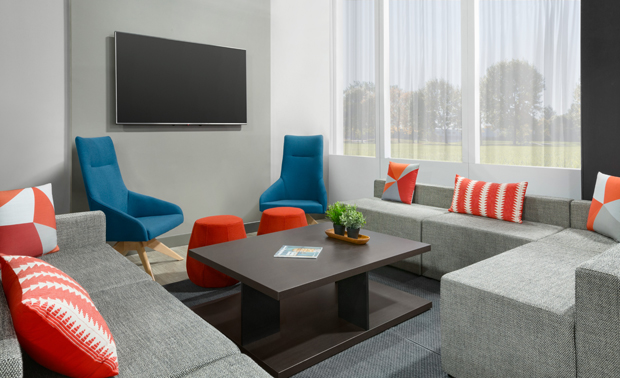 Last year, IHG announced its plans for a new midscale brand—avid hotels. With more than 100 franchise agreements on the books a year after its launch, the brand has already opened its first location in Quail Springs, Okla., just outside of downtown Oklahoma City. Jennifer Gribble, vice president, Americas, Holiday Inn Express and avid hotels, tells LODGING about the first avid hotel and what sets the brand apart.
As the first avid came to life, what adjustments did you have to make?
Truthfully, we didn't have to make many. We partnered with our Owner Advisory Board, which was critical to making sure that we got things just right in the planning stages. Additionally, a big part of our process was rapid, iterative prototyping, which helped us learn quickly and get to the final design. We're also prepared to do lots of listening and learning once the doors open.
Why was Oklahoma City the right site for the first avid?
When you launch a brand, it's really important to have a first-rate partner who believes in the vision and can execute on it. It made a lot of sense for that first developer to be Champ Patel with Champion Hotels because he was a member of our Owner Advisory Board. He helped provide lots of great owner and operator feedback to make sure that we had something guests and owners would love. Additionally, he had a real commitment to developing this project at a rapid pace and in a great location in Quail Springs, a suburb of downtown Oklahoma City. The city is home to multiple businesses, as well as medical centers, so there's strong demand for a hotel like avid.
What are some of your favorite features of avid?
We call the guests who are going to stay here "principled everyday travelers." Everyday is about that one- or two-night occasion where they don't need much from the hotel, but they really need a great night's sleep. Our guestroom is designed for a sound sleep—we have a high-quality mattress, great linens, a choice of pillows (both firm and soft), roller shades that provide a complete blackout, and purposeful design choices that reduce noise in the room.
For potential franchisees, what sets avid apart?
We identified a large segment of underserved guests, so there's a huge opportunity to scale and put avid in different types of locations. No one's meeting their needs today, and that helps create strong demand for the product. As we 
developed the brand, we stayed close to the guest and had strong owner involvement. That will create strong returns for owners as well as high satisfaction for guests.
More from LODGING's 2018 Franchise Guide here.