Last year, IHG announced its plans for a new midscale brand—avid hotels. Developed with extensive input from both owners and guests, the brand is designed to provide travelers with the basics done exceptionally well, and at a price point lower than a Holiday Inn Express. The company has already signed more 130 franchise agreements to date, 82 of which were signed in the first half of 2018. These deals account for more than 40 percent of the company's signed hotels during that period, according to IHG's second half of 2018 results.
On top of its fast-growing pipeline, the brand is getting ready to open its first location less than a year after launching in Quail Springs, outside of Oklahoma City. In a recent hard-hat tour of the property Jennifer Gribble, vice president, Americas, Holiday Inn Express and avid hotels, took LODGING behind the scenes of the first avid hotel and how each design feature compliments the guest experience.
"This all started at IHG when we understood a business opportunity to serve approximately 14 million underserved travelers that represent about $20 billion in industry revenue," Gribble said. The company's research showed a gap in the market for what IHG calls, 'principled everyday travelers'—guests across all demographics and generations who are self-reliant, practical, and value their hard-earned dollar, Gribble explained, where 'everyday' refers to a one- or two-night stay during which guests are not relying on the hotel for much besides a good night's sleep. "We designed avid hotels for them. It's about delivering the basics exceptionally well every time."
The brand made its three tenants about taking a fresh approach, being frank and transparent about its offerings, and being fair in delivering quality and pricing. To deliver this promise, IHG created four brand hallmarks for avid: a grab-and-go experience dubbed 'good all round breakfast' grab-and-go; simplified and transparent booking; a purposefully designed sleep experience; and what the brand is calling the 'avid hotel guarantee,' which Gribble explained is about ensuring that the experience promised is the experience delivered. "We're going to make it right if you show up in your room and it's not what you expected," she said.
Below is a closer look into each of the areas of avid hotels.
Exterior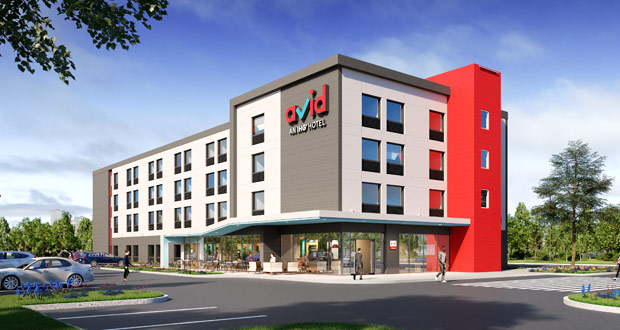 "What we wanted to do was provide a modern, contemporary design, and really one of [those design features is this] great, beautiful glass that provides a really naturally-lit lobby, but mimics more of what you're seeing in retail today," Gribble said during the tour, pointing out specific exterior details. She added that the brand colors pop while also defining the building's exterior as an 'avid hotel.' These evolved during the first hotel's development, when even more red accent was added to the exterior. "We learned things like this moving through the actual construction," Gribble noted.
Individual avid owners have the option to add a pool and a portico in locations with more frequent inclement weather. The first avid hotel location will feature an outdoor pool with separate restroom facilities as well as a fitness center.
Lobby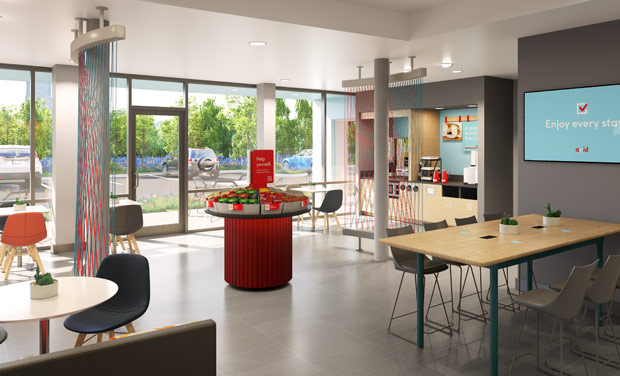 Gribble said that the lobby was designed to serve several functions throughout the day and night. "It's for a use that's not longer than 10 minutes—these guests aren't lingering down here, but they do need it to transition to different parts of their stay while they're here," Gribble explained. A mix of seating is designed to transition one area of the lobby from a place where the hotel can serve—and guests can eat—breakfast in the morning to a lounge area in the afternoons.
Rather than positioning the front desk close to the entrance door, avid's front desk has a more central location in the lobby and has a slatted wall on one side so that staff can view the entire lobby.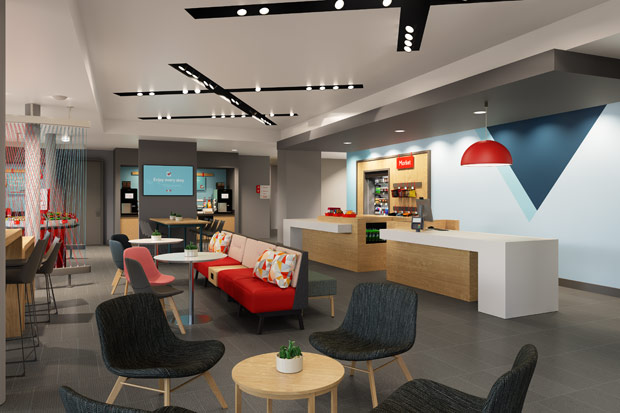 The brand's lobby design includes an x-shaped lighting element and "parenthesis" decor that serves to further accentuate the space.
"Everything in this space, every design finish, we worked with our Owners Advisory Board to select and vet," Gribble said. "We wanted owners to have the confidence that things could be easily cleaned and maintained throughout the life of their hotels. We've been really selective about everything, and also making sure we delivered at our cost-target of $85,000 to $90,000 per key, excluding land."
Guestroom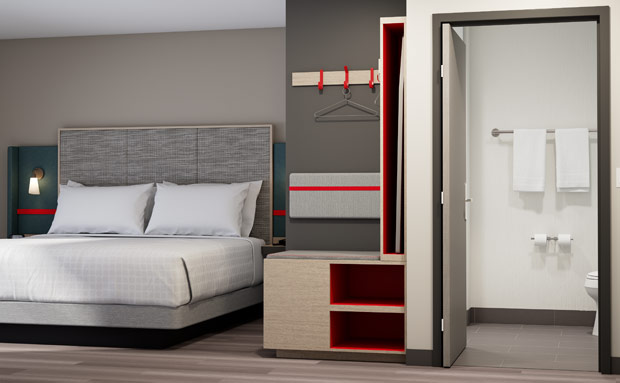 The compact guestrooms (a King room offers about 220-square-feet) are focused on the guests' sleep experience, Gribble said. "For this type of occasion—a one- or two-night stay where guests don't need much—the guest is willing to give up space to make sure that they have a really high-quality experience in their room. We have an incredible mattress, fluffy duvet, really great linens, choice of pillows in here—so we really optimize that sleep experience."
The rooms are also designed to be quiet. Staggered studded construction reduces the noise transfer between rooms, and the storage areas are open to avoid noises from guests opening and closing drawers and closet doors in other rooms. Additionally, roller shades in the rooms are on a track system that very effectively block light.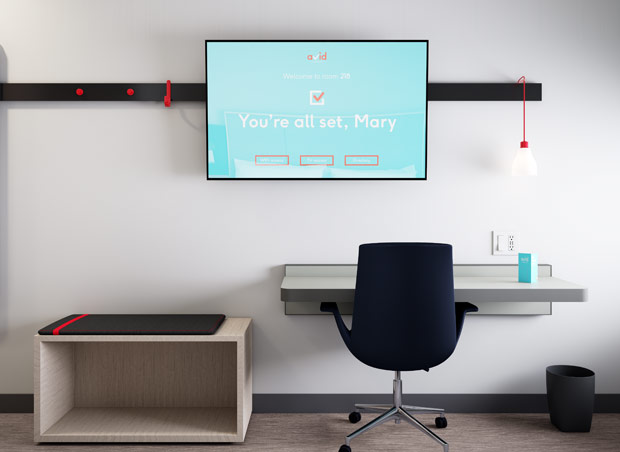 Guestrooms include multiple power options and USB inputs throughout, as well as multi-use furniture for luggage storage or overflow seating. A desk is also available in each room along with a 55-inch flat-screen TV that includes IHG's new studio technology, which allows streaming directly onto the TV from guests' personal devices without the need to log into a separate system. In-room refrigerators and safes are optional for owners, while each room will include an ironing board and blow dryer. The bathrooms have stand-up showers with glass doors and bulk amenities with J.R. Watkins products.
"All of the selections in terms of the finish have been done with our owners, so we know things are durable," Gribble added.
The first avid hotel is expected to open its doors in the third quarter of 2018.