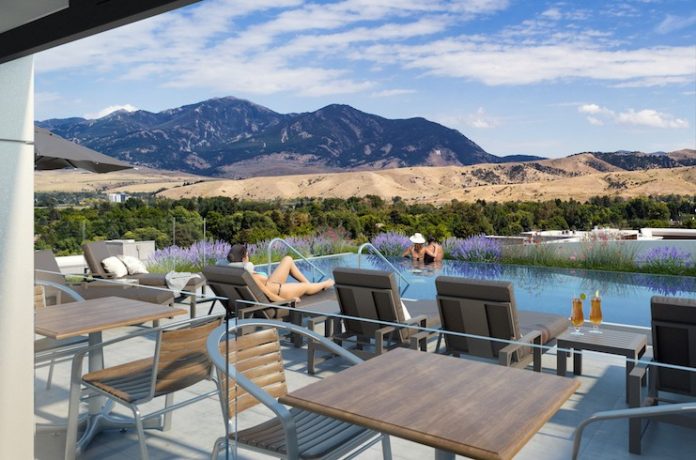 SAN FRANCISCO—Kimpton Hotels & Restaurants recently announced that its first property in Montana, an adaptive reuse project, is scheduled to open in Bozeman early next year. Located in historic downtown Bozeman, the project will turn the National Guard Armory building into a 122-room hotel with a signature restaurant, a whiskey- and bar-centric speakeasy with music and live entertainment, and 8,000 square feet of meeting and event space. The property will also have a concert hall designed to attract top musical performances, as well as a rooftop pool and bar with views of the Bridger Mountain Range.
The hotel's location will attract a broad spectrum of outdoor enthusiasts, with Yellowstone National Park as well as Big Sky and Bridger Bowl ski resorts nearby. In addition to Bozeman's outdoor offerings, which extend to biking trails and fishing adventures, the city is also home to a vibrant art and music scene.
"We've had our eye on Montana for a long time," said Mike DeFrino, CEO of Kimpton Hotels & Restaurants. "The backdrop of the mountains and its appeal to the adventure seeker is the ideal place to showcase our brand of hospitality. As a leader in adventure travel, we couldn't ask for a better partner than Off the Beaten Path and hotel developer, Extea Hospitality. It's also exciting to add another adaptive reuse to our collection. We take pride in preserving the integrity of a historic building while transforming it into a new hotel and restaurant with Kimpton's signature style."
The National Guard Armory building was constructed in 1941 and is on the National Register of Historic Places. In keeping true to the building's history, the design will retain the original Art Deco style created by Bozeman architect Fred Willson. Kimpton's Global Senior Vice President of Design Ave Bradley will spearhead the renovation, in partnership with Venue Architects, MarkZeff Architecture and Interior Design, and Studio R Interiors. Other recent Kimpton adaptive reuse projects include the Gray Hotel in Chicago, the Schofield in Cleveland, and the De Witt in Amsterdam.
The project bears close affiliation with local adventure travel company Off the Beaten Path as its CEO, Cory Lawrence, is included among the partners of Etxea Hospitality, the development company responsible for the project. Kimpton co-founder and former CEO Tom LaTour is also a partner on the project.
"We couldn't be more pleased to see this project come to fruition," said Lawrence. "We've been uncompromising in our effort to deliver a property and an experience that authentically reflects the unique character and style of the region. The hotel will bring a new standard of service, experience, and connection to Bozeman for visitors and locals alike." Added LaTour, "Bozeman is an unbelievable city and deserves a Kimpton boutique hotel, delivering great guest experience in unique Rocky Mountain style."