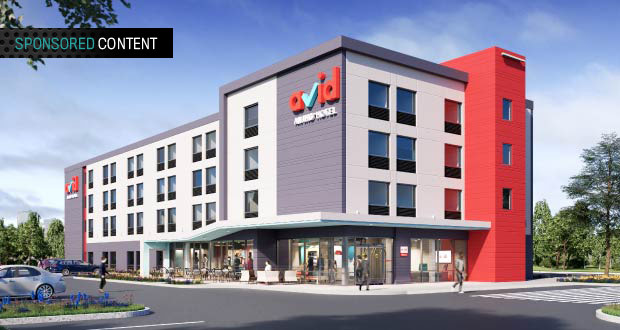 [Sponsored by IHG]
When travelers are searching for a hotel stay, there are dozens of options for them to choose from—ranging from high-end luxury properties to your mom-and-pop roadside motel. Each brand in today's marketplace serves a certain set of needs, and, in turn, targets a very specific set of travelers.
At first glance, it appears there is already enough brands offering unique and targeted experiences, especially in the midscale market. So, when IHG launched its newest midscale brand, avid™ hotels, we were frequently faced with the question, why another new midscale brand?
We spent an extensive amount of time researching and learning about today's midscale travelers, and we honed in on a particular group we like to call Principled Everyday Travelers who represent 14 million guests who feel they are underserved in today's $20 billion midscale market. These travelers know that there are plenty of options in the midscale space, but they aren't satisfied with what these existing brands offer to them. They want a hotel that delivers the basics done exceptionally well at a fair price—a great night's sleep with a quality breakfast and fresh cup of coffee before going on their way.
When launching a new brand in today's crowded marketplace, we knew we had to develop a brand that would deliver an experience unlike anything else available today—for both guests and owners. To break through and reach target guests, we had to be laser focused on what amenities were crucial to guest satisfaction, while also eliminating amenities that were deemed not essential for this type of stay. We recognized the importance of designing a brand with a modern and contemporary style while not losing sight of the functionality of the space and the importance of keeping a fair price for both owners and guests.
Additionally, the development community helps drive brand success so we worked closely with an owner advisory board, comprised of leading hotel owners, to ensure that what avid hotels brings to the market is highly differentiated from its key competitors—all at a price point that ensures hotels will be simple to build, operate, and maintain. The avid hotels prototype is set at a cost that successfully offers what is important to guests and gives owners confidence that their investment in avid hotels will deliver a strong return.
With this in mind, the avid hotels offering focuses on four elements of the experience that are not being delivered consistently in the midscale space today:
1. Rooms Designed for Sound Sleep – avid hotels deliver a best-in-class sleep experience, with rooms intentionally designed for reliable rest. This includes a high-quality mattress and linens, choice of firm and soft pillows, black-out roller shades, and a purposeful design that reduces noise.
2. Focused, High-Quality Breakfast – We are taking a completely fresh approach to how we deliver breakfast for this new brand. A select number of high-quality, brand-name options will be offered for guests to grab-and-go or enjoy in the lobby, alongside a premium bean-to-cup coffee experience to start the day off right.
3. Latest Technology — The avid hotels brand will leverage the latest in technology to enable a seamless experience for our guests, including a next-generation reservation system, enhanced Wi-Fi technology with IHG® Connect, and videocasting to the in-room TV through smartphone enable technology.
4. The avid hotels Guarantee – At avid hotels, we're committed to great stays. That's why our avid hotels guarantee ensures that each guestroom will be 'just right' upon arrival so that guests can rest assured that they made the right decision by staying with us.
These four focus areas served as a guide for our brand development process, and we are confident that this new brand is uniquely positioned and highly differentiated to serve the needs of today's midscale traveler. A brand with a compelling offer is one that will succeed in the marketplace. Please consider avid hotels in your future growth plans as you weigh branding options for your next hotel project.
The future of everyday travel is here. For more information, visit development.ihg.com or contact development@ihg.com.
About the Author
Heather Balsley is Senior Vice President of Global Marketing – Mainstream Brands at IHG