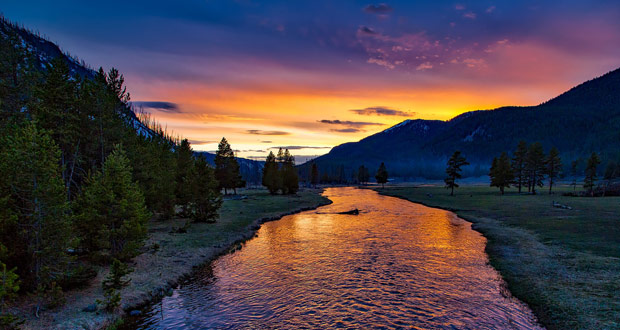 WASHINGTON—Brand USA, the destination marketing organization for the United States, this week released the results of a return on investment (ROI) study conducted by Phocuswright and Oxford Economics. The research shows that the marketing impact of Brand USA's first IMAX and giant-screen film, National Parks Adventure, is expected to increase international travel to the United States by 172,335 incremental visitors and generate $700 million in incremental spend from Fiscal Year 2017 through 2019.
The study includes an analysis of six markets–Canada, Mexico, Germany, China, Brazil, and United Kingdom—which finds a marketing ROI of 56:1 based on Brand USA's production and marketing expenses of $12.5 million.
"The feedback from international viewers of 'National Parks Adventure' has been overwhelmingly positive, and we are proud that this film continues to effectively showcase the United States and inspire travelers to visit the USA," says Christopher L. Thompson, president and CEO of Brand USA. "Travel and tourism are significant contributors to the U.S. economy. As an organization, we're humbled and honored to hold up high the people, culture, and experiences the United States offer travelers through giant screen films."
Sponsored by Expedia Group and Subaru, "National Parks Adventure" leverages the experiential nature of the giant screen to showcase the nearly limitless experiences that the United States has to offer, which is an integral part of Brand USA's marketing strategy to drive international tourism to communities in all 50 states, five territories, and the District of Columbia. The film was voted "Best Film of the Year" by the Giant Screen Cinema Association and became the highest grossing documentary film of 2016.
The film's release was the industry's fastest giant-screen roll-out in five years, with 48 exhibitions in six countries in February 2016 and 119 exhibitions in 16 countries within the first 12 months. In addition, Brand USA collaborated with about two dozen U.S. embassies and consulates around the world to showcase the film in countries like Canada, Croatia, Equitorial Guinea, El Salvador, Indonesia, and Romania—helping to promote travel to the United States and celebrate the centennial of the National Park Service. The film is currently streaming on both Netflix and Youku services around the world.
National Parks Adventure laid the groundwork for America's Musical Journey, the second collaboration between Brand USA and MacGillivray Freeman Films. Sponsored by Air Canada and Expedia Group, the film explores the collision of cultures that gave birth to American art forms such as jazz, the blues, country, rock and roll, hip-hop, and more. America's Musical Journey premiered in February 2018 in Washington, D.C., and has opened in Mexico, Canada, France, Spain, Russia, and Netherlands—with many other markets on the horizon.