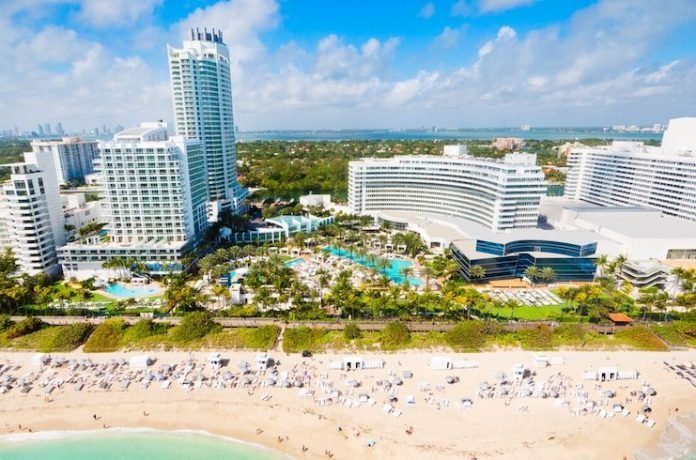 Fontainebleau Miami Beach celebrated its 10-year grand reopening anniversary this November and honored the 460 employees who have worked at the hotel since the reopening, which debuted with a $1 billion renovation.
Of the 406 employees celebrating anniversaries, 381 are commemorating 10 years at the hotel and will be honored at the ceremony. These employees will be added to the wall of other employees who have worked at Fontainebleau for a decade. In addition to those employees, 37 employees have been at the resort for 20 years, another 37 for 30 years, and four for 40 years. The two employees who have been at the hotel the longest, both approaching 50 years, are working as a front service bellperson and a general cashier.
Mary Rogers, vice president and general manager, attributes Fontainebleau's high employee retention rate to the culture of the hotel and the continuous effort to make the resort an enjoyable place to work and stay. "Our staff is genuinely happy to be part of the Fontainebleau Miami Beach team," she says. "We want all of our team members to thrive in their own unique way."
The hotel also debuted a new service culture called BleauX, which encourages employees to play a leading role on the Fontainebleau team, as an homage to the resort's history as an entertainment mecca. "The program outlines our service tailored to our iconic setting that brings guests back time after time," Rogers says.
Fontainebleau currently has over 2,000 employees and a turnover rate under 20 percent, while the industry standard is in the mid-thirties. Rogers says Fontainebleau acknowledges their team members on a daily basis as a way to celebrate dedicated employees and recognize those who go the extra mile. At the beginning of each shift, every department holds a 'daily lineup', which includes reviewing events, making announcements, and, most importantly, sharing positive letters and comments from guests called 'WOW stories' about how team members made their stay or event special.
During a time when employers in the hotel industry are struggling with employment, Rogers says investing in employees is the best thing a hotel can do for their guests. She says that when employees are happy, it translates into their service.
"I feel a great sense of responsibility to ensure that Fontainebleau will always be a great place to work, so our turnover remains low and our team member engagement remains high," she says. "Nothing brings me more joy than to see our team members happy and proud to be working here and I know our guests can see that also—that's why they keep coming back."
---
Like this story? Subscribe for daily updates.