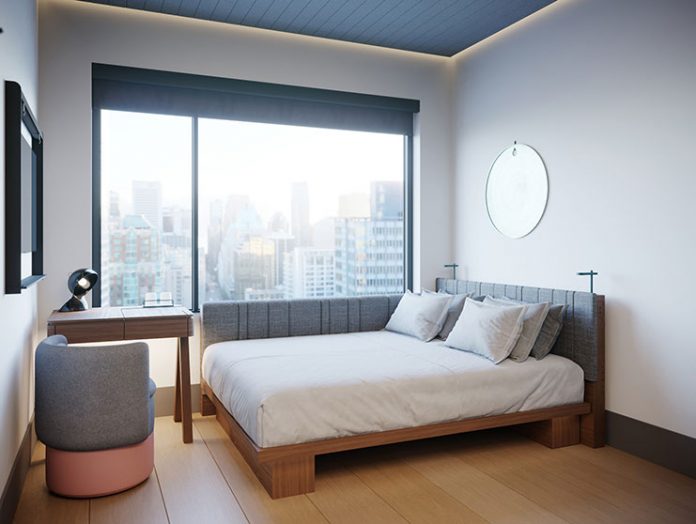 Hilton today launched Motto, a brand of micro hotels that will be located in prime urban markets around the world. The brand is designed to offer a lifestyle travel experience that is affordable enough for those who might otherwise stay with friends or family or seek low-cost accommodations in a less desirable location, according to Tripp McLaughlin, global head of Motto by Hilton. "Motto offers travelers centrally located, reasonably priced, and less traditional lodging that provides a one-of-a-kind experience," says McLaughlin regarding Hilton's effort to reach out to an underserved market.
McLaughlin explains that Motto's small but efficient room size—four versions, about 160 square feet each—enables hoteliers to provide a more premium experience at a price point comparable to Hampton Inn in "gateway cities" such as New York, London, and Lima.
Motto is inspired by the hostel segment of the lodging industry in that it establishes a local neighborhood connection and makes the location, not amenities, the highest priority. "People wanted more from a hostel stay, but existing options were limited. What they wanted was an affordable urban lifestyle brand that combined comfort, accessibility, and privacy with travel and lifestyle trends that centered around prime locations," McLaughlin explains. "Motto is about giving travelers access to the best locations—e.g., the heart of the city, its most popular neighborhoods—and providing a sense of place, authenticity, and community to have a sense of what it means to be in that place. But it's also about providing affordable rates that open the doors to cities and locations travelers didn't think they could afford."
McLaughlin says Motto basically offers guests value, experience, and location without forgoing the quality guarantee consumers expect from a Hilton property, using a creative and flexible room design, a better sleep experience, and a lobby called the Motto Commons, which, he says, "offers a great coffee house experience and a great bar program with some light snacks and appetizers that welcomes locals and guests alike to enjoy coffee and cocktails." These features, he says, enable guests to enjoy the sites of the city as well as a good night sleep, and perhaps a nightcap.
Motto differs from Hilton's other midscale brand Tru, which is more along the lines of a prototypical flag brand, in that it comes from a different perspective. "The assumption with Motto is that people visiting the greatest locations in the world want to explore the city, not hang out in their room—so there's no need to invest in the things that guests may not care about—e.g., room size, amenities."
The brand's different room configurations make the most of limited space—alone or in combination. These include a traditional room configuration; a flex room designed for socializing or working with a bed that is wall-mounted to make room or can be folded down into a couch; and a "Bunkie" with a twin upper-bunk bed for guests who need multiple beds. The brand's design also includes the ability to adjoin multiple rooms together, creating more flexibility for traveling friends or family. "For example, a group of eight people can book two traditional rooms, one flex room, and one of the bunkie rooms as one group of conjoined rooms with a secondary hallway between them," he says.

McLaughlin adds that Hilton will continue prioritizing the value of the sleep experience. "One of the things that we're focused on with Motto is going back to the core root of who we are as a hotel company: We provide sleep to our guests. And that's not just bedding and sheets. We take a particularly holistic view of seeing how we can best deliver on that great sleep experience by considering all elements in the room and the overall experience." For that reason, he says, the rooms have blackout window shades, sound-absorbing materials, a white noise app, and a sleep kit with eye mask, essential oils, or vitamin bars.
Due to the reduced room size, McLaughlin says, conversion is not an option for this brand, which is limited to adaptive reuse and new-build construction. However, he says, the brand is focused on controlling costs related to development. "To be an affordable lifestyle brand in the Hampton market, we have to limit the building cost, because unlike room rates, that's something we can control. We believe we have been able to cost-effectively design a creative, differentiated product that is unique in our portfolio."
Already in various stages of development in urban locations such as Lima, London, Dublin, San Diego, Boston, and Washington, D.C., McLaughlin says the brand is also suitable for desirable locations that might not be considered gateway cities. "We see Motto in the places where guests looking for this type of product—with its efficient room design and really activated Motto Commons—want to go. For example, rather than near the airport, a Motto in Savannah would be on the Riverfront, and in Nashville, in The Gulch area."
McLaughlin says Motto is expected to prove popular among those in its target market. "We've deconstructed the traditional hospitality experience to create something truly fresh and exciting. This will be a global brand heavily targeting the destinations where our most connected and confident travelers want to travel to most."