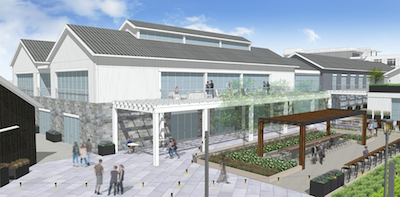 SEATTLE—Columbia Pacific Advisors Bridge Lending has closed on a $92 million loan to facilitate the construction of the retail/commercial phase of Harvest, a mixed-use project in the Hollywood District of Woodinville, Washington. Columbia Pacific Advisors has committed over $200 million to the Hollywood District development.
Upon its end of 2024 completion, Harvest's mixed-use offering will be comprised of at least 70 townhomes and condominium flats and over 200 rental apartments; The Somm Hotel and Spa, a Marriott Autograph Collection boutique hotel with 165 guestrooms and a spa; and a retail hub.
Inspired by the over 130 wine-tasting rooms in the Woodinville Valley, Harvest will have nearly 100,000 square feet of retail space and over 26,000 square feet of storage. The project will also have a multi-level subterranean 650-stall parking garage. With nearly 60 percent of the space pre-leased, the project will include a hybrid workspace solution, a mix of local wineries, and two restaurant concepts, Ethan Stowell's How to Cook a Wolf and Bombo Pizza. Also being considered for the space are a marketplace, florist, coffee shops, and kitchen retailers.
Will Nelson, director of real estate lending at Columbia Pacific Advisors said, "We have monitored this project for the past 20 years, and the opportunity to participate over the last five has been a blessing. Woodinville is a special place, uniquely representing the thriving Washington Wine Industry. The Harvest Project is a welcomed addition that will allow the community to Live, Shop, & Stay in the heart of Western Washington's Wine Culture."
This new infusion of capital is the second delivered to this site and the fourth loan provided by Columbia Pacific Advisors to support the development of the Hollywood District. In 2018, Columbia Pacific Advisors provided a $14 million acquisition loan for this property. Of the existing loans, Columbia Pacific Advisors most recently provided an additional tranche of capital in 2021 to support the construction of 31 townhomes in the Woodinville Wine Village, the first residential project in the immediate market. The townhomes, called River Run at Harvest, will consist of three- and four-bedroom offerings that range from 1,950 to 2,985 square feet of livable space plus garages.
Located about 17 miles northeast of downtown Seattle, the Hollywood District of Woodinville Wine Country is home to over 90 wines, restaurants, and a resort lodge. The site and its surrounding offerings have outdoor activities including access to riverside bike paths and hiking trails.