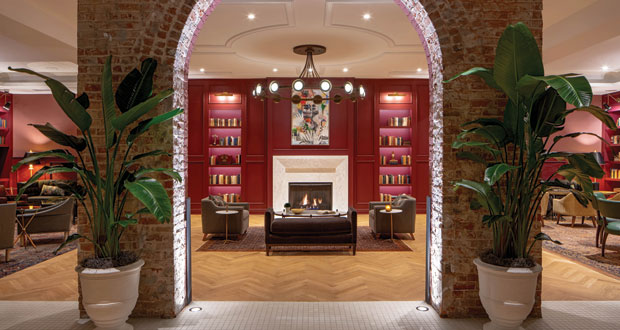 In the late 1800s, The Daily Picayune in New Orleans was one of the country's first major newspapers, and Eliza Jane Nicholson was its first female editor. In the shell of the warehouse where the newspaper office once stood is now The Eliza Jane, a property that is part of The Unbound Collection by Hyatt.
Just two blocks away from the French Quarter and in close proximity to many iconic cultural landmarks, The Eliza Jane blends modern New Orleans with traditional context. The property actually encompasses six preexisting warehouses that are exteriorly separate, but interiorly united as one. Combining elegance and "funky sophistication," as Bethany Gale, the Stonehill Taylor senior designer who worked on the property, describes it, guestrooms and public spaces are designed as a New Orleans getaway, nodding to the past but focusing on the future.
Of the 196 guestrooms, there are 50 suites, including 12 signature suites. F&B offerings are sourced locally and include customary New Orleans flair. Couvant, a modern twist on a French brasserie opened this summer and the Press Room lobby bar is also open. The Press Room lounge is inspired by The Daily Picayune, with many historical elements surrounding a marble fireplace and playing on the existing architecture.
As is fitting in a hotel named after Eliza Jane herself, the Press Room is feminine and sophisticated. Gale says, "The Eliza Jane was made to be the quintessential New Orleans hotel, playing on the town's nuances. But with the name Eliza Jane, we were leaning towards a feminine aesthetic, with pink elements and floral wallpapers."
Antique Discoveries
In a nod to The Daily Picayune, the Press Room bookshelves feature New Orleans antiques. "The accessories that you see on the shelves are antique objects. We found several antique typewriters to play back to the Press Room aesthetic and newspaper's history," Gale says.
Uncovered Arches
Pre-existing architectural structures—like brick arches—that were hidden by previous occupants were uncovered as a part of the hotel's design. "Brick masonry walls divided each of the warehouses. We reopened all the arches, which beautifully feature and highlight brickwork and ceiling tresses throughout the hotel," Gale says.
Custom Chandelier
Hanging from the ceiling is an original chandelier designed specifically for lighting the Press Room. "The chandelier has a custom trumpeted shape." Gale describes, "The space was calling for something to feature on the ceiling that stood out against the cranberry colors."
Feminine Hues
The color palette is a nod to Eliza Jane, but also a tie-in to modern New Orleans. Gale says, "Dusty pink, emerald green, and cranberry were chosen not only for femininity and warmth but also for sophistication. Jeweled tones are featured prominently throughout the public spaces and guestrooms."