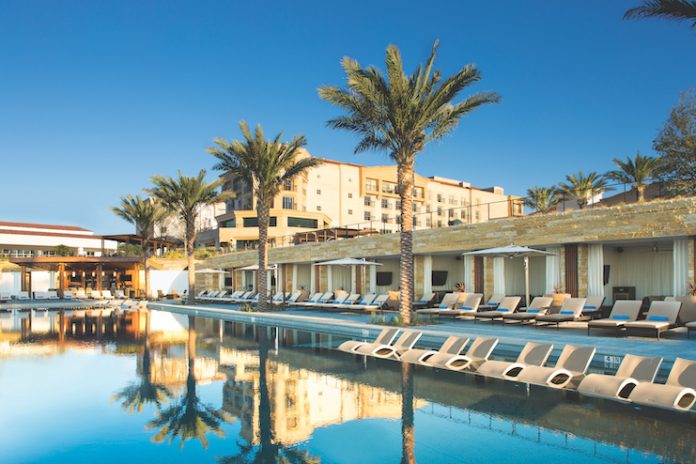 Driven by a two-year-plus gap in large-scale meetings as the result of COVID-19 and changing work patterns, group and meeting business continues to evolve and gain momentum throughout the lodging industry.
While a full recovery still appears to be a ways off for an industry that has relied largely on leisure business the last several years, there is evidence that better times are ahead for the group business segment, according to Benchmark Resorts & Hotels, which recently issued its 2023 meetings outlook. Benchmark—the independent arm of Boston-based Pyramid Global Hospitality—canvassed executives from its 60-plus properties to help identify the latest trends and project future activity. Pyramid Global Hospitality—which includes some 240 hotels in its overall portfolio—was created by the 2021 merger of three hotel and resort management companies, including Benchmark. Eric Gavin, chief commercial officer of the Luxury & Lifestyle division of Pyramid, underscored the findings, pointing out, "We have seen a surge in meetings coming out of the pandemic." To further drive home the point, he added that Benchmark's portfolio in 2022 has generated more revenue than it did in 2019 prior to the pandemic.
Gavin detailed some of the key findings of the internal research. "We're very encouraged that the meetings segment has rebounded, and frankly we feel that's in large part due to the dynamic of being apart for so long. There is a need to bring people back together to collaborate, to motivate, and it's driving a new wave of meetings. We're seeing more regional meetings throughout our portfolio, a lot of which are short term," he said.
In addition to the number of short-term meetings increasing, Gavin elaborated on the trend toward smaller, more regional meetings designed for roughly 30 to 50 people.
"It's our belief that the smaller gatherings are really driven by an evolved work pattern. We have more people working in remote, hybrid environments, so the necessity for businesses to find ways to bring people together has increased," he said.
Meanwhile, a number of the company's onsite specialists representing properties such as Turtle Bay Resort in Oahu, Hawaii, and Chaminade Resort & Spa in Santa Cruz, California, pointed to an increased demand for outside meeting spaces where "out of the box" ideas can be inspired.
"We're seeing more alternative meetings. People [are] requesting to put a meeting set outside. People want to embrace doing something different rather than just being trapped in four walls," said Gavin.
Nevertheless, Gavin did acknowledge that more traditional, larger meetings are also beginning to rebound in a more meaningful way with bookings increasing. "We are starting to see larger annual events booking into '23 and '24. So we're starting to see that normalization of the meetings cycle as we get further out, which is to be expected, and I think we'll continue to see that," said Gavin. Another meaningful trend that has emerged in recent years is related to the "bleisure" trend, where travelers are adding on to their stays and boosting hotel occupancy on so-called shoulder nights. "Business travel is roaring back, but it's different business travel. You're seeing people mix not only the business trip, but tack on a day or two in the destination that they're visiting because they have new flexibility where they don't have to go to the office every day. So that is helping create some new dynamics within hotels," he said.
While hybrid meetings emerged in recent years as a viable alternative to traditional in-person meetings, Gavin emphasized that they remain popular among hoteliers, but not necessarily at the expense of in-person meetings. "What we're seeing with virtual and hybrid meetings is that they ultimately allow the extension of the content that is being served to be broadcast to a wider audience. What they are not doing is replacing the need to bring people together. We're seeing it as a win/win for organizations," he said.
An emphasis on healthy foods has also become prevalent among meeting planners. Requests for vegetarian and vegan cuisine options have become commonplace. Among the popular trends are raw and dairy-free offerings, as well as fresh and locally sourced.
"Health-conscious trends have picked up. We take an authentic approach to reflect the communities in which we operate," said Gavin.
In conclusion, Gavin was generally bullish on what he sees ahead for the lodging industry with regard to group bookings.
"I think '23 is going to be a great year for our industry. I think the corporate meetings and regional meetings will be back and very robust. Where you're going to continue to see the lag is the larger city-wide convention-type gatherings. They're off cycle and they still need to rotate through, and so that's a '24 or '25 solution to get all of that back," he said.