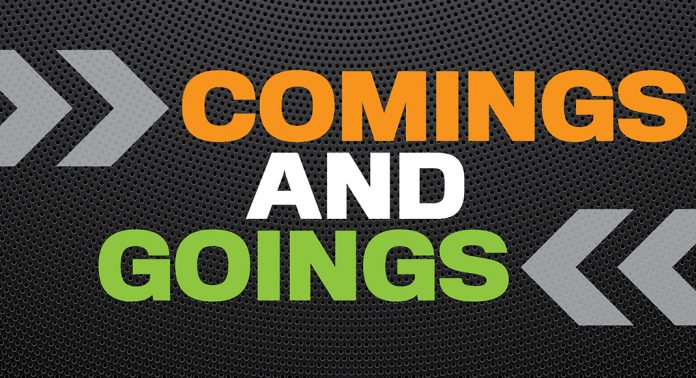 Kennebunkport Resort Collection (KRC) has added two new hires to its team. Margaret Ybarra is director of marketing and she will lead all brand performance initiatives for the KRC portfolio. Melissa Mitchell is content creator and she will create digital and print content for KRC's hotels and dining outlets.
Brian Zacker has been promoted to vice president of global sales for RoomIt, a distribution division of CWT, a travel management company. Zacker's responsibilities include hotel distribution sales management and client retention. Before his new position, Zacker was vice president of finance for RoomIt.
Hotel Weyanoke in Farmville, Va., welcomes Frank Paris III to run all dining outlets as general manager. Paris is responsible for two restaurants, a rooftop terrace, and a coffee bar. Prior to Hotel Weyanoke, Paris worked in culinary positions for The Greenbrier in W.V, the Primland Resort in Va., and the Washington Duke Inn in N.C.
As general manager of the Waldorf Astoria Park City, Adam Heffron will be responsible for hotel, spa, restaurant, and meeting space operations, as well as guest satisfaction. Heffron has 18 years of hospitality experience, most recently serving as hotel manager of the Conrad New York hotel.
James Moore III is now general manager of the Havana Cabana Key West Hotel where he will oversee staff operations, sales, and administrative aspects of the resort. Moore most recently was hotel manager for the Hilton Garden Inn in Key West. He has also worked for Hilton's DoubleTree, Embassy Suites, and Hampton brands.
River Run, a Signature Sun RV Resort in Granby, Colo., welcomes new general manager Cody Fishel. Fishel will prepare the property for its first summer season and will help provide sharing vacation rental and villa sales operations.
Feliks Schwartz is general manager of the Hilton Charlotte University Place. Schwartz was most recently general manager of the Westin Richmond, where he provided operational support and guest satisfaction strategies. Schwartz has executive experience at hotels across the Carolinas, including the Omni Richmond Hotel and the Marriott Myrtle Beach.
The Château Élan Winery & Resort in Braselton, Ga., welcomes Kevin Rosa to plan and implement sales, marketing, and product development strategies as director of sales and marketing. In this position, Rosa will also manage sales teams, drive revenue, and grow brand awareness.
Jason Cabrera will grow strategic development strategies as hotel manager for the Hilton Orlando. His responsibilities also include growing capital projects and group sales. Before joining the Hilton Orlando, Cabrera was director of rooms for over 3 years at the Hyatt Regency Grand Cypress in Orlando.
Keith Butz is area managing director at the Omni Atlanta Hotel at CNN Center, the largest Omni Hotels & Resorts property. Butz was general manager of the Confidante Hotel in Miami, Fla., before joining Omni. Additionally, he served as general manager of the Grand Hyatt in Kauai, Ha.
Sea Island, a resort on the Georgia coast, has promoted Ella Kent to director of rooms. Kent started at Sea Island in 2014 as director of spa and salon and grew that position to include fitness. Additionally, Dana Reitz has been promoted to director of spa and fitness after joining the team in 2014 as assistant director of spa and salon.
KAI Enterprises – an architectural, construction, and engineering firm – has named Darren James president of the company, and he will assist in growing KAI Enterprises' industry presence. James has been part of KAI's corporate leadership team for over a decade, and is focusing on strategic growth and community engagement.
Michael Pouey is vice president of group sales for the Greater Fort Lauderdale Convention & Visitors Bureau, where he will lead the national sales team to deliver group business. He will also work with Fort Lauderdale's clients in the western United States.