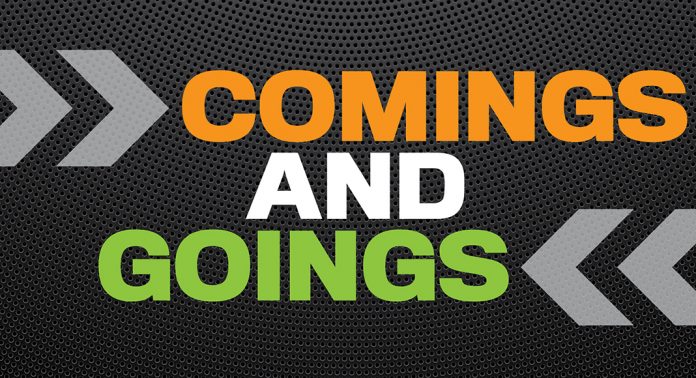 Rich Szymanski is joining the Paramount Hotel Group corporate team as chief financial officer. Szymanski has over 30 years of hospitality experience, including serving in the same position for both Morgans Hotel Group and Prime Hospitality Corp, where he oversaw capital markets, risk management, public reporting, and all other financial areas.
Here's a look at other notable comings and goings that took place this week.
The Assemblage brand has promoted Beth Tufekcic from general manager of The Assemblage John Street to vice president of house operations for The Assemblage NoMad, The Assemblage John Street, and a third Assemblage property opening on Park Avenue South in 2019. Tufekcic will help guests successfully experience the brand's wellness-oriented programming and productive spaces.
James (Jamie) Pawlikowski has been named vice president of IT service management, a newly created position for Radisson Hotel Group. He will support business operations and improve service performance of the company's platforms and software. Additionally, Pawlikowski will lead issue management and service testing teams to grow partnerships and agreements.
Duetto welcomes Jeff Ma to assist in growing revenue strategies for its hospitality partners as senior vice president of product analysis. Ma joins Duetto from Twitter, where he served as vice president of data science and analytics and led the central data science and machine learning teams. He also worked at ESPN as the company's first predictive analytics expert.
Maureen Sullivan has been elected to the board of directors for Choice Hotels International. The chief operating officer of Rent the Runway brings business, branding, and e-commerce experience to Choice, and before her current position, she served as both an AOL and Google executive.
Noble House Hotels & Resorts has hired Heinrich Morio to implement revenue generation strategies and complete daily operational goals as general manager of Ocean Key Resort & Spa in Key West, Fla. Before returning to Noble House, Morio served as chief hospitality advisor to the office of royal private affairs in Saudi Arabia.
Chris Bird has joined the Harbor View Hotel in Edgartown, Mass., as general manager, and he will assist in the property's winter renovation. Bird recently worked as director of operations for the Nemacolin Woodlands Resort in Farmington, Penn.
Obie Hospitality, a company located in Eugene, Oregon, has hired Curt Asmussen as managing director. In this position, Asmussen is tasked with helping Obie expand its portfolio and he will assist in opening The Gordon Hotel in 2020. Asmussen's 15 years of experience has seen him most recently serve as general manager of The Inn at 500 Capitol in Boise, Idaho.
COMO Group, a Singapore-based lifestyle hotel collection, welcomes Tapa Tibble as managing director of the Americas, where he will oversee management for the company's Caribbean and Florida properties. Tibble is assisting in the company's growth throughout the region, and he most recently served as regional director of Europe of Aman Resorts.
Edward Podolske will review financial and accounting tasks and budgets and forecasts for the hotel and restaurant management teams as director of finance for Kimpton Solamar Hotel. Podolske started at the property in 2016 as assistant director of finance, and he has grown through the position to handle more responsibilities.
Lena Sanok has joined Hilton Charlotte University Place as director of business travel. Additionally, Sanok is currently serving as an Allied board member of the North Carolina Business Travel Association. She also served for two years in the Global Business Travel Association Ladders mentoring program.
Moxy San Diego is welcoming three new executives to help grow the boutique hotel: Lindsay Jones is overseeing daily operations as Captain, the brand's version of a general manager; Geneva Maxwell is driving initiatives and strategies as director of sales and marketing; and Mark deSalvo is growing restaurant and bar concepts as food and beverage manager.
Hyatt Regency Sonoma Wine Country welcomes three new appointments to run the property post-rebrand and redesign. John McAuliffe is general manager, and prior to this position, he worked in the same role at the Residence Inn Yonkers-Westchester County for Pyramid Hotel Group. Rene Jakushak assisted in the renovations and now leads restaurant operations as executive chef. And Nanci Figueroa is director of sales and marketing, having held the same position for the Hyatt Regency Bloomington prior to this property.
The Godfrey Hotel Hollywood, an Oxford Capital Group property, has added two people to its executive team. Clay Andrews is serving as general manager of the hotel, and is also serving as director of operations for the west coast region of Oxford Hotels & Resorts. And Konstantine Kabilafkas is serving as hotel manager.
Enchantment Group is growing its brand and marketing team by adding Andrea Palomo to corporate director of marketing, and she will help motivate team members and create brand and digital strategies. Additionally, Erica Kline has been promoted to corporate associate director of brand marketing, and she has been with the company since 2015.
Del Ross is serving as chief revenue officer and David Abel is serving as vice president of operations for Hotel Effectiveness, a labor management software provider. Together, Ross and Abel will collaborate to grow the company and provider customer service and growth, as well as improve technological efforts in the market.
Lastly, the Fairmont Washington, D.C., Georgetown has adopted Georgie, a 10-week old Labrador puppy from Guiding Eyes for the Blind, to be its canine ambassador. Georgie is on track to become a future guide dog hopeful. Guests can visit and interact with Georgie in the hotel's lobby.