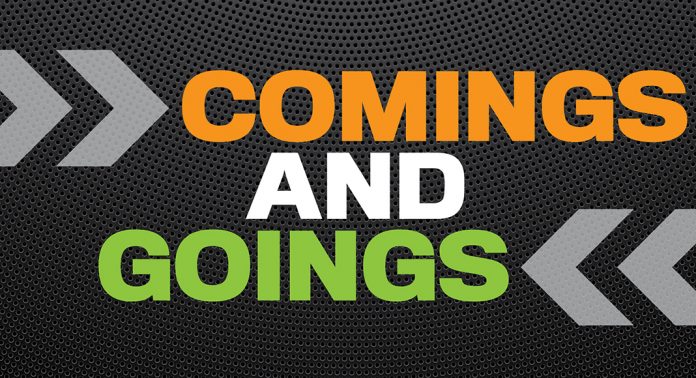 Effective March 11, Talene Lanuza Staab will become global head of Tru by Hilton, where she will serve as chief strategist and champion for the brand. Staab succeeds Alexandra Jaritz, who has been named senior vice president, focused service brand management (APAC) for Hilton, a newly created position in which Jaritz will lead the positioning of the Hilton Garden Inn and Hampton Inn brands.
Sam Ibrahim and Ann Peterson have been named directors of the Board for the Hotel Association of New York City. Ibrahim is general manager of the New York Marriott at Brooklyn Bridge and Peterson is president and general manager of the New Yorker Hotel. Both recently oversaw successful renovations at their respective properties.
BENCHMARK has promoted Eric Gavin to chief sales officer for the company; he was previously senior vice president of sales and marketing. Also, Christina Gregg is vice president of human resources, and Chris Audia is area director of marketing, previously area marketing manager. Benchmark Resorts & Hotels property Lake Arrowhead Resort and Spa has named Anna Corrine Barrett director of food and beverage.
Sunridge Hotel Group is welcoming Arthur Holman to execute operational objectives as vice president of operations. Throughout his 33-year career, Holman has held various positions across multiple brands and segments, including working as a general manager for companies in Utah and South Florida.
John Mormino has been promoted to general manager of The Elms Hotel & Spa, where he will manage operations for the property. Mormino started at The Elms in 1998 as a teenager and, while he worked at the Hyatt Regency Crowne Center for 5 years, he has returned the hotel and worked in almost every position since.
Endeavor Hospitality Group has appointed Robert Cole general manager of the Marriott Courtyard New York Midtown West, which is slated to open in May 2019. Cole's responsibilities include guest relations and business development. He previously worked as general manager for IHG's Kimpton Goodland Hotel in Santa Barbara, Calif.
BEI San Francisco, an independent lifestyle hotel, welcomes Marc Choplick as general manager and Mimi Carter as director of sales and marketing. While Choplick will be overseeing development strategies and food and beverage operations, Carter will run sales and budget management to achieve revenue goals.
As director of sales and marketing for the Omni Homestead Resort in Hot Springs, Va., John Hess will lead communications, group sales, catering and convention services, and resort membership. Hess was most recently director of sales and marketing for the Omni Bedford Springs resort.
Edgar Carrera has been named executive chef for The Ritz-Carlton Reynolds, Lake Oconee hotel. Carrera will be managing culinary operations for the resort, and he will bring new menu offerings to the hotel's three culinary outlets. He will also oversee catering operations for meetings, weddings, and events held on-site.
Victoria Batten is regional director of sales and marketing for Langham Hospitality Group and director of sales and marketing for The Langham, New York, Fifth Avenue. Batten most recently served as director of sales and marketing for The Langham London, where she worked for 4 years.
Paul Viapiano has been promoted to regional operations director for M&R Hotel Management, and he will be responsible for four hotels in Midtown Manhattan. Viapiano joined M&R in July as a general manager, and prior to that, he served as an area general manager for Sage Hospitality, overseeing operations in the Tristate area.
Vision Hospitality Group has promoted Jenelle Hawkins to director of learning and talent development. She will implement new practices to grow the Vision team. Hawkins was corporate training and development manager prior to this promotion. Hawkins has over a decade of managerial experience in the hospitality industry.
John Testerman has been named senior director of the investment sales team for Berkadia Hotels & Hospitality. Testerman previously worked for hospitality development and management company Generation Companies. Additionally, Matt Dower is now director of operations for Berkadia, where he will strengthen lender relationships.
AC Hotel Grand Rapids Downtown, an AHC+Hospitality property, has named Melissa Stanley, Nicholas Curtis, Jeffrey Burns, and Lindsey Ochmanski operations managers. The team will work together and be responsible for housekeeping, food and beverage, and sales operations across the property.
Michael Lahm has been named vice president and chief operating officer for TLee Spas, a design and consulting firm that implements wellness experiences into branded and independent hotels. In this position, Lahm will be implementing and growing operations at developing projects.
Textile company Carnegie Upholstery has promoted Mary Holt to president from executive vice president of creative. Additionally, Chase Taylor, a textile designer for the company, is now studio director of upholstery. The pair will incorporate design-oriented approaches to product development.