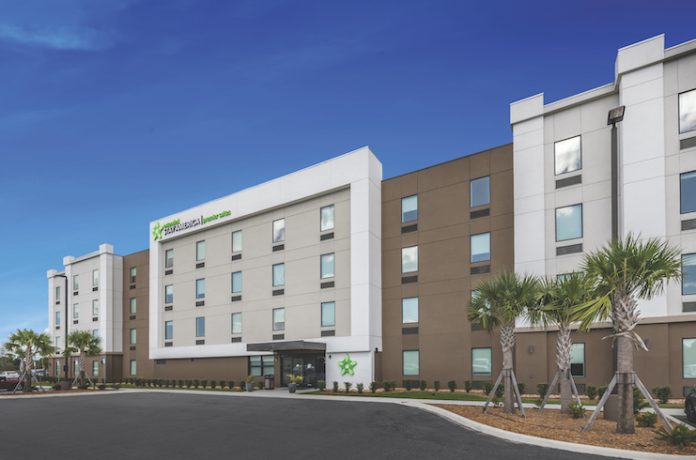 Commonly referred to by many as the 'darling' of the hotel industry in recent years, the extended-stay segment has risen to new heights on the strength of widespread growth and stellar performance outpacing all other chain scales.
Demand continues to grow at unprecedented levels for the segment, which was established some 30 years ago and has upped the ante for both large brand companies and owner/operators looking for increased profitability. Demand for extended-stay lodging is outpacing supply by nearly three-to-one in most U.S. markets, according to The Highland Group.
While many of the hotel chain scales struggled by all measures following the outbreak of COVID, the extended-stay segment was impacted far less. For example, the average occupancy for extended-stay properties in 2020 was roughly 60.0%, nearly 16.0% above the U.S. average, according to an IBISWORLD report.
The same report revealed that extended-stay hotel revenue has been growing at a compound annual growth rate of 3.2% over the past five years—including an estimated 2.9% increase in 2023—and is expected to total $20.9 billion in 2023, with profit poised to reach 18.1%.
Furthermore, roughly one-third of the construction pipeline for hotels in the U.S. is extended-stay projects, or roughly 30 percent of planned rooms, according to Lodging Econometrics.
So what is it that's driving extended-stay hotels to new heights? Hotel executives point to an efficient operating model, which includes reduced labor requirements, and a longer length of stay for guests, among other things.
Mark Williams, managing director, franchise development, Extended Stay America—a Charlotte, NC-based company founded in 1995, which has three extended-stay brands and some 750 properties—detailed some of the benefits of the extended-stay operating model.
"The return on investment for a well-managed extended-stay property is attractive to investors. A key to its success is following a simplified operating model and staying focused on driving occupancy from 7-plus night length of stayers," he said.
According to CBRE, within the upper-midscale segment labor costs are roughly $18.20 per occupied room (POR) for extended-stay hotels and $20.84 (POR) for traditional hotels. In the lower priced tier (economy and midscale hotels), labor costs per occupied room of limited-service hotels are more than double that of the extended-stay comparable set, equating to $20.34 versus $9.31.
Furthermore, based on statistics compiled from CBRE Hotels Research's Trends in the Hotel Industry database for comparable sets of extended-stay and limited-service hotels, housekeeping labor costs are lower across the board for extended-stay hotels.
In fact, the extended-stay segment has been described by many as 'recession-proof' as it has performed despite economic downturns, whether it's 2020 or 2008. Williams stressed the 'value of the returns' for investors as he touted the segment's resilience.
"Everybody's jumping in because they've seen it during COVID and if you go back in time the extended-stay model has stayed pretty consistent all the way through the other downturns. It's a good product that's been around 30-plus years," he said.
Over the past decade, global hotel brands have expanded their extended-stay portfolios by more than 50 percent, a compound annual growth rate of 7.1% versus 3.2% for the U.S. market as a whole. Furthermore, they continue to develop and acquire new extended-stay brands with five new flags debuting since last fall, according to CBRE.
Another potential catalyst for further growth for the extended-stay segment in the U.S. is the Infrastructure Investment and Jobs Act signed into law by President Biden in 2021. The $2.3 trillion act figures to jump-start infrastructure projects throughout the U.S. creating additional demand as many of these workers figure to be seeking long-term hotel stays.
Williams touted the potential impact of the new projects for the sector.
"The infrastructure act is going to be very important because people are going to be out on the road. They're going to be working remotely and the extended-stay product will be something that their company is going to be very cognizant of. They will be looking to get their employees into facilities where they have full kitchens and the ability to basically live away from home for several months," he noted.
Meanwhile, the impact of the increased popularity of home sharing on traditional hotels in recent years has been well chronicled. More to the point for extended-stay hotels, Airbnb continues to see roughly 20 to 24 percent of its bookings for lodging for stays of 28 days or more, up from 14 percent in 2019, according to Skift.
Williams, however, downplayed any potential long-term impact on the extended-stay sector.
"I think it will be minimal because the extended-stay product we have now is represented by the major brands. You have a brand backing the vast majority of these extended-stay hotels so the guests are protected. You've got standards that are in place for each individual product and you know what you're getting into, you know who the owner is, and you know who's backing it," he said.
Finally, Williams—who described the segment as "extremely strong"—reinforced the value proposition of the extended-stay model and the potential ROI for owners.
"The numbers speak for themselves. Once an investor sees the potential opportunity for a well-managed extended-stay hotel—it's a game changer," he concluded.
Sponsored by Extended Stay America.