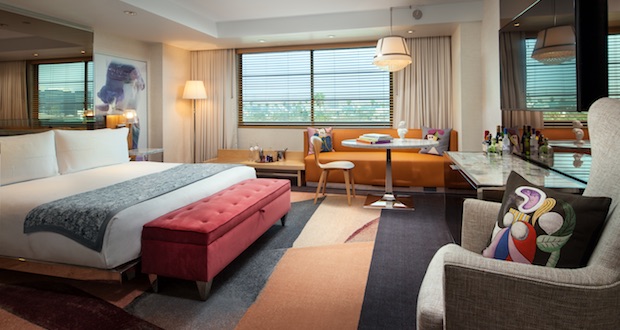 LOS ANGELES—The SLS Hotel, a Luxury Collection Hotel, Beverly Hills has completed a comprehensive redesign ahead of its decade milestone in November 2018. The newly reimagined look, which includes all 234 guestrooms and 63 suites, continues to embrace the property's original identity of elegance and whimsy with a lighter palette and character, alongside the latest in technology and modern comforts. Locally inspired guest programming, revamped Garden Terrace events space, and innovated culinary and cocktail experiences round out SLS Beverly Hills' ten-year evolution.
"With a fresh energy, vibrant culture, and glamorous social scene, Los Angeles is a key destination for Global Explorers and SLS Beverly Hills is in the center of one its most iconic neighborhoods," says Anthony Ingham, global brand leader, The Luxury Collection. "We are thrilled to debut the modern redesign of SLS Beverly Hills as we continue to create authentic experiences for our discerning travelers in this buzzing city."
"The next chapter of SLS Beverly Hills reflects the hotel's unique location at the crossroads of Los Angeles and Beverly Hills: the epicenter of modern luxury, the entertainment industry, and Southern California's relaxed-yet-effervescent personality," says General Manager Christophe Thomas. "Coupled with our immersive guest programming and destination-worthy fine dining, we're excited to provide visitors with the quintessential L.A. experience and accommodations that foster comfort and relaxation, while inspiring adventure and creativity."
[slideshow_deploy id='40096′]
New Rooms
The rooms redesign by Dakota Development, Muzeo, and Avenue Interior Design bring a fresh perspective to modern luxury, while staying true to the touches and elements inherent to the flagship SLS Hotel. Signature oversized mirror panels and whimsical accents remain, juxtaposed with white oak, Carrara marble, and textural neutral fabrics that add to the room's overall lighter and brighter profile.
All-new, playful elements that speak to the heart of SLS Beverly Hills include custom-made light boxes illuminating the hallways with three distinct narratives selected to represent the hotel's style. Storytelling, a theme engrained throughout the hotel since inception, continues inside the new guest accommodations. A vibrant carpet sets the stage for a plush, welcoming stay while oversized abstract prints and mirror-lined walls welcome personal interpretation and self-reflection, respectively. Handmade needlepoint pillows with classic Picasso prints mirror the chalk drawings found in The Bazaar, the work of a Los Angeles chalk artist commissioned for the restaurant's 2009 opening. Colorful illustrations inside the new armoires depict the SLS spirit animal–the mischievous monkey–causing havoc among neatly organized antique perfume bottles, another nod to the hotel's mission to challenge the conventions of traditional luxury. A custom-made vintage map of Los Angeles embedded on top of the media center depicts SLS-inspired recommendations for exploring the destination, selected to signify traditional points of interest.
The renovation also encompasses the addition of two new suite categories: the Style Suite and the Storyseeker Suite with private bedroom and living areas. The 1900 square-foot Presidential Suite has four separate rooms including a bedroom with an oversized closet, powder room, soaking tub, and experience rain shower; a study filled with a collection of L.A.-centric art and culture books; a dining room complete with a chandelier and cherry-oak dining table; and a living room connected to its spacious kitchen. \
Throughout all accommodations, additional new features include strategically located USB ports and outlets, high-speed WiFi routers in every room, and 55-inch high definition SMART TVs, as well as an updated bathroom experience with a rainfall shower or oversized soaking tub, and enhanced ambient lighting.
New Dining
In addition to its avant-garde design, the SLS Beverly Hills has several culinary offerings that challenge and redefine tradition. Culinary Director Chef José Andrés—recipient of the 2018 James Beard "Humanitarian of the Year" award—and Creative Director Chef Aitor Zabala recently debuted Somni: a 10-seat chef's counter with an evolving, 20-plus course tasting menu blending experimental style with traditional and modern techniques. The exhibition kitchen space, designed without any corners, mimics the hotel's overall refreshed aesthetic, incorporating light oak and marble accented with multi-colored animal bust sculptures by Pop Surrealist artist Okuda San Miguel.
New experiences
The SLS Beverly Hills is introducing an ever-evolving selection of Concierge-curated experiences, including: a bi-weekly tour that begins with a brief history of the hotel, before embarking on a walking excursion of the West 3rd Street neighborhood; a daily toasting ritual comprised of guests' choice between the "Saint" (fresh-squeezed Wellness Shot) or the "Sinner" (bartender's recipe of the day), reflective of the city's zeal for health and wellness as well as poolside revelry; a weekly introduction to the magic behind The Bazaar's signature mixology program, from a centuries-old recipe by Ben Franklin to the more modern technique of infusing liquid nitrogen.