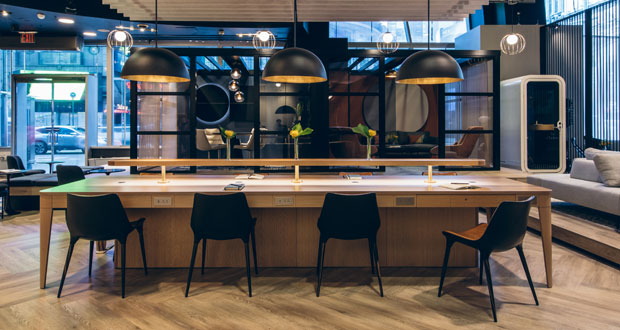 In June at the NYU Investment Conference, Sheraton revealed plans to transform the design of its hotels while showcasing its vision for the hotels' shared spaces. As Marriott's third largest brand, designing public spaces that are relevant to communities around the world is a challenge, but also an opportunity, says Lionel Sussman, vice president of experience design at Marriott. Sussman tells LODGING that the brand is capitalizing on its large, global portfolio to tap into the concept of the 'World's Gathering Place' and incorporate local touches across its co-working spaces.
What is the vision for the transformed brand and how does it differ from the previous design and guest experience?
The vision for Sheraton and the transformation that we're going after is really around this opportunity to create a very differentiated experience not only for our guests, but also the communities in which Sheraton hotels exist. This is a brand that has an incredible heritage and a portfolio that really allows us to be one of the few brands in the world that can actually claim a place in this concept that we're calling the 'World's Gathering Place.' The idea is to bring back the essence of what Sheraton used to be and become the center of each of the hotel's communities.
What aspects of the legacy brand are you embracing in the new design?
Sheraton is a large brand with a global presence—it's currently in 72 countries and will be in about 90 in the next couple years—so that idea of being a global brand is definitely something that influences how we approach our strategy. This is a brand that was the first to enter markets like China, Eastern Europe, and Russia, and having a global mindset and a place where people can connect with others—both within the Sheraton community but as well as locally—is definitely what the heritage of Sheraton used to be and what we are focused on creating.
How do you create spaces for a global brand that are relevant in every property?
We decided to lean into this idea of productivity and co-working. This is a new strategy for Sheraton and is really aimed at providing both service and spaces that are uniquely designed to allow collaboration, productivity, and social gatherings. That's how we're thinking about the physical space—we'll use color, pattern, texture, and all our design tricks like lighting and artwork to create a gallery space that is good for work, play, or dining and is influenced by the local culture. We want to make sure that each hotel is unique in the way they pay homage to the community where they live.
With such a large portfolio, how are you working with owners to make sure that each property has that local touch?
We have a pretty big challenge ahead of ourselves, because this is a brand that is currently developing new hotels. We have a lot of legacy hotels open today and we have a very serious commitment from our ownership community—about 60 percent of the portfolio committed to undergo a renovation by the year 2020, with a nice percentage of it already underway. As a company, we look at our franchisees as our partners and we are working together and giving them all the tools that they need to ensure success.
How will the brand's transformation benefit owners?
We went through a similar process of redefining our Marriott brand about six years ago and we are now about 60 percent done. We've seen very clearly what the returns are for owners. There are two components to it: the return on investment and a financial benefit. Immediately after renovations, we see a lift in rates, a lift in guest satisfaction scores, as well as many other metrics. But also, we see an impact on the design community and on social media. We see how our renovated hotels become iconic in many of their cities, and they become relevant. These are very old brands that a lot of people associate with their parents or their grandparents, and now they're relevant to the millennial consumer. That's really our goal.
A lot of hotel brands are talking about public areas and putting more emphasis on creating spaces where guests can work, play, and relax. What is behind this trend?
The idea of co-working is really tied to how the next generation prefers to work. With a much more entrepreneurial spirit and with the addition of the great technology we have today, it's just a natural progression of what the work environment is and will be in the future. I believe that it's going to continue to evolve even more when you start adding things like self-driving cars and many other technology-related tools that would allow people to work very differently in the future.
We feel that some of the co-working companies and spaces that have been popping up all over the place over the last five years—people used to do that in our hotels and we have the space for people to gather and work. Having said that, we don't necessarily want to be seen as just a co-working space. We are, first and foremost, a hotel, but we want to have all the right spaces and the right services to ensure that if our guest want to have that same experience but have it in our hotel—have access to those co-working spaces, that technology, the right food and beverage strategy, and the right service experience.
As the brand transformation starts to fall into place, what are you most excited about?
We did this temporary pop-up in New York a few months ago and it was the first time we were able to visualize what this whole reimage would feel and look like, and what struck me the most was this concept of being very holistic. We're not just looking at doing a great space, we're not just looking at doing a new food and beverage menu, and we're not just looking at creating an app to order services—we're really looking at this in a very holistic way.
It all comes together and it's a true testament to the idea of something we as a company are very focused on—not just doing interior design, but really doing experiential design.