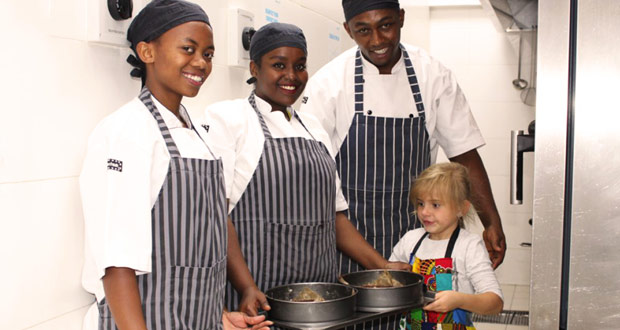 During its annual Community Action Month in June 2018, Radisson Hotel Group activated its global partnership with SOS Children's Villages, carrying out more than 900 activities worldwide to help support children and young people. This year, all business units of the newly rebranded Radisson Hotel Group organized more than 900 activities in their local communities, dedicated more than 32,000 volunteer hours, and raised a total of $445,000 in cash and in-kind for SOS Children's Villages and other local charities.
For the last 15 years, Radisson Hotel Group's hotels, as well as its corporate and area offices, have dedicated one full month to making a difference in the communities in which they operate by organizing various activities around its Responsible Business program. Inge Huijbrechts, global senior vice president of Responsible Business and safety and security for Radisson Hotel Group, says that the partnership with SOS Children's Villages is part of the company's mantra and its team of 95,000's efforts to make "Every Moment Matter" for guests, owners, and communities. "One in 10 children worldwide has lost, or is at risk of losing, their parental care. At Radisson Hotel Group, we are lending a helping hand to give some of these children food, shelter and a better future," says Huijbrechts. "This special month of June, our teams engaged in fundraising activities, donations, and great volunteering opportunities for SOS Children's Villages."
"At SOS Children's Villages, we greatly value the support of our partners in improving the lives of children, young people, and families in countries all over the world," says Patricia Molano, head of international corporate partnerships and philanthropy at SOS Children's Villages International. "We are happy to see the engagement of volunteers, supporters and guests during the Community Action Month and we are looking forward to growing the partnership further in the coming years."
Some highlights of the 2018 Community Action Month included corporate employees of the group's Americas HQ step-up/step-out to help the communities in the Midwest and beyond. They packed more than 8,500 meals for the local food banks and provided shelter by volunteering on the construction site, helping build homes for families in need and supporting the local shelter.
In addition, Radisson Hotel Group is encouraging each of its 1,100 hotels to sponsor the upbringing and education of at least one child per hotel and to establish meaningful relationships with the SOS Children's Villages in their respective countries. The business leadership team of the group is contributing by privately sponsoring more than 50 children from SOS Children's Villages.
Other examples of hotels participating in the 2018 Community Action Month include:
During the group's Asia Pacific Annual Business Conference, many of the company's executive leaders visited a local orphanage and helped donate new mattresses, computers, and even a guitar.
Through their ongoing 'Adopt a School' initiative, the Radisson Blu Resort Fiji continued to provide 30 local schools and visited one of the schools, donating laptop computers and books.
The Radisson Blu Mammy Yoko Hotel, Freetown, in Sierra Leone is participating in a range of projects, including a youth employment program via the internationally accredited Youth Career Initiative, making the hotel the first nationwide to implement such a program.
The group's hotels in Tallinn, Estonia, sponsored and visited children of the local SOS Children's Village, to offer in-kind donations of clothes and shoes.
Radisson Blu Port Elizabeth Hotel in South Africa provided a 'braai' feast and a game of football. Throughout the year, Radisson Blu Hotel, Port Elizabeth has committed to support the SOS Children's Village in maintenance work required on their property and their recycling program.
The Radisson Blu Hotel, Hamburg Airport, in Germany has provided SOS Children's Villages Hamburg with help for a while. After a back-to-school support campaign, equipping the children for the new school year, the team provided food and catered for the local SOS Children's Villages family day.
The Radisson Blu Plaza Hotel, Oslo, in Norway ran a successful Responsible Business lottery. The goal was to make everyone a winner, set SOS Children's Villages on the agenda, and allow guests to win prizes. The lottery raised more than EUR 2,200.