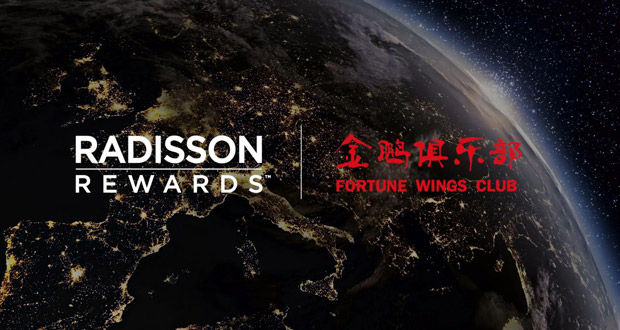 Radisson Hotel Group recently announced a new strategic partnership with Hainan Airlines, China's leading five-star carrier. The two are part of the same "family of brands": Hainan Airlines is owned by HNA Group, a China-based Fortune Global 500 company which is also a majority owner of Radisson Hotel Group.
These two global companies will now deepen their relationship even further with an extensive strategic cooperation that covers several areas, including a loyalty program partnership; coordinated marketing and social media campaigns.
To kick off this partnership, members of Radisson Rewards will be able to redeem their points for flights with Hainan Airlines and nine other leading carriers under the Fortune Wings Club frequent flyer program. Radisson Rewards members will now be able to exchange Radisson Rewards points for Fortune Wings (FW) points. Fortune Wing Club members who are guests at Radisson Hotel Group's global collection of more than 1,100 properties can redeem their earned Radisson Rewards points for free flights on Hainan partner airlines, free room nights, gift cards, and more.
This partnership will be promoted via both companies' marketing and social media channels, including WeChat and Weibo.
"As a member of HNA's family of brands, Radisson Hotel Group joins an extensive global network of like-minded companies and brings its products and services to key feeder markets like China. We are delighted to offer our loyal guests the chance to experience the five-star service of Hainan Airlines and its sister carriers through this rewarding new partnership. We also look forward to opening our global hotel network to Fortune Wings Club members," said Eric De Neef, executive vice president and global chief commercial officer, Radisson Hotel Group.
"We are happy to deepen our relationship with Radisson Hotel Group through this new global partnership," commented Wang Zhen, CEO of HiApp, HNA Aviation & Tourism Group. "Our two companies share many common values, including our commitment to providing world-class service. We look forward to sharing the benefits of our expanded global network with all of our esteemed customers, wherever in the world they travel."
The partnership will see 10 Radisson Rewards points equivalent to one Fortune Wings point, with the minimum redemption being 2,000 Radisson Rewards points, which converts to 200 Fortune Wings points.