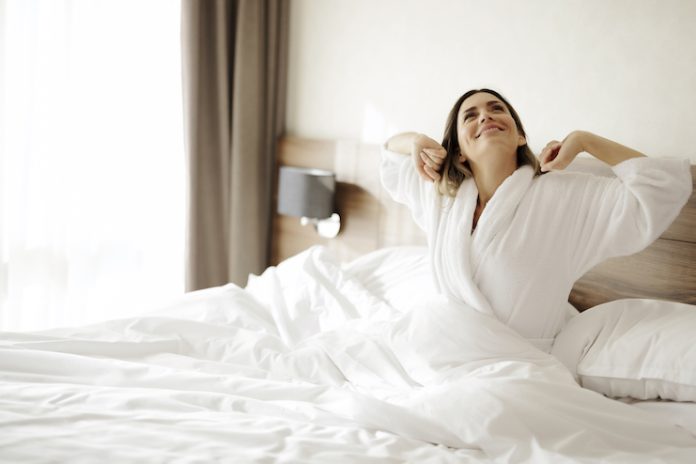 CHICAGO—Hyatt Hotels Corporation and Headspace announced the expansion of the collaboration between the two companies to continue supporting guests' well-being with noise content for World of Hyatt members and guests. Hyatt offers guests and members a sampling of sounds from Headspace's noise collection. Available via the World of Hyatt App and in-room televisions at select properties across the United States, Canada, and Mexico, this spectrum of sounds can help guests drift off, relax, or focus.
"As a hospitality company focused on care, Hyatt takes pride in raising the bar on well-being in a rapidly changing world," says TJ Abrams, vice president, global well-being, Hyatt. "Collaborating with industry leaders like Headspace allows Hyatt to better care for our guests, and I have personally experienced the positive, stress-relieving impact of mindfulness content during my recent stays at our hotels."
In celebration of World Mental Health Day, the expanded collaboration with Headspace impacts the guest experience and illustrates Hyatt's commitment to well-being. Using its audio department, Headspace created two sleep noises available to World of Hyatt members and guests, including:
White Noise: The original noise to fall asleep to, like smooth static to help zone out.
Brown Noise: A robust, deep noise akin to a roaring waterfall in the distance.
"At Headspace, we're delighted to deepen our collaboration with Hyatt, a true leader in prioritizing the wellbeing of their guests," said Emma Nemtin, head of consumer partnerships and distribution at Headspace. "Our shared commitment to enhancing the guest experience aligns seamlessly with our mission to improve the health and happiness of the world. By offering exclusive sounds from our colored noise collection, we're thrilled to help guests unwind, find tranquility, and experience a peaceful night's rest, whether they're at home or on the go."
As a part of the collaboration with Headspace, which began in 2019, Hyatt and Headspace have made mindfulness exercises, guided meditations, and sleep content accessible to colleagues, corporate customers, and guests. This effort builds on Hyatt's holistic well-being strategy, which focuses on creating experiences designed to help guests, members, and customers.