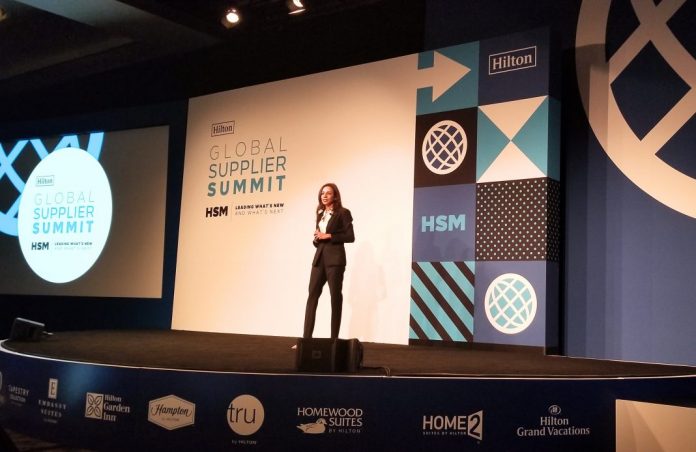 One of the most common sentiments heard during Hilton Supply Management's inaugural Global Supplier Summit was that the organization is one of the best-kept secrets in hospitality. Hilton Supply Management (HSM) manages the global procurement of over $5 billion worth of product in more than 90 countries from more than 2,000 global suppliers.
Now, HSM is taking big steps to boost name recognition. The Global Supplier Summit, which took place at the Capital Hilton in Washington, D.C., kicked off on November 6 with the breaking of a world record. In the lobby of the hotel, HSM assembled the world's longest charcuterie board, which was 126 feet long, offered 21 different types of cheeses, 14 types of meat, and weighed in at 1,545 pounds. It was the next day, however, that HSM and Hilton executives really got into the 'meat' of the conference.
In the opening general session on November 7, HSM Global Head Anu Saxena addressed the more than 300 supplier attendees. "This is a truly unique event focused on showcasing you, our incredibly diverse supplier community," she said. "This summit convenes attendees from all over the world. We have attendees from China, from the U.K., from Dubai, from Colombia, and of course, from all around the United States, all here to connect and engage with leaders at Hilton and showcase your most innovative products and services."
Following the general session, suppliers attended presentations hosted by top Hilton brand leadership, acquainting them with Hilton's brands, guests, and the opportunities offered by both. The brand executives were also explicit in pointing out the value of HSM for Hilton owners. Mark Nogal, global head of Curio Collection by Hilton, explained, "When we take a look at Hilton Supply Management, we talk about buying power… If you were able to take a hotel and flip it upside and shake it, all the things that would come out of it are all things that our suppliers are helping our owners with. So to have the buying power of Hilton is a huge asset for owners."
Fighting Commoditization and Focusing on Innovation
One of the key threads throughout the Global Supplier Summit was how Hilton and the HSM team are fighting the commoditization of the hotel industry. "I fully believe that commoditization has been a threat to all consumer businesses, but it's becoming more and more of a threat because the pace the world is changing… The world really wants to commoditize us, and if we do our jobs, we won't allow that to happen," said Kevin Jacobs, Hilton's CFO. "We are a business of people serving people. I do not believe that we will become a business of robots serving people."
Hilton's chief customer officer, Jonathan Witter, agreed. "The biggest motivator for me is that I don't believe our customers want us to be a commoditized business," he said. "I would contend that customers travel for the most important moments and the most important reasons in their lives."
Witter also noted during the conference that Hilton Supply Management and Hilton, in general, are "maniacally focused" on innovation. "The world is a radically, radically, radically changing place. I believe we are in the midst of the greatest economic and social change since the industrial revolution and maybe ever," he said. "I think this is going to be an incredibly challenging and important time for all companies as we continue to think about how we stay relevant and meaningful for our customers, for our owners, and for all of our constituents."
An Owner's Perspective
One of the attendees of the HSM Global Supplier Summit was Chet Patel, senior vice president of Baywood Hotels, a hotel development and management company based in Columbia, Md. Patel has been working with HSM for decades on various products and noted that HSM's newest initiatives, as well as the power it wields in today's lodging industry, are intrinsically tied to Saxena's leadership and the changes she has brought about since taking the helm only last year. "[Saxena] and her team really put the pressure on the vendors, saying, 'Look, you need to start delivering a consistent product, a product that lasts, that meets the printed standards, and warranty it.' Those are all the factors that were missing from the old HSM," he described, adding that the act of setting expectations for vendors has helped boost the quality of HSM products and better communicate hoteliers' expectations.
Continued Strategic Growth
Perhaps the biggest takeaway from the HSM Global Supplier Summit was that Anu Saxena has been the driving force behind the concerted effort to get the HSM name out into the industry. She has revamped how HSM does business and how it interacts with the rest of the hotel industry. She has also been ruthlessly prioritizing the growth of HSM as its own global entity. "We need to keep our eye on next year and beyond. We need to stay focused on what we have signed up to do and stay true to our areas of focus," she said. "We also need to continue to over-deliver and out-deliver ourselves when it comes to the new owners. [We need to make] it easier for our owners to build hotels, making it easier for our brands to get product, and we're going to continue to focus on that."