Hilton announced today that its Curio Collection is coming to Las Vegas in 2020 in collaboration with JC Hospitality LLC and Virgin Hotels. Currently open as the Hard Rock Hotel and Casino—owned by JC Hospitality—the Virgin Hotel Las Vegas, part of the Curio Collection by Hilton, will undergo a short renovation and repositioning before reopening. This hotel will be the only Hilton Collection Brand in Las Vegas and the largest in the world, with more than 1,500 guestrooms and 110,000 square feet of meeting and event space.
Hilton made the announcement at the Americas Lodging Investment Summit (ALIS) today. Mark Nogal, global head of Curio Collection by Hilton says, "We're looking to grow selectively. Working with JC Hospitality and Virgin Hotels makes sense for us. We'll be the only one doing this with Virgin at this point."
Choosing the right hotel was important for Hilton, and partnering with Virgin Hotels adds a differentiator that Hilton looks for in its Curio Collection, Nogal adds.
Virgin Hotels purchased the Hard Rock Hotel & Casino in Las Vegas from a Brookfield-managed private real estate fund in April last year in partnership with a group led by Juniper Capital Partners and Fengate Real Asset Investments along with their partners Dream, Cowie Capital Partners, and other private investors. Raul Leal, CEO of Virgin Hotels, says, "With the room count in Virgin Hotels Las Vegas and the amount of meeting and convention space within, our affiliation with Curio Collection by Hilton is the perfect partnership because of Hilton's top-notch global says force to their meetings and conventions customer base. All Hilton Honors members will be able to enjoy their benefits while staying at Virgin Hotels Las Vegas. These are new customers that hopefully will become fans of Virgin Hotels."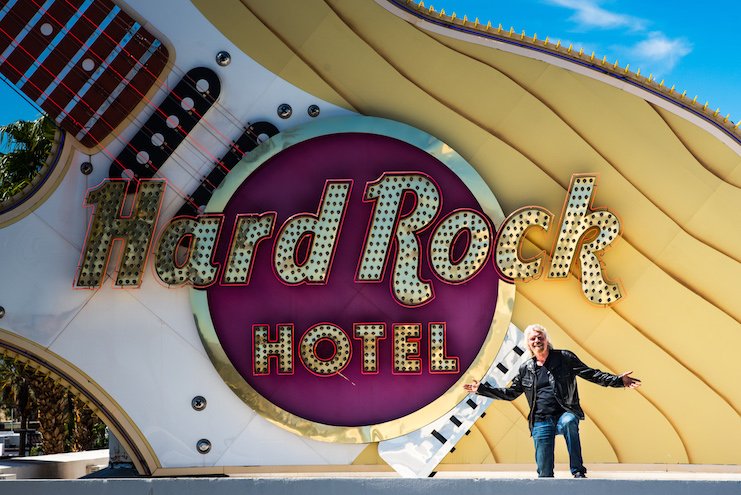 The design will be a fun yet sophisticated take on a modern desert aesthetic, highlighting the surrounding area. "The property has been well-maintained, but needs an update," Nogal says. "Part of this is going to unfold into the characteristics that come with the Virgin Hotels brand. That's a natural synergy for us from the standpoint of Curio Collection as well."
More updates about the new Hilton, JC Hospitality, and Virgin Hotels property will come post-ALIS, and Nogal adds, "It's very exciting to be able to bring Curio Collection to Las Vegas. We have a tremendous opportunity with the partnership with JC Hospitality and Virgin Hotels. It's going to be something completely unique within the industry. We're looking to partner together and bring a great hotel to a higher level, reintroduce it, and welcome guests back into the facility."