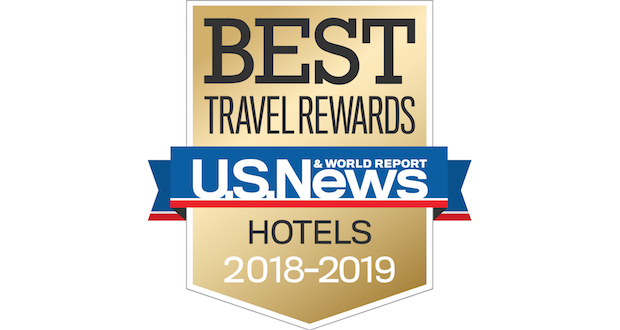 Washington, D.C.–U.S. News & World Report this week announced the 2018-19 Best Travel Rewards Programs. The annual rankings identify 25 hotel and airline loyalty programs with the most rewarding perks for everyday travelers. For the second consecutive year, Marriott Rewards ranks No. 1 in Best Hotel Rewards Programs.
Marriott Rewards has regularly performed well in the rankings due to its large network of hotels in popular vacation destinations, high award availability, and ample benefits given to members, according to U.S. News. The program's merger with Starwood Preferred Guest and The Ritz-Carlton Rewards helped it maintain its No. 1 spot. The new combined program features five elite tiers, up from three previously, with lower qualification requirements, as well as member access to a variety of properties and room types when redeeming points for free nights. Wyndham Rewards, No. 2, continues to earn high marks for its ease of earning and redeeming a free night, its large network of hotels, and its benefits given to elite members. World of Hyatt claimed the No. 3 spot thanks in part to its low points redemption requirements and its variety of ways to earn points.
"The seemingly endless options for travel rewards can make choosing a program daunting," said Christine Smith, travel editor at U.S. News. "The top ranked rewards programs offer all travelers the perks they care the most about, including those that give the most bang for their buck. Whether it's a free night, flight, or specific amenities, travelers can narrow down their options to find the programs that are exactly the right fit for them."
The ranking methodologies take into account membership benefits, such as free amenities, program-affiliated credit cards, and redeemable experiences; network coverage; and a strong emphasis on the ease of earning and redeeming free flights or nights. Additionally, U.S. News factors in property diversity for the Best Hotel Rewards Programs.
U.S. News Best Hotel Rewards Programs
1. Marriott Rewards
2. Wyndham Rewards
3. World of Hyatt
4. Choice Privileges
5. Best Western Rewards