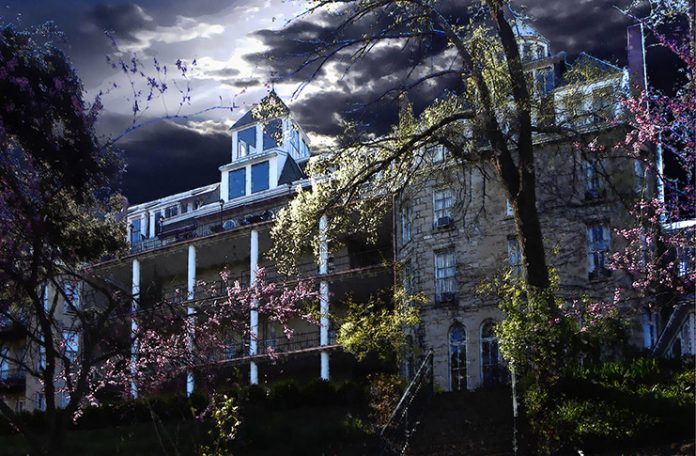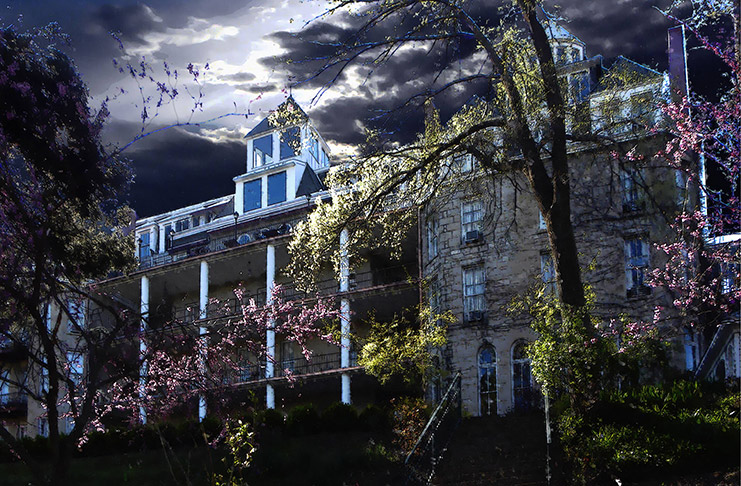 WASHINGTON, D.C.—Historic Hotels of America has over 300 hotels with long and storied histories representing over 36 decades in American history. From a former Carmelite convent to hotels that are adjacent to battlegrounds and a hotel that was once a morgue, many of these hotels have heard reports of "spirited" guests who, according to visitors and staff, continue to haunt the halls long after they have checked out.
"The ghosts reported to roam at these Historic Hotels of America have been described as sad to happy, shy to friendly, slowly meandering to in a rush, in work clothes to elaborately dressed, and range in age from youth to seniors," said Lawrence Horwitz, executive director, Historic Hotels of America and Historic Hotels Worldwide. "Some pre-date the construction of the hotel and others figure prominently from the early years of the historic hotels."
Below is Historic Hotels of America's Top 25 Most Haunted Historic Hotels for 2018.
Concord's Colonial Inn (1716) Concord, Massachusetts
Due to the hotel's age and role in the Revolutionary War, the Inn has been rumored to have a few resident ghosts. Many wounded patriot soldiers were taken to Concord's Colonial Inn, which served as a hospital during the war. The most famous and sought-out spooky guestroom is 24. The room was once the operating room of Dr. James Minot, who had a practice in the inn during the Revolutionary War. Many guests who've spent the night in the infamously haunted room have reported some strange activity.
Admiral Fell Inn (1770) Baltimore, Maryland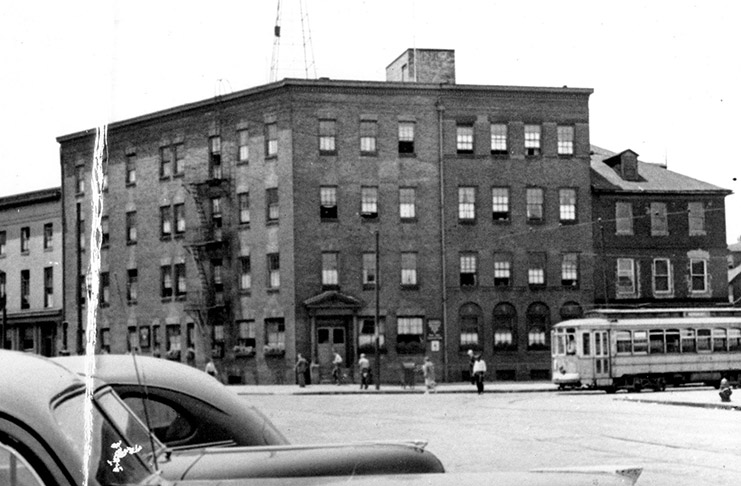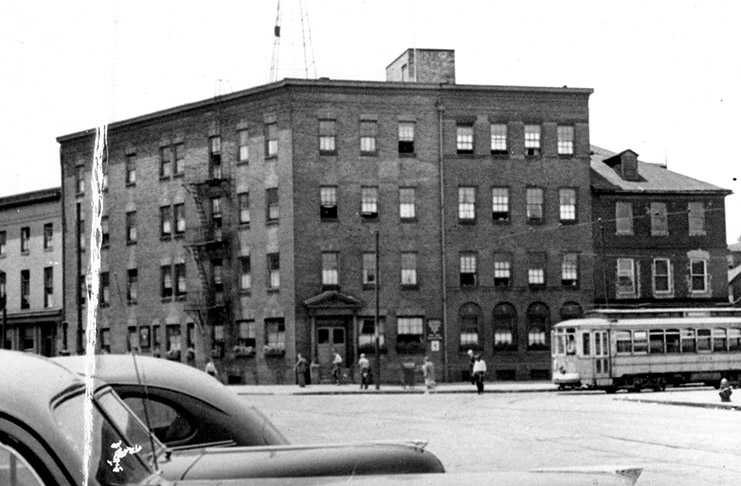 The Admiral Fell Inn is no stranger to ghost stories. Guests have often reported seeing floating sailors and disappearing butlers knocking on their doors. A hotel manager is also said to have heard a loud party after the hotel was evacuated during a hurricane. Parts of the building date back to the 1770s when it was a theater and boarding house where seamen, immigrants, and "ladies of the night" would pass through.
The Red Lion Inn (1773) Stockbridge, Massachusetts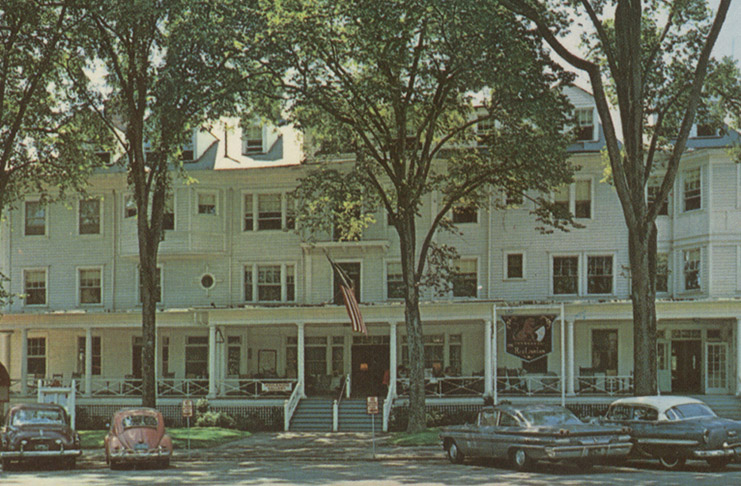 Ghostly rumors continue to swirl at the inn which has seen the likes of many paranormal investigators and mediums. The fourth floor, in particular, has been said to have the most activity. Both cleaning staff and guests have claimed to see a "ghostly young girl carrying flowers" and "a man in a top hat." It has been said that guests have awakened to the feeling of someone standing over them at the foot of the bed. Cold spots, unexplained knocks, and electrical disturbances have all been reported. Guestroom 301 is said to be a haunted hot spot.
Hanover Inn Dartmouth (1780) Hanover, New Hampshire
Founded in 1769, Dartmouth College is one of the oldest colleges in America and, as such, has ghost stories scattered throughout its history. The most prominent among them is the tale of nine undergraduates who perished in 1934 in a carbon monoxide accident while sleeping in their fraternity house attic. The Alpha Theta house on North Main Street was razed in 1940 and a new one built on the spot. More than one Dartmouth student, alone late at night in the laundry room of the new basement, has reported finding himself face to face with a room that isn't there and a party of young men in tuxedos and their dates in ball gowns. Ghosts also are said to haunt the room beneath the bell tower in Baker Library. The grand Greek Revival building at 9 School Street that is headquarters for Panarchy, a Dartmouth undergraduate society, is said to be haunted. Even the Inn is said to have a few ghosts.
Omni Parker House, Boston (1855) Boston, Massachusetts
This hotel was opened by Harvey Parker, who was involved with the operations of the building until his death in 1884. Over the years, many guests have reported seeing him inquiring about their stay—a true "spirited" hotelier even after his death.
The Sagamore (1883) Bolton Landing, New York
The Sagamore has its own American ghost story. Opened in 1883 as a playground resort for summer residents of Millionaire's Row, this rambling historic hotel sits on a 6 million-acre state park and is rumored to accommodate a ghost or two. Stories persist of the ghost of a silver-haired woman wearing a blue polka-dot dress descending from the second floor to the Trillium, the hotel's fine dining restaurant.
1886 Crescent Hotel (1886) Eureka Springs, Arkansas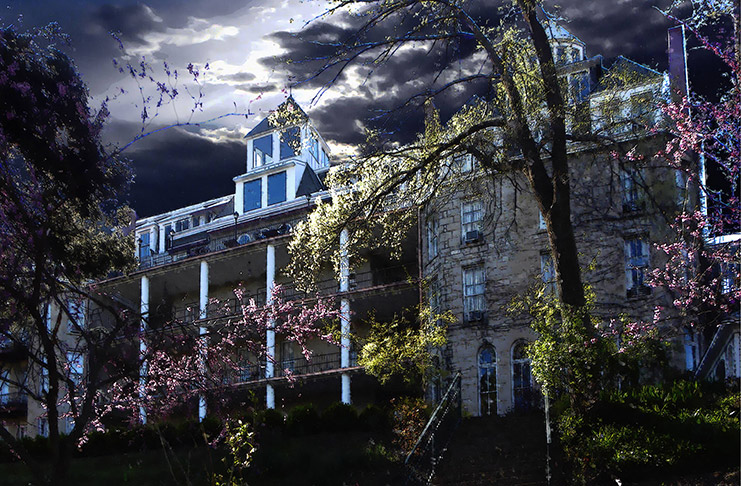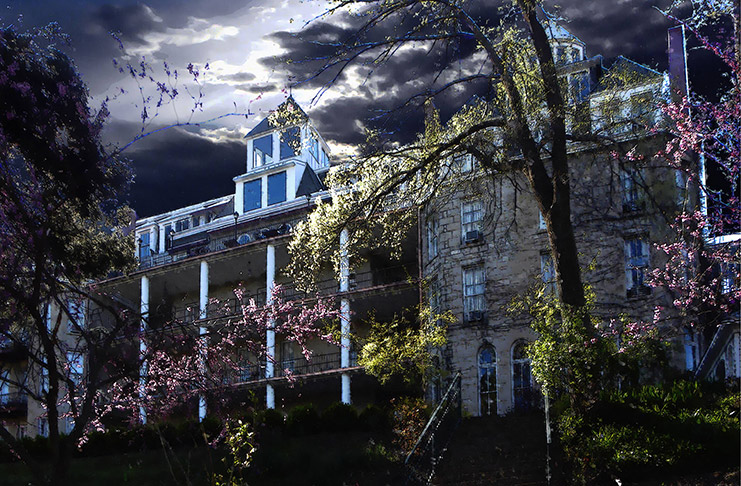 A morgue is located in the hotel's basement, used as such by Norman Baker during the time he operated a 'cancer curing' hospital in the Crescent during the late 1930s. According to one story, a tour had just been brought in to the basement and they were beginning to sit in the front area. The tour guide noticed a man high-stepping into the autopsy room. He wore a dark suit and top hat. Curious as to who it was, the tour guide went into the room, looked around, and even opened the meat locker (where Baker stored cadavers and body parts), but there was no one there. There are several of these stories that guests and hotel staff have experienced during this hotel's history.
Hotel Monteleone (1886) New Orleans, Louisiana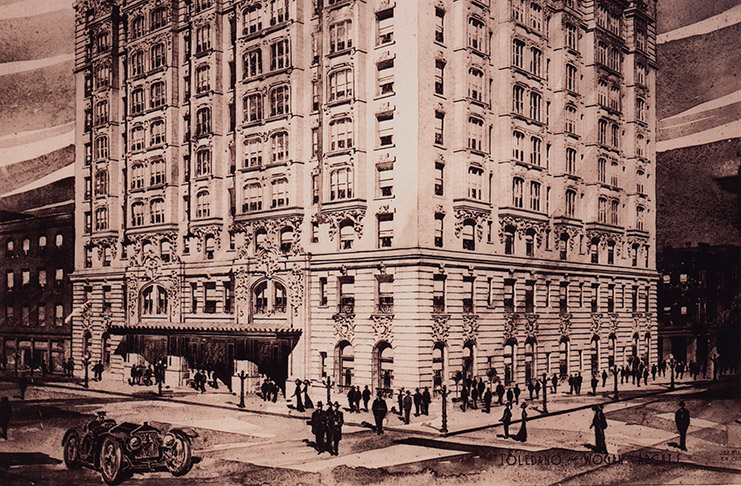 A maid, known as "Mrs. Clean" reportedly haunts the hotel. Paranormal researchers once asked why she stayed, and the maid—whose mother, grandmother, and great-grandmother also worked at the hotel, according to the story—said she was picking up after housekeeping to ensure high standards.
Jekyll Island Club Resort (1887) Jekyll Island, Georgia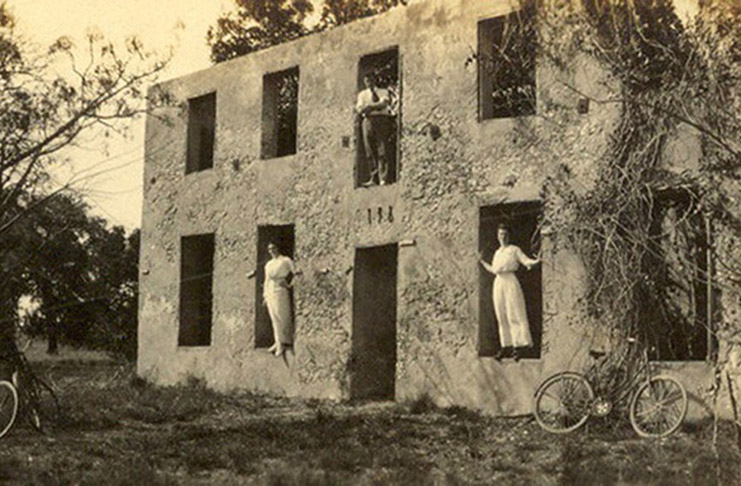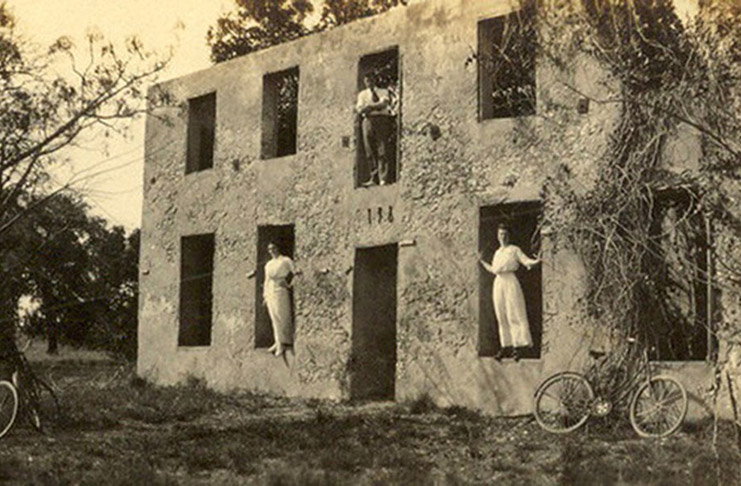 The Jekyll Island Club Resort has seen many families come and go since its founding in 1886. There have been seven reported ghosts ranging from a bellman who delivers bridegrooms their pressed suits to the ghost of a former president who walks the veranda at sunset. Samuel Spencer—a club member who departed from this world under mysterious circumstances—is said to haunt his old rooms early in the morning, sipping coffee and reading the morning newspaper. More than one bridegroom, who had not ordered this service, have inquired about the ghostly bellman.
Green Park Inn (1891) Blowing Rock, North Carolina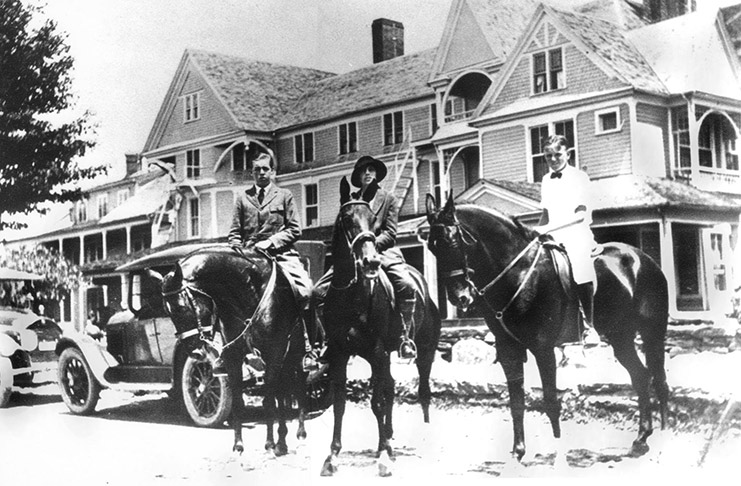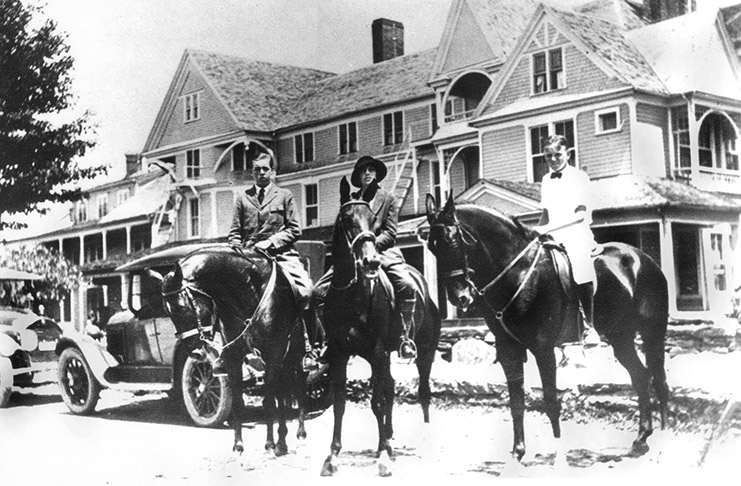 This 1891 hotel keeps a "Ghost Log" in the lobby for its guests to peruse (and add to when they have their own encounters to share). In particular, guests pay attention to the notes regarding Room 318, where Laura Green died. The daughter of the inn's founding family, she was jilted at the altar. Reports are that she and her would-be groom continue to be seen on the third floor.
The Pfister Hotel (1893) Milwaukee, Wisconsin
Countless visiting athletes and celebrities have reported hauntings by the ghost of this hotel's original owner. It is rumored that Charles Pfister still roams the halls to ensure that his guests are well taken care of at his century-old "Grand Hotel of the West."
Union Station Nashville (1900) Nashville, Tennessee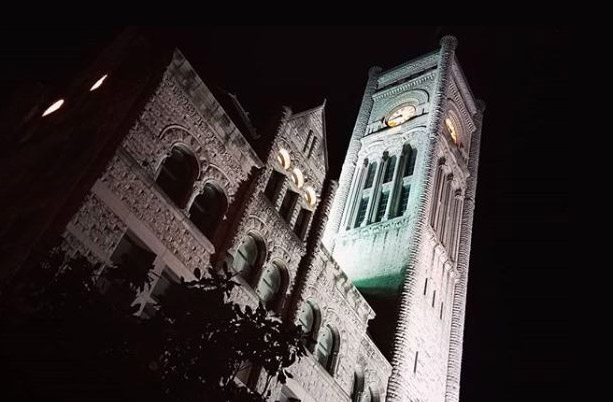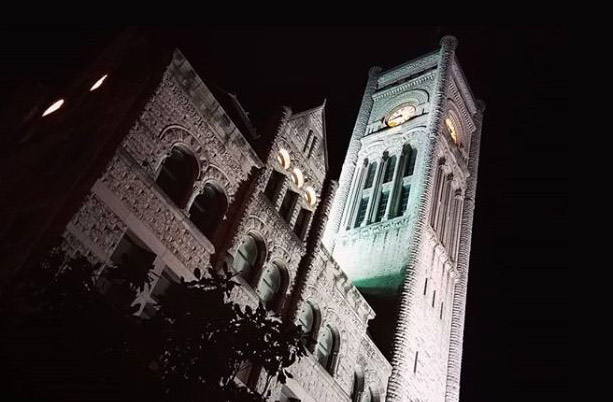 One of Nashville's most iconic landmarks, Union Station Hotel dates back to 1900 in a building that previously served as the city's buzzing railway station. While the building's past life is apparent in the hotel's preserved architecture—the barrel-vaulted ceiling, 100-year-old stained glass, and grand towers of the former train station's main termina—every so often, guests are also reminded of the building's history through another kind of encounter: with the hotel's resident ghost, Abigail. Legend has it that during World War II, a young woman named Abigail said goodbye to her soldier on the Union Station train platform before he shipped off to France. When she arrived at that same spot to greet him on his return, she was instead met with word that he was killed in action. Distraught, Abigail threw herself in front of a passing locomotive far below. The forlorn spirit of Abigail, still looking for her lost love, can reportedly be seen wandering the main terminal and her presence felt in Room 711. Now known as the Abigail Room, guests can request to stay in the haunted suite, which is decorated unlike any other room in the hotel with antique furnishings, a four-poster bed and artwork inspired by her tale. Abigail's story also lives on at the hotel's bar and restaurant in the grand lobby, Carter's—The Abigail cocktail is a signature libation made with local spirit Picker's Vodka, St. Germain, grapefruit juice, lemon and bubbles.
Moana Surfrider, A Westin Resort & Spa (1901) Honolulu, Hawaii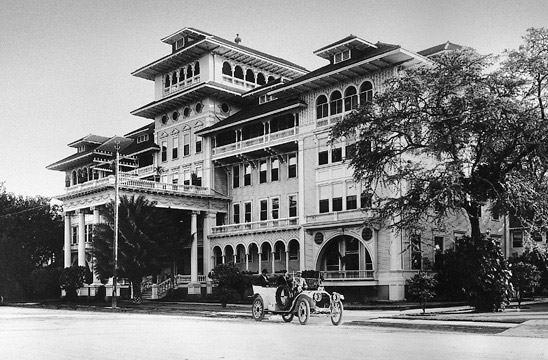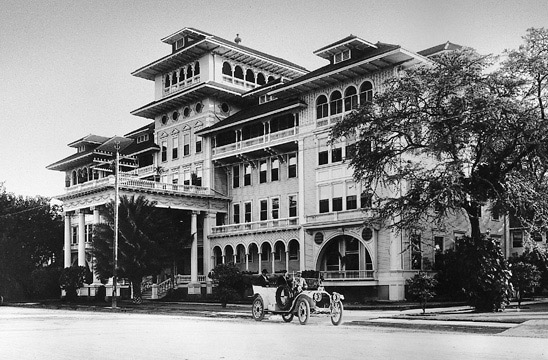 On February 28, 1905, the untimely death of Jane Stanford, co-founder of Stanford University, made headlines everywhere. Stanford, who was vacationing in Hawaii following a strychnine poisoning attempt on her life, died in her room at the Moana. There have been reports that the ghost of Stanford still frequents the hotel. Guests and hotel staff have said that they've seen her walking at night trying to find her room.
Omni Mount Washington Resort, Bretton Woods (1902) New Hampshire
Known by staff members as "the princess", Caroline Foster was a long-time inhabitant of the hotel. Princess Caroline Foster's ties to the resort go back to its inception when her husband, railroad tycoon Joseph Stickney, built the grand resort in 1902. Incorporating special accommodations for his wife, construction of the resort included an indoor swimming pool and a private dining room for Caroline known today as the "Princess Room." Guests continue to report visions of an elegant woman in Victorian dress in the hallways. There are light taps on doors when no one is outside and items suddenly disappear and then reappear in the exact place they were lost. But perhaps the most common sighting of Caroline is in room 314, where guests report seeing the vision of the woman sitting at the edge of their bed.
The Seelbach Hilton Louisville (1905) Louisville, Kentucky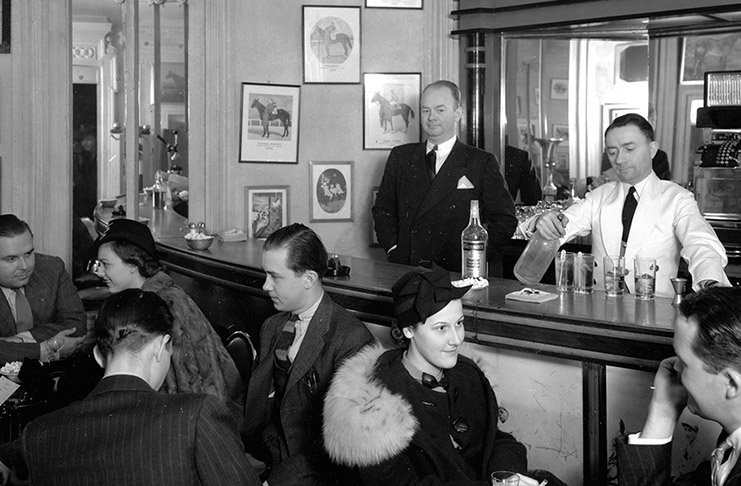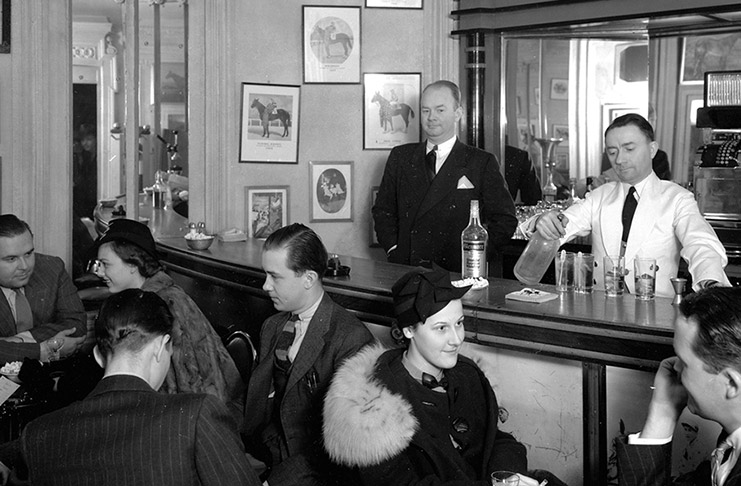 Legend says two lovers were to be married at the hotel in 1907, but the groom met an untimely death on his way to the wedding. His then distraught bride threw herself down the elevator shaft, falling 10 stories to her death. The bride is said to continue to haunt the halls of this historic hotel.
Boone Tavern Hotel of Bera College (1909) Berea, Kentucky
The historic Boone Tavern Hotel attracts ghost hunters by the score with its three-day ghost hunts, and some guests report seeing the apparition of a young boy in their photographs. In the hotel basement, the voice of a boy named Timmy can sometimes be heard, according to reports.
The Omni Grove Park Inn (1913) Asheville, North Carolina
For nearly half a century there has been the belief that there is a ghost who roams the hallways of the main inn. She is referred to as the Pink Lady because of the flowing pink gown she wears. It is believed that this young woman was a guest in room 545 in the 1920s and that she either jumped or was pushed to her death in the Palm Court, five floors below. However, no records exist that support any of these claims. Reports of her sightings still occur, some say they just see a pink mist, others a full apparition of a young long-haired woman in a pink gown.
La Fonda (1922) Santa Fe, New Mexico
Shot to death in 1867 in the hotel lobby, John P. Slough, Chief Justice of the Territorial Supreme Court, is said to have never left. Meanwhile, a distraught salesman, who jumped into the hotel well after losing a card game, has been seen emerging from the fountain by visitors and guests alike.
The Emily Morgan San Antonio – a DoubleTree by Hilton Hotel (1924) San Antonio, Texas
This hotel, known as "the official hotel of the Alamo" is said to have ghosts haunt the halls. At one time, the hotel housed a medical facility, which had a morgue and a psychiatric ward on site. Reports of unexplained noises, apparitions, and the feeling of being touched have been reported by guests. Floors seven, nine, 11, and 12 are reported to have the most paranormal activity.
Francis Marion (1924) Charleston, South Carolina
In the early 1930s, New Yorker Ned Cohen was visiting his Southern lady friend in Charleston. Whatever happened was never clear, but he was found face down, body smashed in the middle of King Street facing toward the old Citadel's parade grounds. Today, visitors and staff hear eerie and unexplained sounds at night—sounds of rustling silk drapes, rattling windows, and an unexplained vision of a man questioning either himself or the witness. Some say they see the image in shirt sleeves, others just feel his presence throughout the hotel.
Hawthorne Hotel (1925) Salem, Massachusetts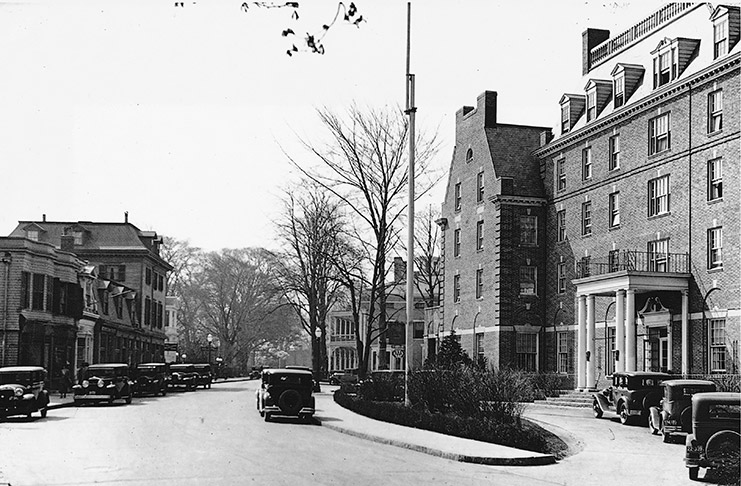 The city of Salem is notorious for the Salem Witch Trials in 1692. The hotel has ghost stories of its own, mostly attributed to the sea captains who were returning to their gathering place. In particular, rooms 612 and 325 have had reports of lights turning off and on and a general uneasy feeling throughout the rooms.
Hotel Viking (1926) Newport, Rhode Island
Hotel Viking has had many guests and staff members come and go reporting stories of spirited guests. The story that has been reported repeatedly is of a little boy seen cleaning the floors of the historic wing of the hotel. Roughly 10 different guests tell a similar story of a young boy cleaning. This has also been confirmed by most of the housekeeping staff.
Hotel Saranac, Curio Collection by Hilton (1927) Saranac, New York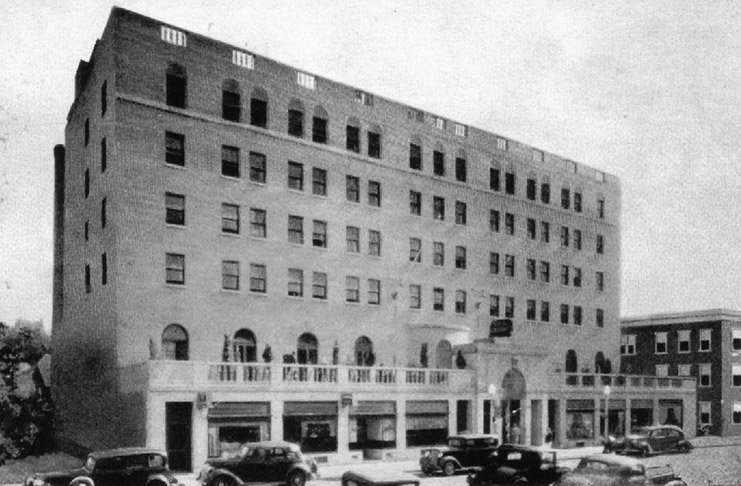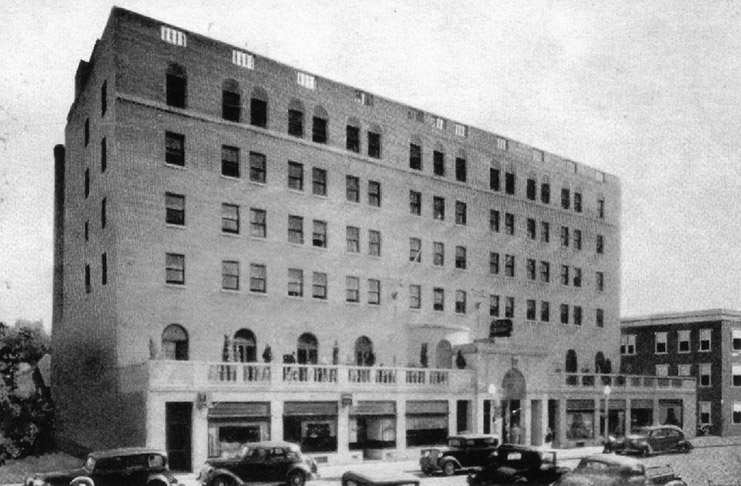 This historic hotel was built on the foundation of a former high school. It is the only hotel building remaining of 13 luxury hotels that once served this community. While fires led to the destruction of some of the area's hotels, Hotel Saranac, made of steel and brick, was the area's first fireproof hotel. The hotel had a civil defense tower on top, where it is said that Boy Scouts would watch for Russian bombers. In Room 308, Emily Balsam was a guest at Hotel Saranac and worked at a local college. She had a cat. The story is told that she was not feeling well for a while and got tired of people checking on her. She wanted to be left alone, so she had her phone disconnected and stopped all housekeeping. No one saw much of her after that. At some point, the guests and staff started to complain about the smell coming from that room and the cat always crying. The manager went up to talk to her and found she had been dead for weeks, but the cat was still alive. The cat was taken to a shelter, but it is said that the ghost of Emily's cat can still be heard crying or scratching at the wall.
The Hollywood Roosevelt (1927) Hollywood, California
This historic hotel is said to be haunted by multitudes of ghosts including the most famous, Marilyn Monroe. She has been said to haunt the full-length mirror that was once in her suite. Room 928 is believed to be haunted by the restless spirit of Montgomery Cliff, the film and stage actor best known in the film Red River in 1948.
The Don CeSar (1928) St. Pete Beach, Florida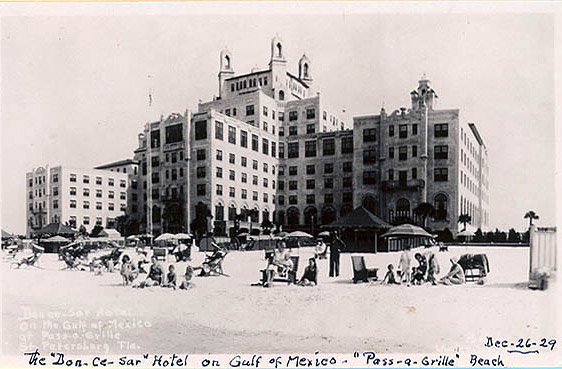 Over the years there have been a number of reported "sightings" and strange occurrences at this historic hotel. Although there are various stories, the most common presence felt through the building is that of Mr. Thomas Rowe, the man who brought the Don CeSar to life and is the focal point of the love story surrounding the hotel. People have reported seeing Mr. Rowe throughout the hotel, on the beach, and even interacting with guests and staff. In the evening it has been reported that from time to time you can look up to the windows on the 5th floor and see the figure of a man just watching from above.
Lord Baltimore Hotel (1928) Baltimore, Maryland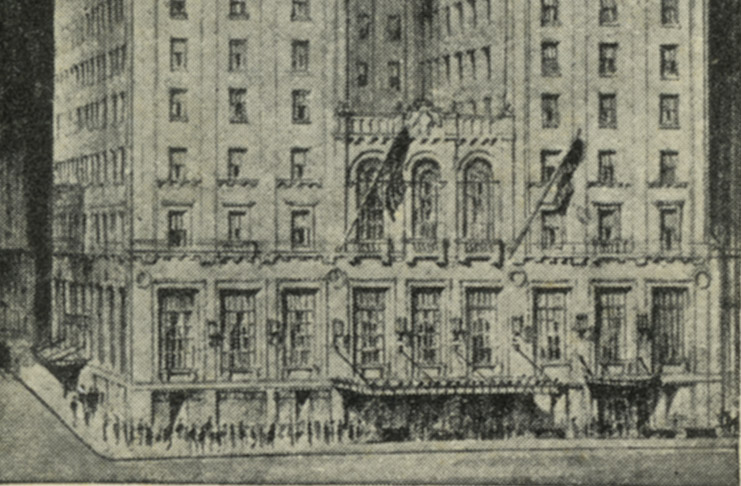 Over the course of its almost 90-year history, the Lord Baltimore Hotel has had strange reports. Built in 1928, the hotel was one of the tallest building in the city (the Great Fire of 1904 destroyed Downtown Baltimore) and around the time of the Great Depression, there were at least 20 documented reports of "jumpers" from the 19th-floor rooftop deck. The most spoken about is that of a couple who attended an event at the hotel with their daughter and then proceeded to jump off the building. Their daughter, Molly, has allegedly been seen in the halls wearing a white dress and playing with a red ball. There has also been a lot of paranormal speculation around a handprint of a child on a wall in one of the hotel's penthouses that won't go away, according to the stories.
Omni Shoreham Hotel, Washington, DC (1930) Washington, D.C.
During the Shoreham's early years, three people died unexpectedly in suite 870. At that time the apartment was occupied by one of the hotel's owners, Henry Doherty. Juliette Brown, the family's housekeeper died mysteriously one night at 4 am. Doherty's daughter and wife also perished mysteriously in the same suite. During its vacancy there were claims of mysterious noises, doors slamming shut, and furniture moving—many of which happened around the time of Juliette's death.
Tubac Golf Resort and Spa (1959) Tubac, Arizona
Guests report hauntings by at least four ghosts including a boy, a lady in gray, a very active gentleman spirit, and a cowboy. Some of these spirits are believed to date back to the early age of the resort when it was the Otero Ranch. The haunts have been investigated by the Phoenix, Arizona Paranormal Society and featured on the "Haunted Series, Arizona".