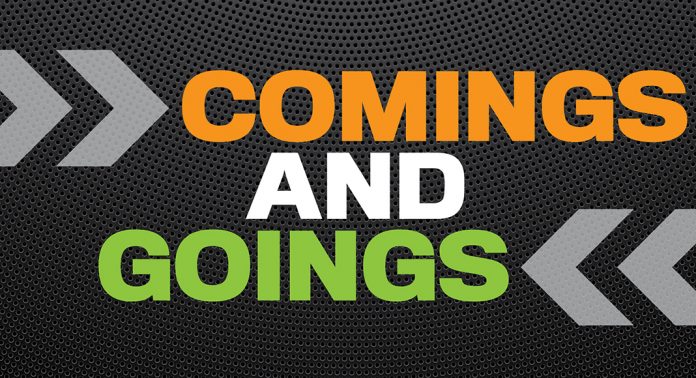 IHG has appointed Brian McGuinness as senior vice president of global guest experience shared services. McGuinness is charged with creating and delivering global guest experience solutions across the company's portfolio of 15 brands. With more than 20 years of hospitality experience, McGuinness most recently served as global brand leader and senior vice president for Marriott, Sheraton, and Delta Hotels, where he was responsible for brand strategy, marketing, design, and guest experience.
Here's a look at other notable comings and goings that took place this week.
InterContinental Hotels Group also promoted Christian Hempell to senior vice president of global loyalty and partnerships, where he will lead a team to further develop loyalty programs to bring value to both hotels and guests. Hempell's team is also responsible for strategic brand and loyalty partnerships.
Choice Hotels International has promoted Abhijit Patel to vice president of marketing and distribution strategy and operations. Patel's responsibilities include overseeing the company's marketing and distribution channels, as well as vendor relationships. He will also work with Choice's technology and business intelligence divisions to improve mobile functions.
Fernando Mulet has been promoted to executive vice president and chief development officer of Playa Hotels & Resorts. Mulet has been an executive member of the company's management team since it started in 2006. Before Playa, Mulet was director of international investments and asset management for Highland Hospitality Corporation.
Shelley Perkins is leading global human resources and providing organizational support as chief talent and culture officer of Rosewood Hotel Group. Perkins has over 20 years of experience in the hospitality industry, most recently serving as senior vice president, talent manager for Accor Hotels in Paris.
As vice president of sales and marketing for SIXTY Hotels, Maureen O'Brien will implement marketing and sales strategies to bring in new business while cultivating current client relationships. O'Brien was senior vice president of sales and marketing for Denihan Hospitality group before SIXTY Hotels.
Simeone Deary Design Group is growing, and Darlene Urgola Brown has joined the company as principal. Urgola Brown was an associate and senior designer for Gensler, Los Angeles, where she led concept and design development during her 13-year career there. She also held senior roles with Kelly Wearstler and Kor Group.
Martha Sheridan is leaving her president and CEO position at Providence Warnick Convention & Visitors Bureau (PWCVB) to pursue the same role at the Greater Boston Convention & Visitors Bureau. Sheridan will continue her position at PWCVB until mid-December, and the PWCVB board will work in her position until a successor is named.
Joshua Smith is helping HREC Investment Advisors expand its brokerage platform as senior vice president of the newly-opened office in Las Vegas. Smith has over 20 years of lodging and gaming transactional property experience, and over his career, he has worked in hotel real estate and advised more than 250 hotel and gaming assignments.
Harley Pasternak is joining Four Seasons Hotels and Resorts as global fitness advisor, where he will assess and improve fitness facilities and new experiences for the brand. Pasternak is also creating a Four Seasons fitness video series that will launch in 2019, and help the brand offer better wellness amenities for health-conscious guests.
Enchantment Group welcomes Matt Vuolo to lead development teams and oversee projects as development manager. Vuolo served as development manager at Bald Mountain Development prior to Enchantment Group, where he led design and construction for the Four Seasons Resort & Residences in Napa Valley, Calif.
General Managers
Donald Stamets is the new general manager of Solage, an Auberge Resorts Collection property, in Calistoga, Calif., where he will supervise all operational aspects of the hotel. Before Solage, Stamets oversaw properties in Orlando, Bedford Springs, and Jacksonville among others, and held management positions at hotels across Florida.
Holiday Inn New York JFK Airport Area, operated by M&R Hotel Management, has appointed Brian Mauro to general manager. In this role, Mauro will oversee management and operations, including sales, marketing, security, maintenance, and housekeeping. He previously served in the same position for the Hilton Garden Inn Long Island City Queensboro Bridge.
Nic Barger is overseeing sales and marketing, operations, guestrooms, onsite activities, and meetings and events as general manager of Hotel Modera in downtown Portland, Ore. Barger most recently worked at The Essex, a Benchmark Resorts & Hotels property, in Essex Junction, Vt., as general manager.
DoubleTree by Hilton Hotel Washington D.C.—Crystal City welcomes Joseph Cardone to oversee daily operations as general manager. Before working in the D.C. area, Cardone was hotel manager of the Hilton Orlando, and before Hilton, he spent many years working in director positions for Marriott.
Steven Boswell is general manager of the Palm Mountain Resort & Spa in Palm Springs, Calif., and he will lead daily operations for the property. Boswell has over 18 years of hospitality experience, and he most recently served as regional managing director for The Nautical Beachfront Resort and Tivoli Lodge in the southwest region.
21c Museum Hotel Lexington welcomes back Gabe Isaac to oversee hotel operations, sales, and community and guest relations as general manager. Isaac started at 21c Museum Hotels as a front desk agent in 2007, and he left the company in 2016 to serve as director of hospitality services at WeWork and operations director for A/D/O Brooklyn.
Monica Mataloni has been named general manager of the Aloft Asheville Downtown, a McKibbon Hospitality property. Mataloni's responsibilities include overseeing daily operations and team members for the lifestyle property. She most recently served as general manager of the Hampton Inn Hallandale Beach Aventura Hotel.
The Kimpton Cardinal Hotel in Winston-Salem, N.C, has appointed Kelly Brown to general manager, where she will manage staff and community relations, as well as drive guest experiences. Brown has a decade of hospitality experience, most recently serving in the same position for the Inn at Diamond Cove in New England.
Directors 
George Schweitzer is leading managing operations to ensure positive guest experiences as managing director of The Benson Hotel, a Coast Hospitality property. Schweitzer has over 30 years of experience in general management and software development, and prior to his new position, he was CEO of West Coast Event Productions.
RMS, a hospitality cloud company, welcomes Peter Ferris as director of global sales and marketing, a newly-created position. Ferris will oversee sales and marketing teams based in Australia, India, the United Kingdom, and Middle East, as well as assist in the United States. He most recently was director of operations and development for Punthill Apartment Hotels.
Lisa Stolte will supervise operational strategies, employees, finances, and guest experience as operations and sales manager for The Governor, a Coast Hotels property, in Olympia, Wash. Stolte most recently served as director of sales for the Holiday Inn Express Columbus East, and general sales manager for the Comfort Suites Columbus East, both in Ohio.
Mandarin Oriental, Boston, has appointed Kenneth Ng to the director of marketing and commerce position. Ng previously worked for the InterContinental Boston as director of sales and marketing, where he worked for a decade. During his 30-year career, Ng also served in senior sales and marketing positions for Westin and Marriott.
Food and Beverage
Mii amo, a destination spa resort in Sedona, Ariz., welcomes Holly Palmer to create a fresh and contemporary cuisine as head chef. Palmer will bring new menu items for in-suite dining, special events, and juice bar outlets. She was most recently a pastry chef for Michael's Catering, a southwest culinary operation.
Multiple New Hires
Benchmark welcomes three new hires to perform various duties for both the overall company and its portfolio. Evan Crawford has been named director of field marketing support for the company. Douglas Jensen is director of finance for The Grove Resort & Spa Orlando. And Stuart Race is executive chef for the under-construction Delta Hotels–Marriott Dallas Allen & Watters Creek Convention Center.
The Kinney SLO, a new boutique property in San Luis Obispo, Calif., welcomes Kristin Battaglia as general manager and Adam Measurall as executive chef. Battaglia previously worked in the same position for The Wayfarer hotel in Santa Barbara, Calif., and Measurall served as executive chef of the Far Western Tavern steakhouse in Orcutt, Calif.
Total Customized Revenue Management, LLC, a revenue management service provider, has welcomed two new hires to help assist the company's growth. Shelley Maher is director of business development and client relations, and Marcela Trujillo is senior revenue management consultant. Additionally, Kaitlin Hagenow is moving up in the company into an account-focused position.
---
Keep up with the industry.