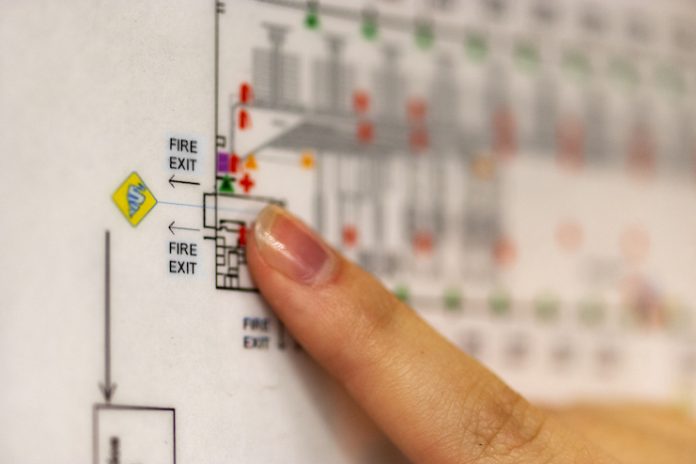 While best practices for responding to the coronavirus have dominated hotel industry communications for nearly a year, hoteliers can't let down their guard, lest they find themselves unprepared for other potential disasters, such as wildfires and hurricanes, which did in fact occur and complicate the response to the coronavirus raging across the world in 2020. Of course, there is little hoteliers can do about catastrophic weather events, including, wildfires. However, they can and should be prepared for the type of fires that are far too common in hotels, says Chad Connor, president of Affordable Fire & Safety. He shared with LODGING some best practices for controlling fires and preventing harm to people and property, including having the right equipment, protocols, and signage at the ready.
As in homes, smoke detectors are required for fire code compliance in hotels, but that's just the beginning of what is needed in hotels, says Connor, who notes that equipment required for hotels and other commercial properties is generally far more sophisticated. Smoke detectors, he says, should be located in every guestroom and throughout the building. Then, too, are alarm systems with horns and strobes to rouse sleeping guests and all on the premises at the time of the emergency; battery operated lights above exit doors, which should be unlocked at all times; sprinklers in ceilings in guestrooms and throughout the property; and, of course, fire extinguishers—which are typically mounted encased in glass in hotel hallways—rated 2A or larger for Class A hazards within 75 feet of every location. "No one should have to travel more than 75 feet to get to a fire extinguisher," Connor adds.
Another item that is required wherever there is food service—be it an indoor restaurant or outdoor event kitchen—is a kitchen stove hood, which automatically drops chemicals to extinguish a fire there.
2
Ensuring systems are functioning properly
Connor reminds that these systems need regular maintenance to work as they must in an emergency. "Your equipment should be serviced annually, for example, by a professional contractor who services kitchen hoods; and fire extinguishers, sprinklers, and alarms should be regularly inspected, tested, and repaired if needed." He notes that the emergency lights that guide people fleeing fire to exits, which are battery-operated, are frequently overlooked, and that fire extinguishers whose labels are no long legible must be replaced and updated to reflect current standards.
3
Training employees on pertinent equipment use
Connors says all employees should know the basics of dealing with a fire emergency, including evacuation and fire extinguisher use, but says because the vast majority of hotel fires begin in the kitchen, those employees should be specifically trained on the fire safety equipment designed for that area. "If you're in the kitchen, you're going to want to understand how and when to activate a kitchen hood. They go off automatically if certain parameters are met—like if it gets too hot—but there is typically a pull station on the wall that will cause the system to release the chemicals over the fire to extinguish it."
Depending on where the fire starts, Connor says the equipment may function automatically, but that early intervention, if possible, is preferred. "If a fire starts in a trash can or supply room, the sprinklers would be activated at a certain point, but early intervention with a correctly deployed fire extinguisher can make use of the automatic systems unnecessary."
4
In the event of an evacuation
Posted on the back of every guestroom and in the corridors of each floor should be a sheet with the information all hotel occupants need when there is a fire emergency. It includes the routes they should take, the exits they should use, and where they should gather once they have reached safety.
Connor says all inside the hotel at the time of a fire need to understand what to do and where to go, including those who find themselves in the elevator. "When the first alarm goes off, the elevator will drop to a floor that's safe, open to let passengers out, then go out of service," he says.
---
Subscribe to receive LODGING's free daily e-newsletter.