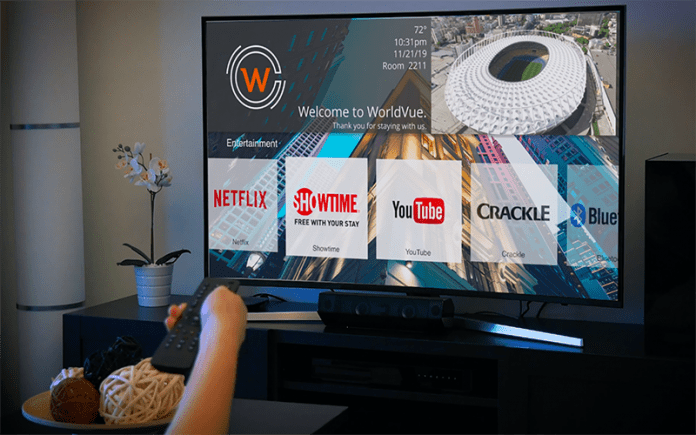 Hoteliers have accelerated their adoption of technology in recent years, particularly in the wake of the COVID-19 pandemic and within the guestroom, where travelers are increasingly spending more of their time. Local restrictions and social distancing guidelines have limited guests' options for on- and off-property activities like visiting restaurants and bars, enjoying local attractions like museums and in-store shopping, and relaxing or working in common areas. In the privacy of their rooms, guests have turned to entertainment, finding comfort in their ability to access the same content they stream or tune into at home. Guestroom entertainment has been solidified as a key contributor to guest satisfaction, and this is expected to continue as restrictions are lifted and travel ramps up. Thanks to the rapid evolution of technology, available integrations, and the plethora of content, hoteliers today have a range of options to build an in-room experience that meets the demands of their guests and their businesses. What's more, third-party providers have leveraged technology to streamline the rollout of new solutions, allowing owners and operators to upgrade their in-room experience at scale with speed and ease.
The Power of Choice for Guests
The vast majority of U.S. consumers (82 percent) subscribe to a paid video streaming service, according to the latest edition of Deloitte's Digital Media Trends survey conducted in February 2021. Within that group, subscribers pay for an average of four video streaming services. At the same time as paid video streaming is on the rise, TV and ad-supported streaming remains in demand; 67 percent of U.S. consumers have a paid TV subscription and 55 percent use an ad-supported video streaming service.
For travelers, a comfortable hotel stay often means the ability to easily watch the same content they are accustomed to enjoying in their own homes—most likely a combination of live and on-demand television and streaming services, according to Amir Ahmed, SVP of Sales for DISH. "Today, if I want to watch live TV, I can watch it on a beautiful HDTV in the room. But if I want to continue watching my favorite series Netflix or Hulu, I too often have to go to my laptop, tablet, or iPhone," Ahmed explains. Just as the hotel industry saw near universal upgrades to HDTVs in recent years, Ahmed expects the next evolution to be a mobile-first, fully integrated entertainment experience that allows guests to seamlessly access the content they want, when, and where they want it. "Today, we're on the front end of that adoption curve. There's a really good opportunity right now to build brand loyalty and guest satisfaction by delivering an unexpected experience that guests will love," Ahmed adds. "Ultimately, that experience will become the expectation."
The strategies behind giving guests those content options vary and include allowing guests to cast content from their personal devices to the in-room television, providing the ability to login to apps directly on an in-room television, using QR codes to connect, or a combination of those options.
Whatever the approach, Ahmed stresses the importance of making the process and interface intuitive and flexible. And with travel on the rise, Ahmed notes, "Now is a time to be thinking about investing in those experiences that can differentiate your property and build guest loyalty."
The Power of Choice for Hoteliers
With budgets tight, investments in hotel technology must enhance the guest experience while also streamlining operations. The solutions currently on the market provide hoteliers with an array of scalable options and integrations.
Robert Grosz, chief commercial officer at World Cinema Inc., provider of video, data, and connectivity services to the largest owners and managers of hotel and multifamily brands, says that the scope of in-room entertainment investments today is broader than focusing on how many TV channels a hotel offers. "The most important question you could be asking is, "What is my true ROI?" For instance, he says, connecting a hotel's entertainment, HVAC, and water systems with a hotel's central reservation and property management system gives guests the ability to use their mobile device to check in and enter their room; control temperature and lighting; turn on the TV and watch their preferred content; order room service; and more. For managers, centralizing these systems has enormous energy- and labor-savings potential. "As soon as you introduced an IP-connected network, all of a sudden you unlock all these value propositions for the building," Grosz explains.
The most significant ROI associated with this technology may be in the data and business intelligence it generates, Grosz notes. "From a systemic standpoint, integrated in-room experiences allow you to determine, for example, the last time someone was in the room, when the remote control was last used, whether the room was cleaned—data that's useful on a day in and day out," Grosz explains. "If you have more intelligence about what's happening inside of your property, you can use that intelligence to make better operating decisions, keep guests safer, keep associates safer, and increase productivity."
Thinking Strategically About the In-Room Experience
When evaluating these investments—whether a bare-bones update or a fully integrated in-room experience—hoteliers must consider not only how the technology will impact the guest experience and hotel operations, but also the use life of the investment, especially considering how quickly certain technologies become outdated and irrelevant. Grosz says that an established and trusted provider can lend their expertise on the value of investments and provide support throughout the process.
"A partner who is a student of what technologies are deployed today and emerging can give you insight into the useful life of your investment; is it three, five, or 10 years? There may be a decision you can make today that extends the life of that investment, and that's where you really make your money if you're a value-oriented, financially driven hotelier," Grosz explains. "And when you actually deploy technology in the room or in the walls, like with fiberoptic investments or investments in cable infrastructure, that's a very important decision. You need to find the right partner to have those conversations with." He adds that an experienced project manager ensures a smooth rollout of technology, coordinating people, hardware, and software in a way that minimizes disruptions to the business and guests.
While the hotel technology landscape continues to evolve at a rapid pace, Grosz notes that one thing has not changed: "The business—including the business of integrating technologies, deploying projects, and assuring that the service is actually working—has been and always will be a people-driven business. And a business focused on people has to understand that trends and habits change from time to time; in-room entertainment is no different," he says. "We're an industry of people caring for people; with the right technology and the right partners, hotels can continue to do that well both now and into the future."
Brought to you by World Cinema Inc.