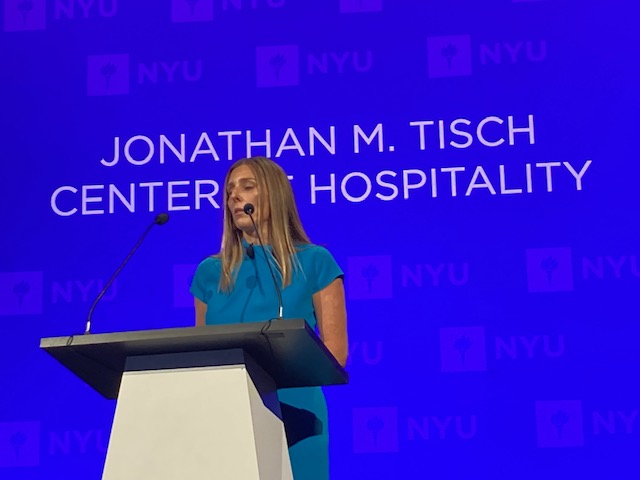 ---
LODGING is LIVE at the 2023 NYU International Hospitality Industry Investment Conference. Find our show coverage here.
---
The impact of the economic challenges facing the lodging industry was a focal point during a pair of educational sessions at the NYU International Hospitality Industry Investment Conference as hospitality executives discussed revised RevPAR forecasts, rising interest rates, and a stalled transactions market, among other things.
During the "Statistically Speaking" session, Amanda Hite, president, STR, revised the company's forecast for 2023 to 5 percent RevPAR growth, 3.5 percent ADR gains, and a 1.6 percent occupancy increase. However, she added, "We are expecting more economic slowdown throughout the remainder of this year." Hite further noted that there is an expected decline in GDP for the United States during the third and fourth quarters of this year that will slow second-half growth for the industry.
Hite specifically referenced the ADR growth for the year as "good," but added, "it doesn't keep up with the inflation rate. So we're still going to struggle to have real rate growing above what we had seen in 2019, especially as we get into the latter part of this year."
Nevertheless, Hite offered some historical perspective and reason for optimism.
"Typically, when we start to see GDP decline in prior recessions for every 4 percent of GDP decline we get 1 percent of hotel demand decline. We are not forecasting that. Even though we think there will be GDP decline in the third and fourth quarter, we will have positive growth. It will be much slower than what we've seen in the first half of the year, but still positive growth for the industry," she noted.
Looking out a bit further, Hite noted in the beginning of 2024, "We're going to be slower than we had anticipated." She added that STR has revised its RevPAR forecast down to some 4.6 percent growth from roughly 6 percent.
Finally, Hite noted that new supply growth for 2023 has been revised down to 0.6 percent with just over 150,000 rooms currently under construction right now in the United States.
"There will be very little new supply. For the developers in the room, it's not a great outlook if you want to build hotels, but for all of you that are open and operating there will be very little new supply to contend with as demand starts to slow a little in the overall economy," she said.
But while building hotels may be challenging, acquiring them comes with its own set of challenges, according to Tyler Morse, Chairman and chief executive, MCR.
Morse and Michael Bluhm—managing director, global head of gaming and lodging, Morgan Stanley—investment banking—commented on current conditions during a panel entitled "Capital Transactions Investment Strategies From Capital's POV: Buying, Selling And/Or Holding."
"Interest rates are 9 percent. If you buy a hotel at an 8 cap [capitalization rate] you're running negative leverage. You've got to be able to change the performance of the asset," said Morse.
Meanwhile, Bluhm asked if he saw transaction activity picking up going forward.
"I think you're seeing a fair bit of normalization for the past couple of months," as he further pointed out that the credit markets and equity markets have stabilized and the "volatility has come out."
Bluhm added, "It's all driven by expectations of the Fed slowdown with [interest] rates. Everyone's got a point of view. Our house view is we're done raising rates and that rates are going to start coming down by the end of the year. Investors have been doing a lot of work around the sector, and around opportunities both with asset-heavy businesses, as well as brand-heavy businesses. I think you're going to see a fair bit of activity coming out of this. It goes back to capital allocation to the sector and the belief around the fundamentals around travel and leisure," he said.