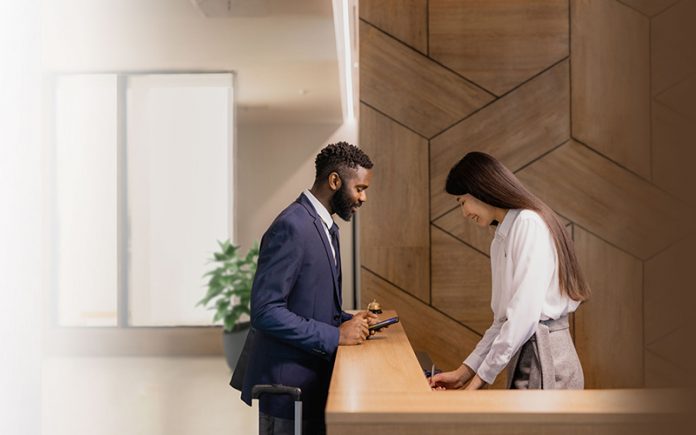 Hotels that proactively empower employees cultivate happy and efficient workplaces. These properties invest in intelligent solutions, offering their teams the tools and support they need to achieve operational excellence—an ongoing objective that enables your property to do more with less. Equipped with the right tools and processes, your employees are more productive and invested in their roles.
Not all tools are created equally. The right property management system directly benefits your hotel or resort by providing the technology your business needs to save time and money while delighting your guests.
Here are five ways a PMS directly supports operational excellence:
1
Elevate Guest Experience
The guest experience can significantly impact your property's success, with satisfied guests acting as brand advocates. Guests want to feel welcome, they crave personal attention, and their expectations of technology and convenience are constantly growing.
Property management technology is evolving to focus on curated guest interaction. According to a Morning Consult report, 83 percent of respondents ranked customer service and responsiveness as the top drivers of trust in a hotel. Salesforce reports that 37 percent of respondents say their customer service departments see higher ROI from automation than any other department.
Your property management system should offer guests options to personalize and take control of their experience with online reservations and contactless self-service options. The more convenient your transactions and communications, the greater your guest satisfaction.
Hotel management solutions allow efficient information sharing from the front office to teams throughout your property. Staff-facing communication tools impact every area of hotel operations. Increasing the transparency of internal communications through a PMS boosts efficiency and yields greater profits down the road.
Guests have come to expect a level of responsiveness only achievable through supportive PMS technology. Text-based communications (SMS) facilitated through a PMS decrease time spent coordinating with guests or other staff. SMS also offers greater accuracy and a distinct chain of accountability—critical for customer satisfaction.
Operational excellence will streamline and improve your systems and processes. With integrated technologies through a PMS, all the data you need to inform business decisions is instantly accessible through a single system.
A robust, cloud-based system with integrated features and functionality enables your team to accomplish more in less time. Look for an all-in-one PMS that includes online booking, rate management, accounting, email marketing, inventory control, and reporting at a minimum. Additionally, the ability to integrate with complementary partner technologies is vital to ensure the greatest return on your investment.
Many daily tasks at your property, while crucial, are time consuming and do not directly contribute to guest satisfaction.
In the WorkMarket 2020 In(Sight) Report, 53 percent of employees believe they could save up to 2 hours a day by automating tasks; that's roughly 20 hours a month. 78 percent of business leaders believe they could save up to 3 hours a day by automating tasks; that's almost 30 hours each month.
An essential component of operational excellence is a team that feels empowered to focus on aspects of their jobs that matter most. According to economists at the University of Warwick, happy employees lead to a 12 percent increase in productivity, which directly impacts a hotel's profitability. Instead of using valuable employee time, utilize PMS technology to automate processes and improve operational efficiency.
Modern cloud-based property management systems automate important tasks such as dynamic pricing, reporting, and guest communication. Why does this matter? Dynamic pricing drives optimization of occupancy and yield. Reporting collects and analyzes data across your business, enabling faster decision-making. Triggered correspondence sends emails or text messages at specific points of the guest experience to save hours of staff time daily.
Ultimately, this automation eliminates the chances of human error, reduces costs, and provides real-time visibility into your operations.
5
Simplify Multi-Property Management
A PMS designed for multi-property management allows for efficient deployment of the same system across all locations. Enabling all properties to access shared data removes a significant amount of duplication and provides insight into all properties through a single database.
The right PMS is intuitive, intelligent, and provides owners and operators with a clear path forward. As your business grows and your needs change, your system should evolve too.